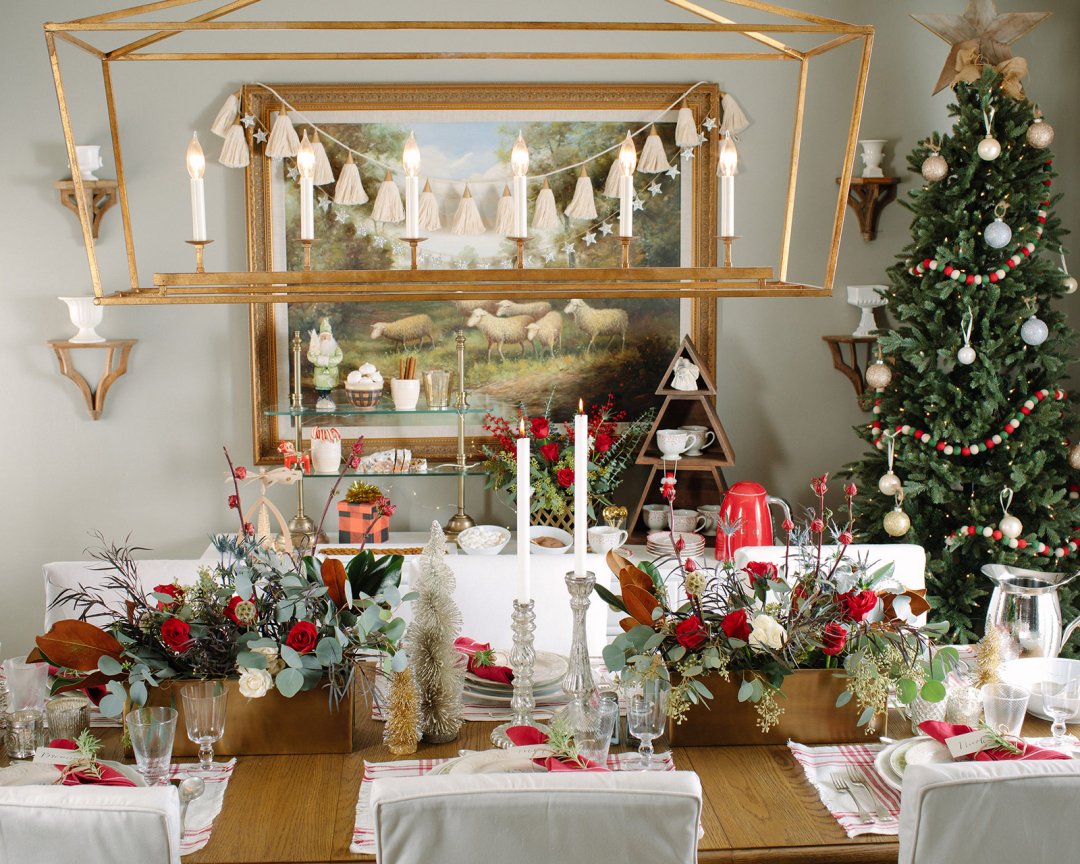 One of our favorite parts of the holiday season is all of the opportunities for gathering with friends and family. Bringing your loved ones together to celebrate is the perfect chance to dress up your home. We've shared a number of our own dining table settings, such as the blue and white setting and our whimsical Christmas table. We invited a few of our close friends to join us in setting up for a holiday celebration.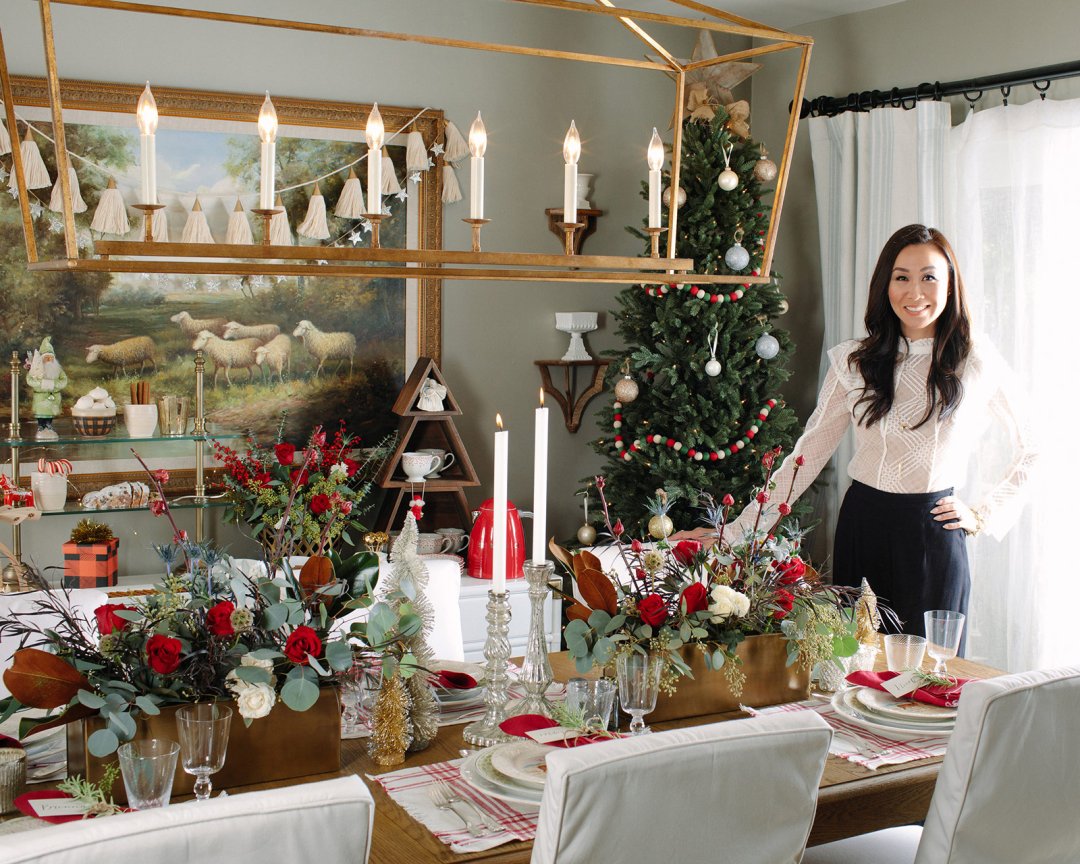 Diana Elizabeth is a lifestyle blogger in Phoenix, Arizona. Her style is simple and refreshing. Diana took items from our table top collection to create this fanciful dining room.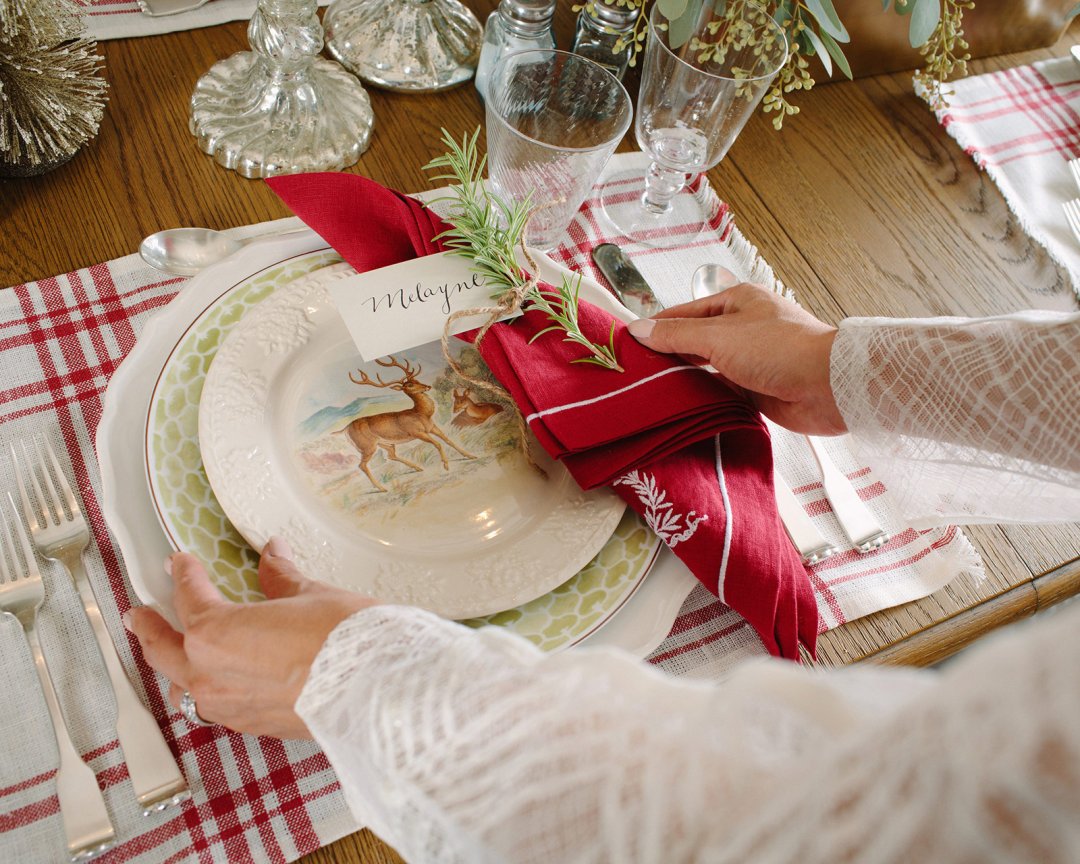 Tabletop collections can so easily be mixed and matched. Diana created a setting with our Bunny Williams Melange Dinner Plates, Into The Woods Accent Plates, and Bunny Williams Paris Flea Market Flatware. Although the accent plate is seasonal, Diana can use the dinner plates for different events throughout the year.
Our favorite part of her holiday table scape is how Diana turned her sideboard into a hot chocolate bar, outfit with a Stackable Tree Shelf for tea cups and our Patisserie Glass Serving Stand to display toppings. This is a great idea, especially if you are limited on space!
Diana's finishing touch is this gorgeous holiday flower arrangement in our Bunny Williams Rectangular Metal Cachepot!
We also asked Nicole Balch of Making It Lovely to set the scene for her own holiday dinner party. Nicole lives with her family in a Victorian home just outside of Chicago. We've written about her home makeover before, including her closet re-do. Her house is cozy with quirky touches that truly make it her own.
We can't help but point out Nicole's mixing of patterns. She first set out our Bunny Williams Thai Ikat Tablecloth.
She then chose to layer our Jacqueline Dinnerware Collection with our Florence Charger Buffet Plates.
Our Jacqueline Collection features cheerful tea cups perfect for the holidays. Nicole set these aside in a cute arrangement ready for after-dinner coffee.
You can never have after-dinner coffee without a few sweets. Nicole decorated our Patisserie Glass Serving Stand with meringue, biscotti, and other classic holiday cookies.
Our last tablescape (but certainly not least!) is from Georgia interior designer Maggie Griffin. Maggie lives in a charming 1940's brick cottage with her husband. See her house tour here! After seeing her gorgeous tables when we visited her home, we thought Maggie would know just how to get ready for the holidays.
Maggie's colorful spread includes our Jacqueline Dinnerware Collection layered with blue and white bowls from her personal collection. She incorporated our Pagoda Napkins in a cheerful Christmas green. We love the way Maggie fearlessly mixes red, green, and blue elements.
The finishing touches on her dining room are these adorable Faux Boxwood Mini Wreaths around each chair. She used our Double Face Satin Ribbon in emerald to attach them, and with different ribbon, she can reinvent this look for different occasions throughout the year.
Special thanks to Diana, Nicole, and Maggie for sharing each of their inspiring holiday table settings! Be sure to check out their websites and follow them on social media.
Diana Elizabeth: website and Instagram
Nicole Balch: website and Instagram
Maggie Griffin: website and Instagram
For more design inspiration, visit our Pinterest Boards, or find more gorgeous rooms in our Photo Gallery.
Did you like this post and find it helpful? Rate it below and share your thoughts in the comments!