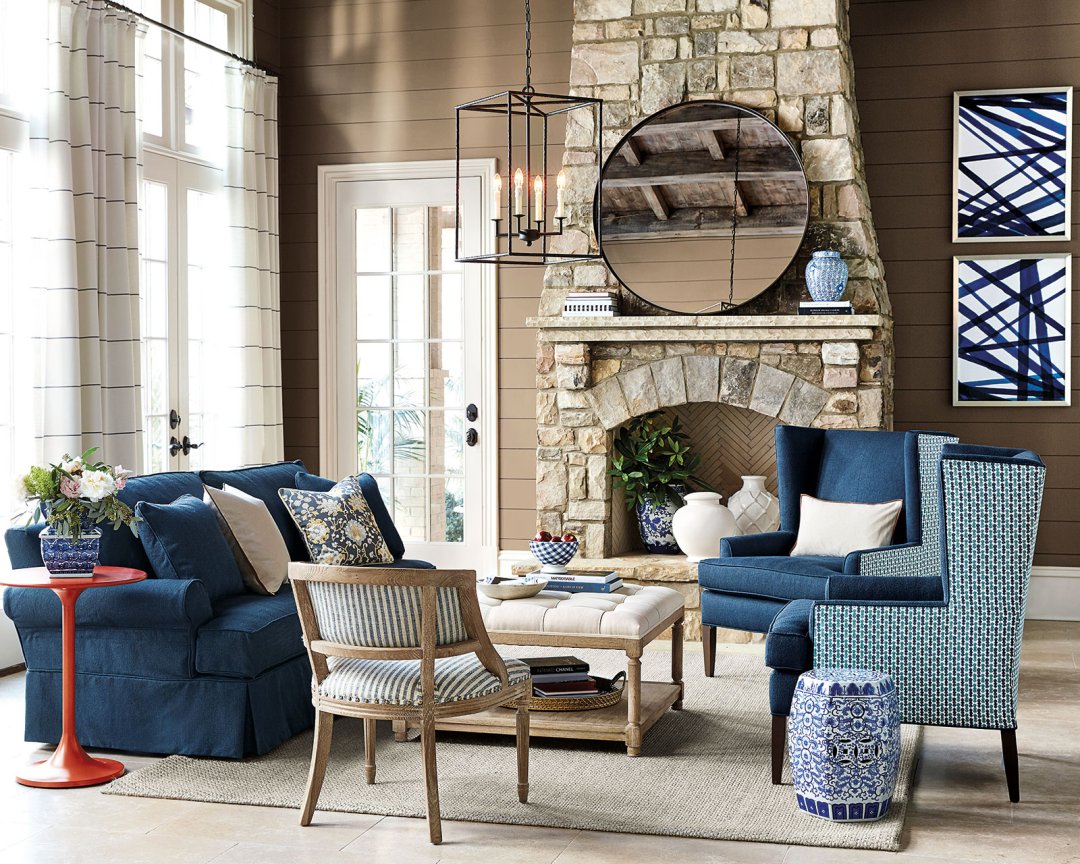 We're always asking for you to send us your interior design questions, and hands down the most frequent questions we get, both through our interior design services, decorating dilemmas, and on social media, are about creating a great room furniture layout. With walkways, seating, function, windows, televisions, and so many challenges to consider, we get it. Here are the important things to consider when planning your room layout.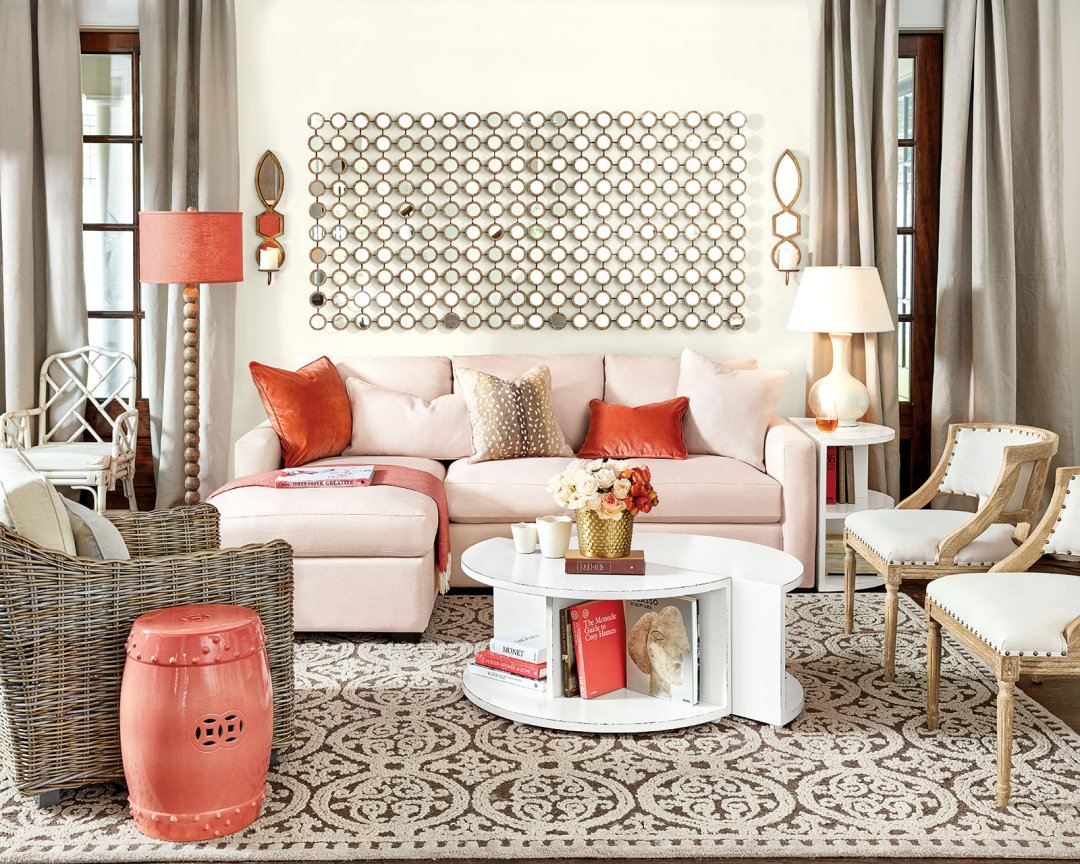 1. Figure Out Room Function
Every single room presents it's own unique challenges and needs, and because of that, there's no 'correct' way to create a room layout. It all depends on how you want that room to function.
Do you need storage? If so, what kind of storage? Do you need a place to store books or do you need entry storage for mail? Is this a space that needs seating? Is it a den where you'll be watching television or will you be entertaining? Is this a room that traffic should flow through?
Keep that list of functions and furniture you'll want top of mind when you're planning your room layout. If you hit a road block, think back to those basic needs your room needs to serve to stay on track.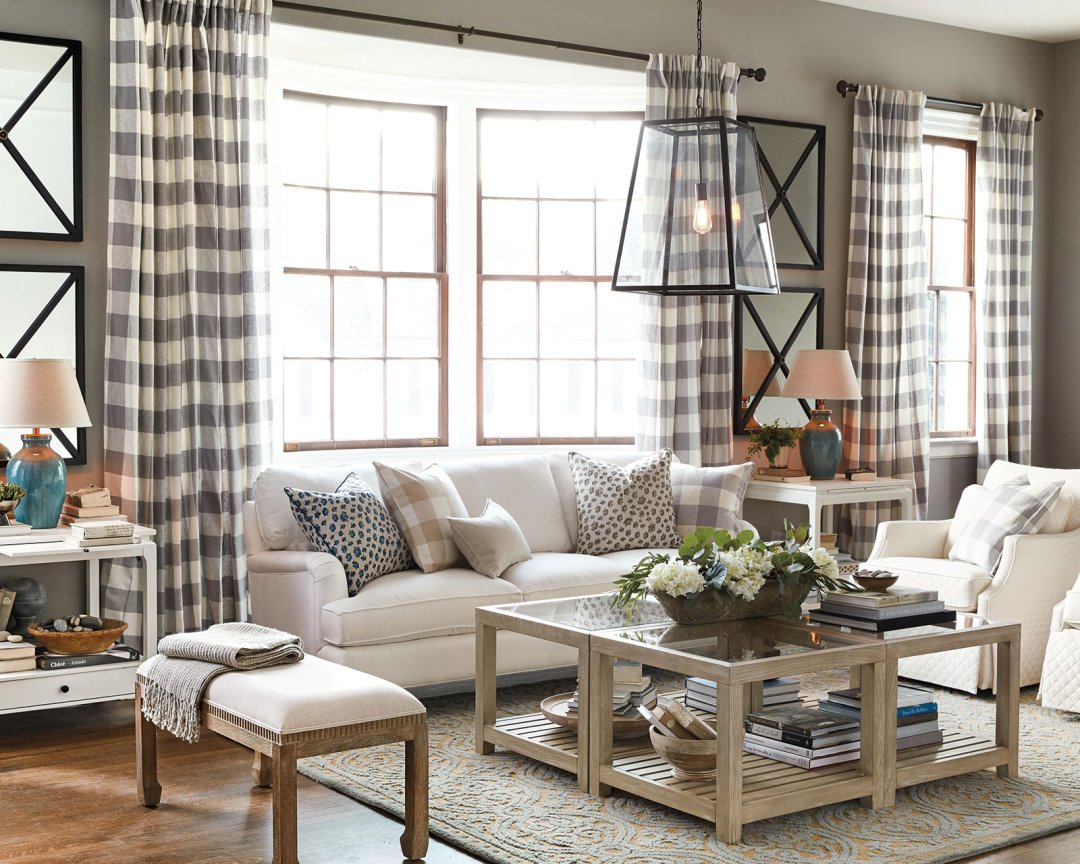 2. Start with a Blank Canvas
Our in-house interior designers always start with an empty layout of the room, including where windows and doors go, before getting started. Either draw your space out on graph paper or use our handy room planner to create a blank space where you can easily shift things around.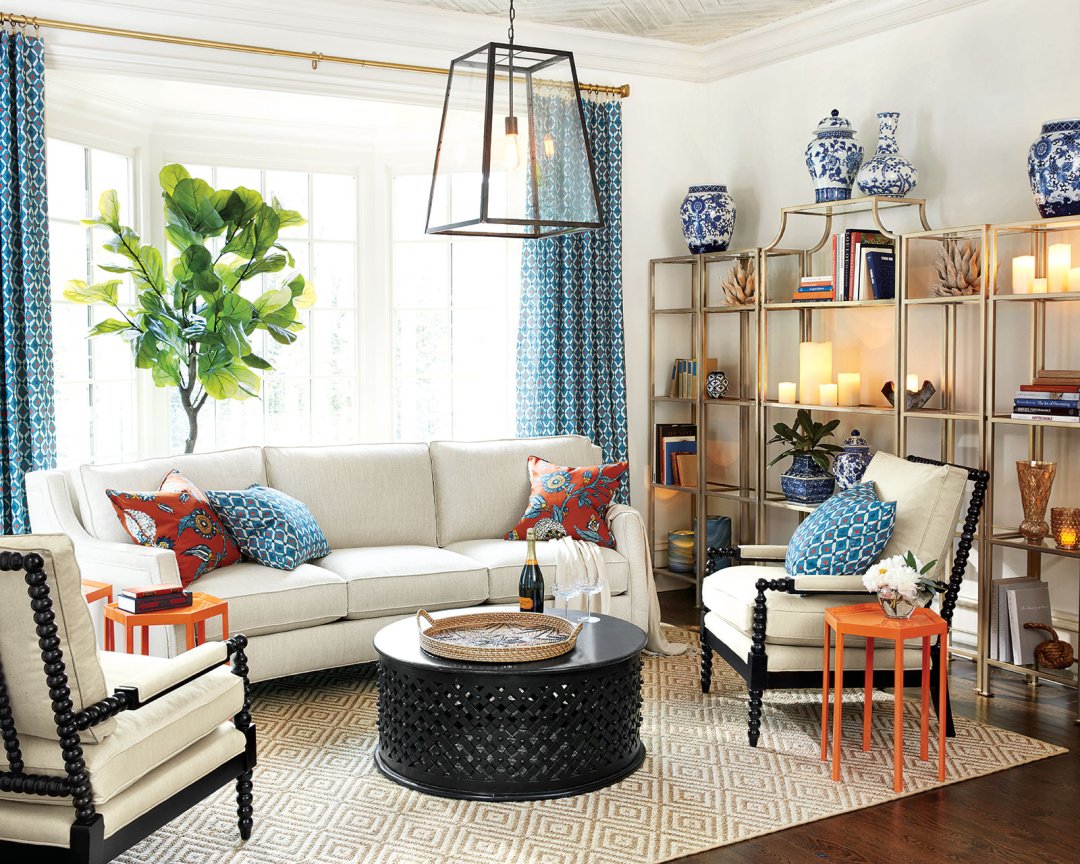 3. Where Should Focal Points Go?
Every room needs at least one focal point, although most rooms require a couple. Before you start adding furniture pieces to your empty room layout, think about where those focal points should go. Look to the architectural features of the room to help you decide. Is there a mantel, a bank of windows, or a built in bookcase? If so, consider orienting your room layout around those features.
If you'll have multiple focal points, know that your seating doesn't have to be oriented toward the focal point. In a large living room, your seating arrangement might face the television on one side of the room, but you may have a focal point (which can be as simple as a dramatic piece of art or mirror) on an opposite wall.
In some rooms, you may just have an empty white box without any bold, architectural features. That's ok! Look for the largest, most prominent wall in the room, then build a focal point on that wall.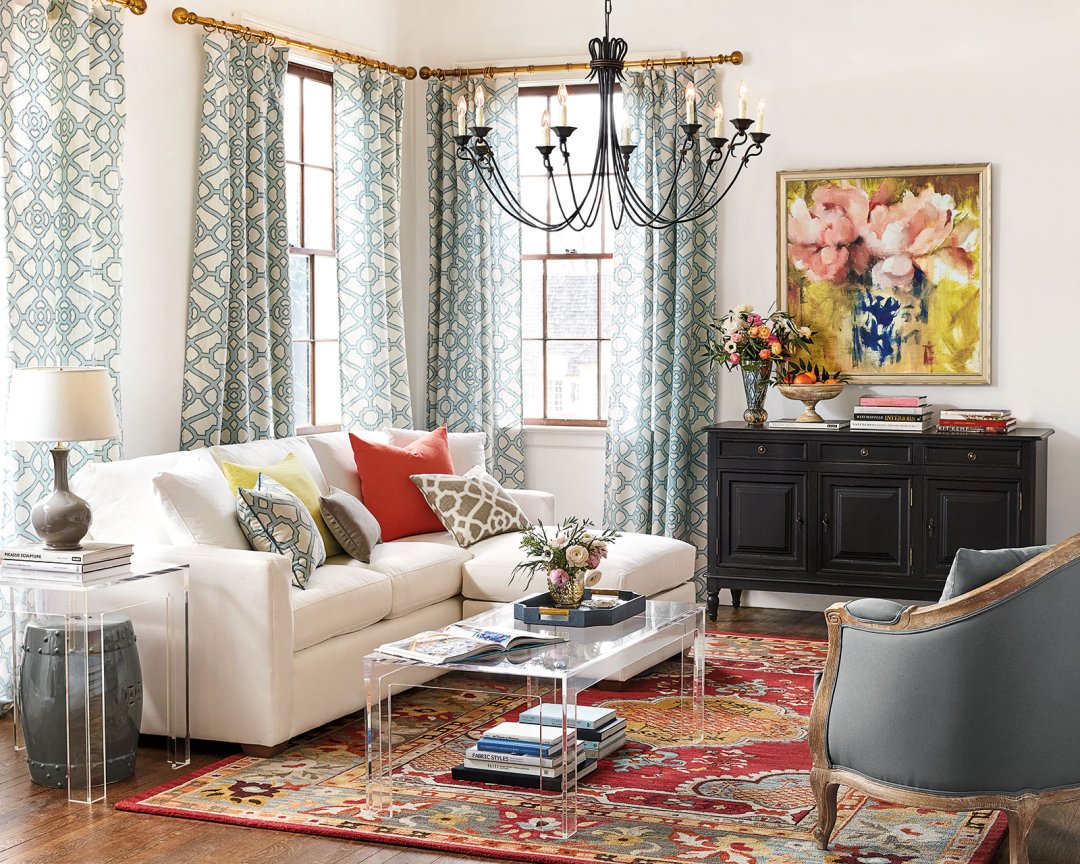 4. Work Up From the Rug
Our in-house expert Miriam Leuthold suggests starting with a rug, at least in most living rooms. Most seating clusters will fit comfortably on an 8 x 10 rug, so before you've added any furniture to your empty room layout, first place a rug. Once you've done that, begin adding furniture pieces directly on top of that rug, floating in the center of the room.
The rule of thumb is that the front two feet of all of your furniture should fit on the rug, while the back two legs can hang off.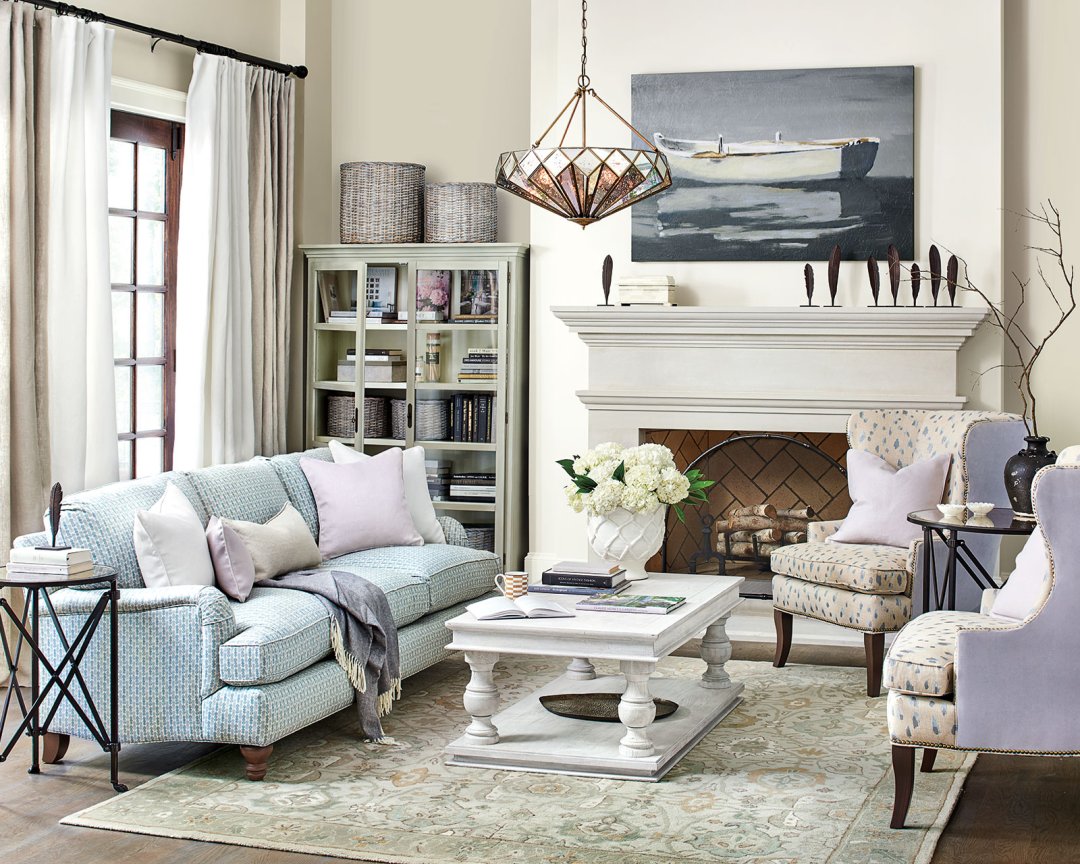 5. Foolproof Room Combination
A sofa and two chairs will work in nearly any room, so start there. If you have a small living room layout, choose a sofa with a more petite size (like an apartment sofa), slim arms, and clean lines. For larger rooms, a sofa with a bulkier arm and more generous shape will work fine.
For your chairs, here's where function comes in. Are you watching TV or reading? Then look for a large reading chair. If your space is more for entertaining, look for an armchair that's more upright with a small footprint. If you plan to do both then have a mix of seating.
In a large den, you may want to add as much seating as possible, so a large sectional or two sofas would work great, but in most living room layouts, a sofa and two chairs is the perfect place to start. The important thing to consider is choosing furniture pieces that are an appropriate scale for your room.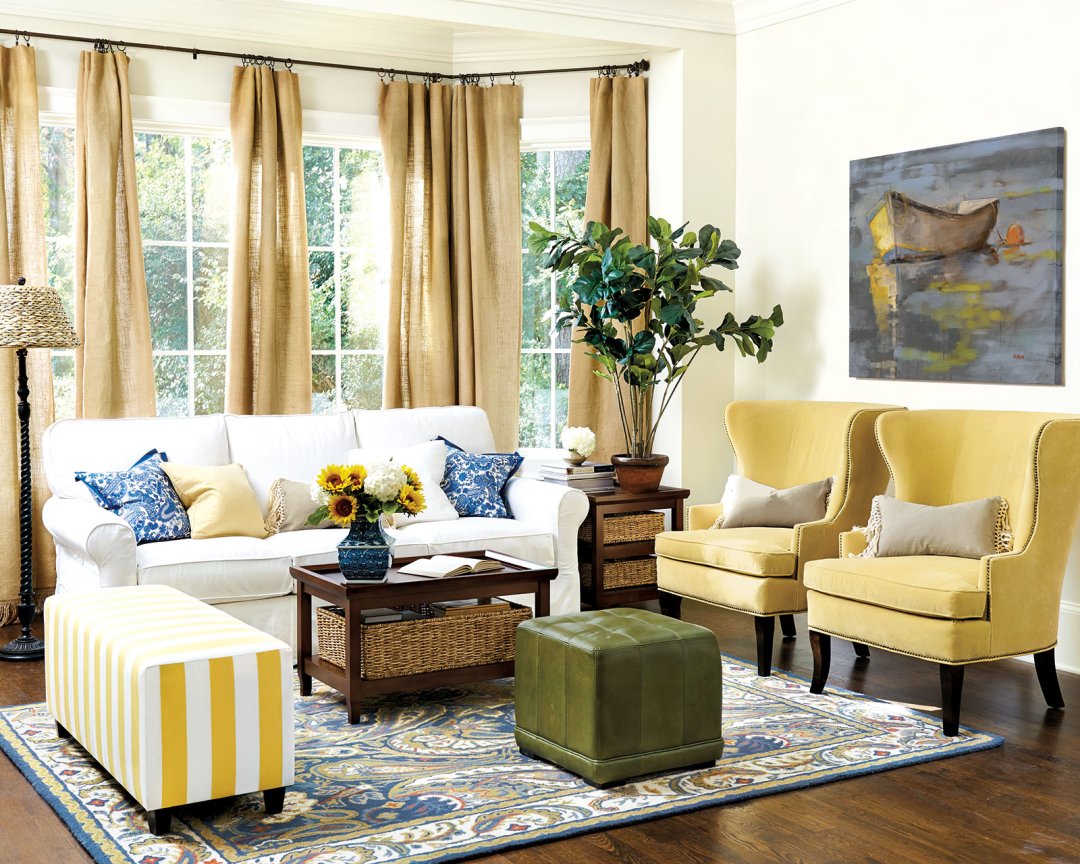 6. Room Layout Symmetry
Symmetry is your friend and an important tool to consider when laying out your room. It creates drama, order, and makes the layout seem intentional and planned out.
In some rooms, it may not be possible to create a symmetrical furniture layout, and in those cases, instead create symmetry with wall art, decor, or lighting. If you can create a symmetrical furniture layout, then add in more asymmetry with accessories and accents.
7. Add Occasional Seating
Occasional seating is often overlooked but is one of the most important elements, especially in family room layouts. An occasional chair is just what it sounds like — a chair that's used occasionally and not meant to be pulled up to your seating cluster all the time. These pieces can be scattered around the room, but when guests come over, pull them up to the cluster.
An occasional chair, bench, or stool is also a great opportunity to choose an unusual shape, a fun pattern, or a vibrant color. Often their footprints are smaller, so they bring personality without weighing down the space.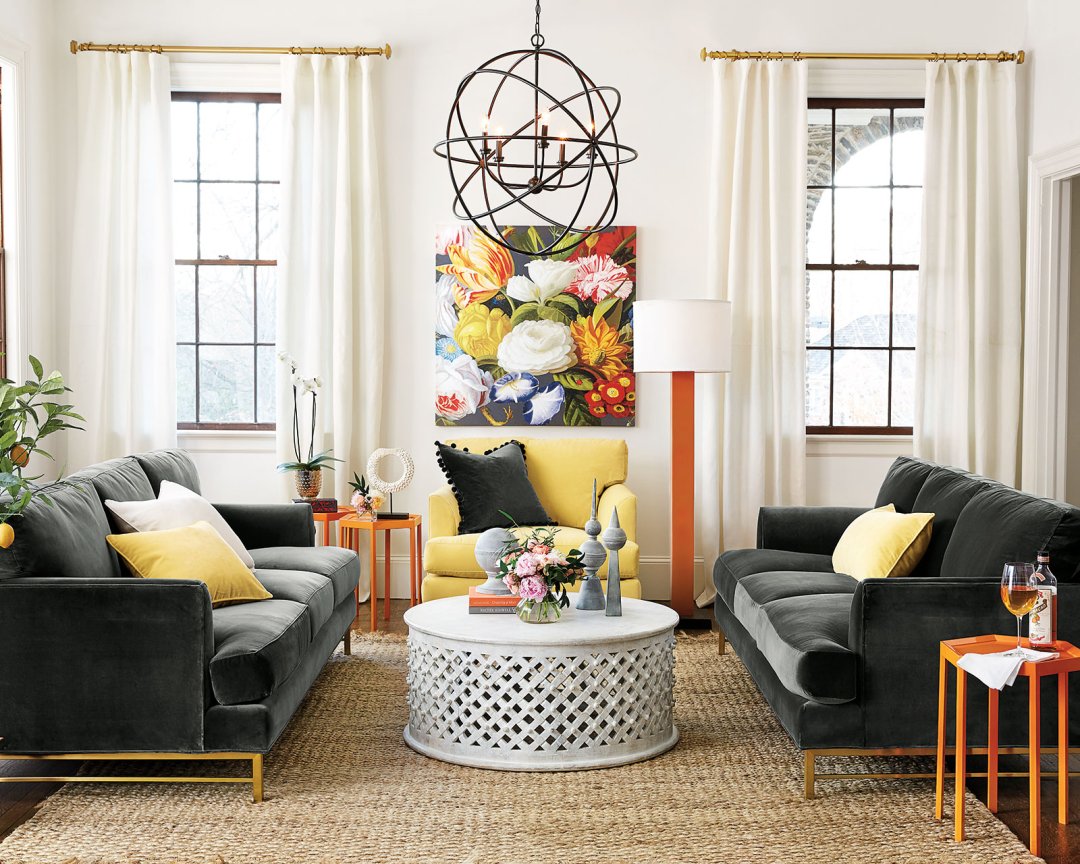 8. Furniture Spacing? Leave Room
Of course it's always crucial to consider traffic flow when you're working through your room layout. You'll want to allow about 36 inches for comfortable passage ways. So, if you've clustered your seating arrangement on your 8×10 rug, you want 36″ around the edge of the rug (an therefore furniture pieces) to move between rooms. If you have a small space, you can eke by with 24 inches.
Now, inside your seating cluster, your passway can get a little smaller. Between your sofa and coffee table, leave 18″ — or just about arms length. In between pairs of chairs, leave around 24 inches.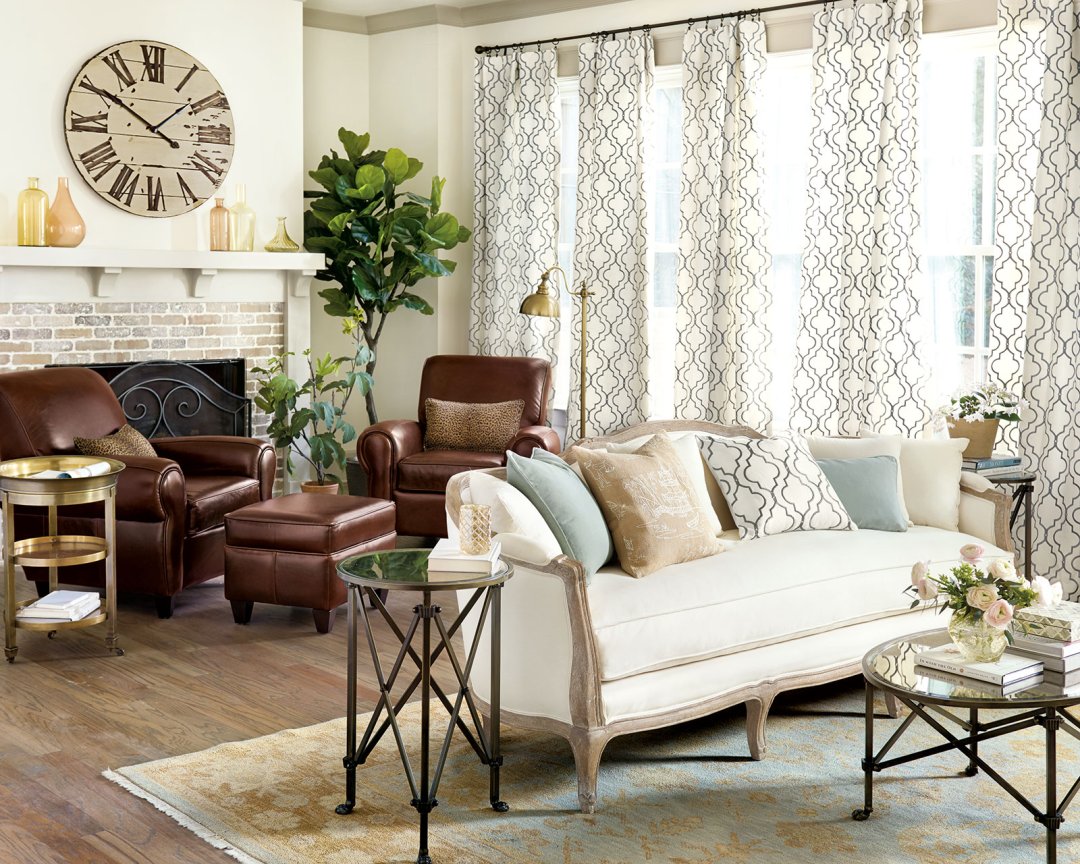 9. Do You Need Zones?
Once you've built your seating cluster on your 8×10 rug, look around the rest of the room. Can you fit an additional seating area? Where are there empty spaces? Can you add in another smaller 'moment?' Think a reading chair, a floor lamp, and an ottoman. Maybe you want some storage? Add a console table, a pair of occasional chairs, and a dramatic mirror. If you only have a little space, a bench or a pair of x-benches add softness, personality, and pull up seating.
Rooms can serve multiple functions, so begin adding in smaller zones to the room to serve those functions.


10. Address Blank Walls
Before you're finished, address any large blank walls. Even if you have no furniture against them, add wall decor to fill them out. We love a large gallery wall that can grow as your art collection does. Or hang an oversize mirror and a bench.



11. Fill Corners
Don't let empty corners go unaddressed. Place something purposeful in them. Our favorite additions to empty corners include a reading chair and floor lamp, a pedestal with a sculpture, an occasional chair in a dramatic fabric, a decorative etagere, a large plant, or even just a small bench with stacked pieces of art.
Have living room layout concerns? Listen to our How to Layout a Room podcast with in-house expert Miriam Leuthold, or see modeled furniture on our site.
Looking for other helpful How-Tos? Here are our favorites:
Did you like this post and find it helpful? Rate it below and share your thoughts in the comments!
This post was updated in June, 2019.