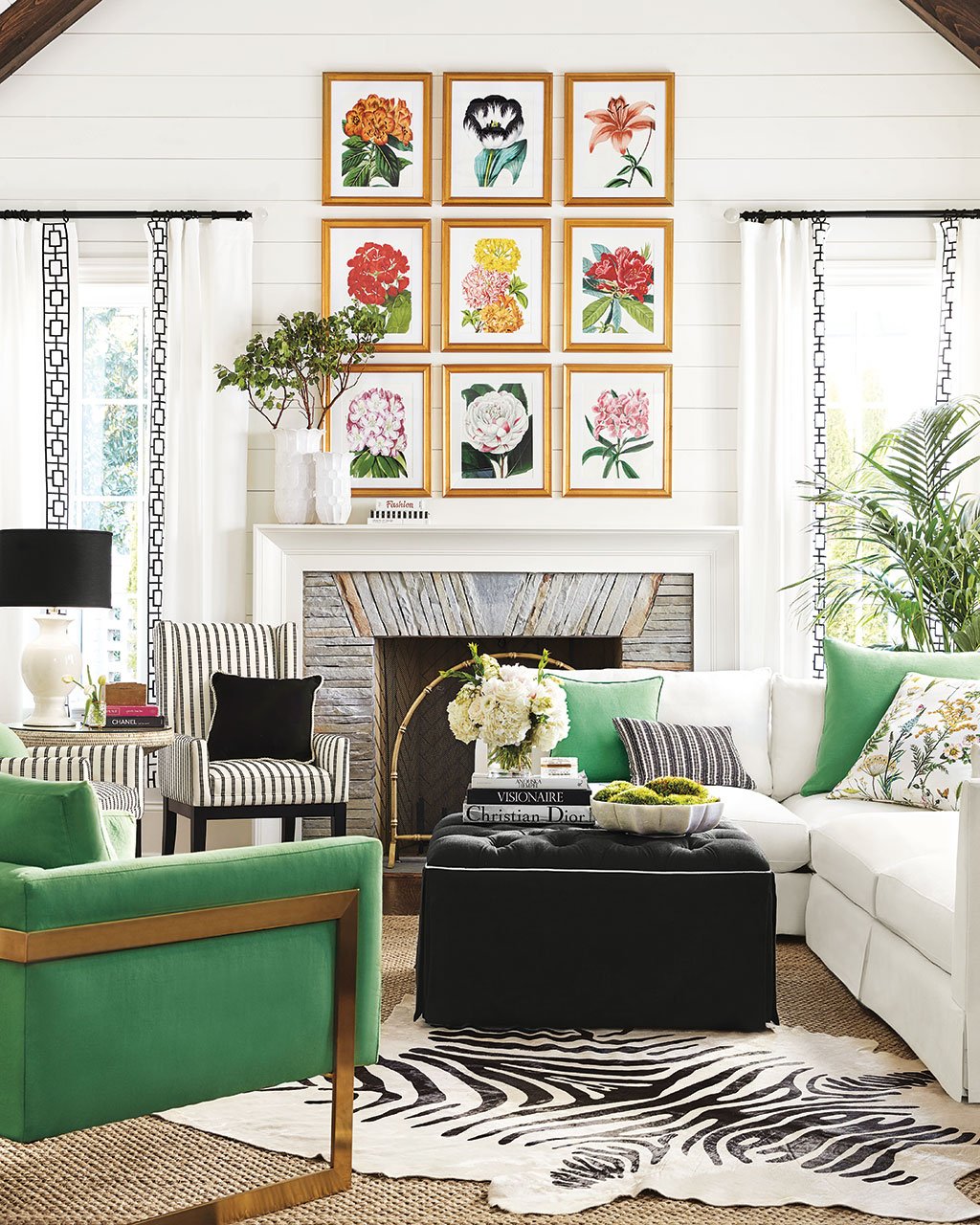 We get a lot of questions to our designers through Decorating Dilemmas, as well as from listeners of our podcast. Over the years, we've noticed a few recurring issues.
If you're unhappy with your room, there's a good chance one or more of these issues are plaguing your space. Follow our steps, and we're confident you'll be pleased with the results.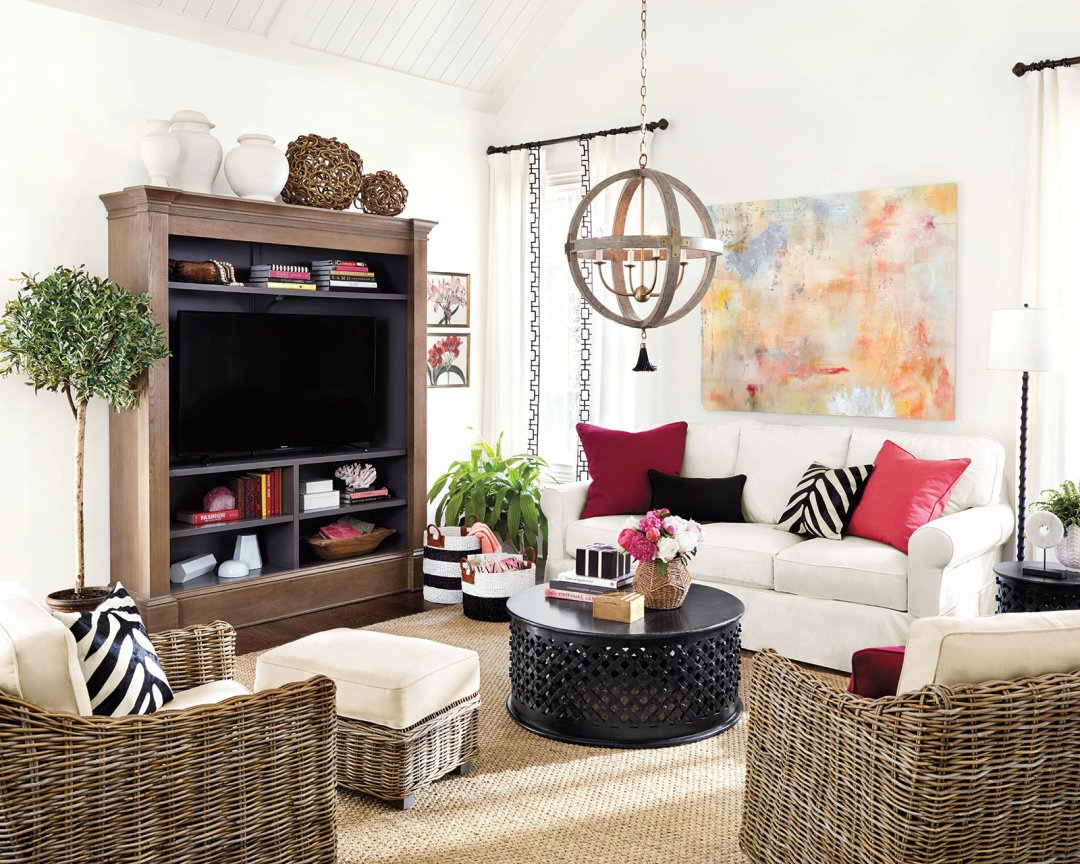 1. Your Rug is Too Small
Rugs can be very expensive, so we understand why it's easy to talk yourself into a smaller size. You can get the nice rug you want, but you feel better about the price you're paying. We get it. Here's the problem: when your rug is too small, it breaks up the floor into little pieces, making your room feel even smaller. On the flip side, when you've got a generously sized rug in your room, the space feels lush and cozy. Here are our two suggestions that remedy most rug situations: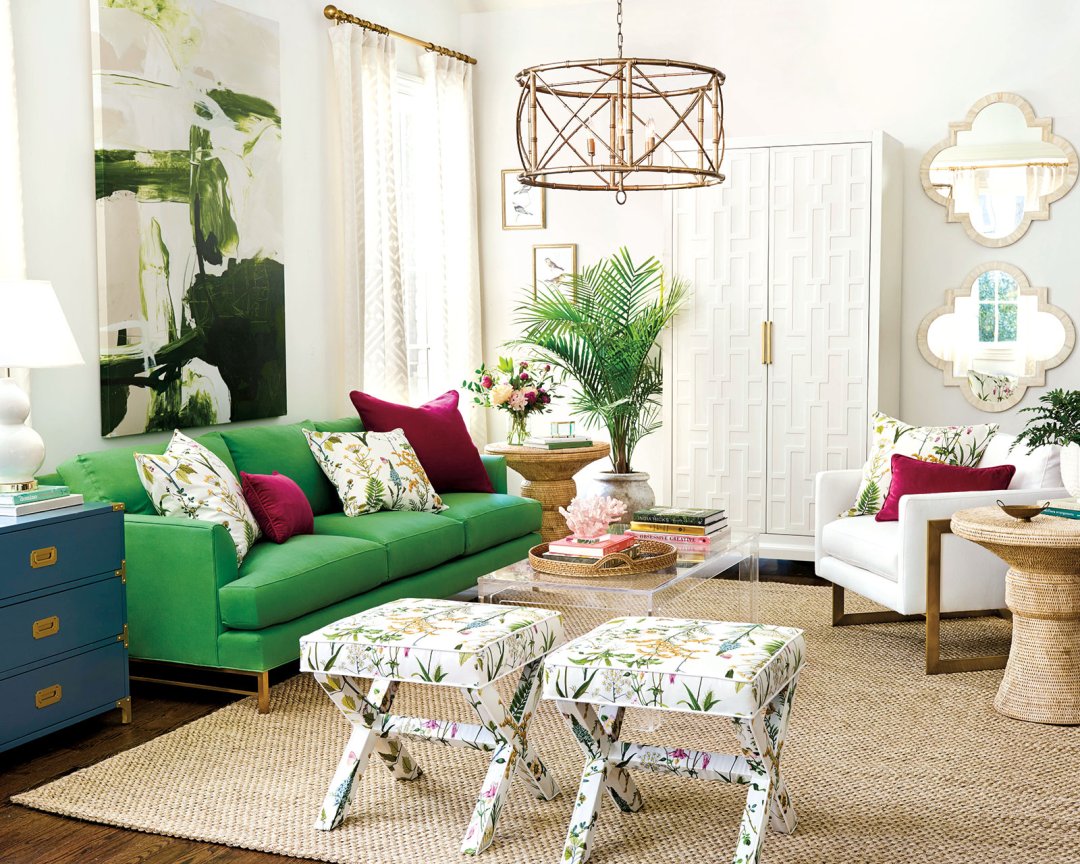 Get the biggest size that'll fit in your room.
You want to leave at least 6″ of space around the perimeter of your room, but aside from that, just go with the biggest size you can fit. Of course, be careful not to cover any rug vents and be sure all of your doors can comfortably open.


Layer expensive and inexpensive rugs
If you're coveting a nice, patterned rug but are uncomfortable with the price, try one of our favorite tricks. Order the patterned rug in a smaller size, probably 5×8 or 6×9, then layer it over a much larger natural fiber rug. Jutes and seagrasses are typically much less expensive than wool rugs, so you'll be able to get the proper size while also getting the pattern and color you're looking for. Voila!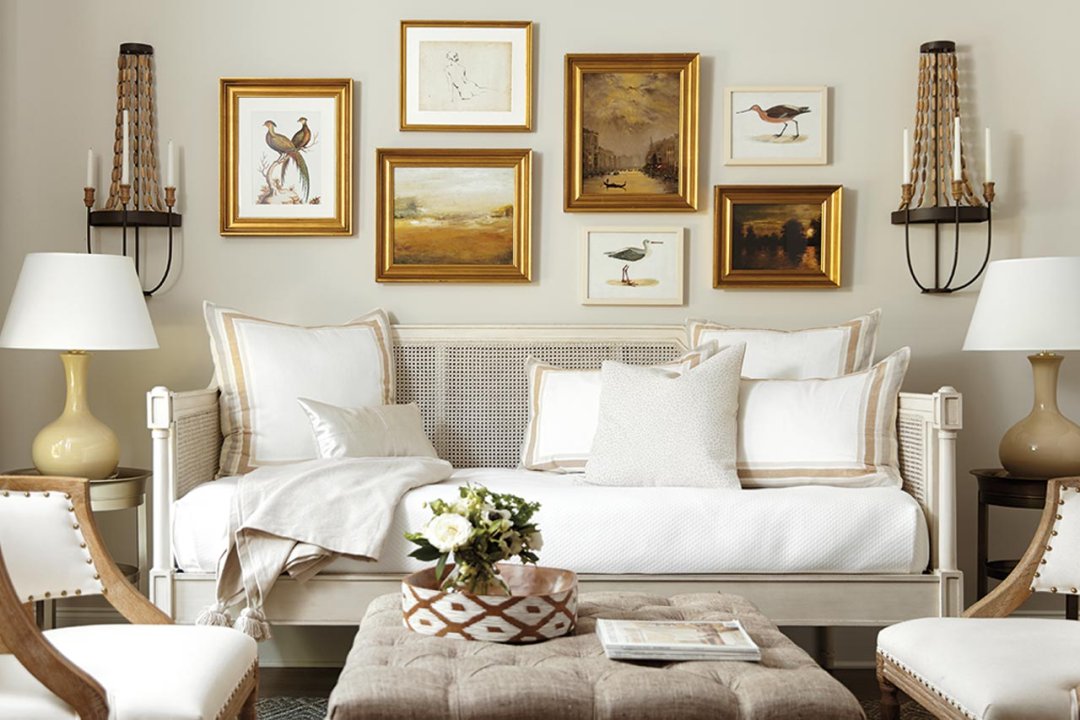 2. Your Furniture is Too Far Apart
Laying out a room is hard. We totally get it, and we detailed the step-by-step process our designers use to layout a space at the Design Solutions desk in our stores. Here's what many of the issues come down to — your furniture pieces are spread too far apart. You probably need less space than you think.
Check out the room above. The occasional chairs are only about 10 inches from the ottoman. You really don't need more space than that. Here's a quick cheat sheet:
Distance between coffee table and sofa: 8-18 inches
Distance between pairs of chairs: 4-12 inches, or the size of an accent table
Amount of space for a walkway: 24-36 inches
No chair or sofa should be more than an arm's length from either the coffee table or side table.
3. Not Enough Lighting
In almost every episode of our podcast, we ask our designer guests about their decorating pet peeve. Nearly everyone calls out lighting. A beautifully lit room feels warm, inviting, and puts everyone at ease. But on the flipside, a room that's poorly lit feels awkward and unflattering.
Cardinal Rule of Lighting: Never rely solely on overhead lighting.
Obviously if you have canned lights or a chandelier, you should turn those on, though we recommend always using a dimmer unless you need full brightness for a task. In addition to overhead lighting, have at least 3 other light sources in your room. Mix it up and have a combination of floor lamps, table lamps, and sconces.
In Mark Sikes' living room from the 2016 Southern Living Idea House (above), we count 8 table and floor lamps and two overhead fixtures! Plus, there are even more light fixtures in this room that you can't see, like additional floor lamps and sconces.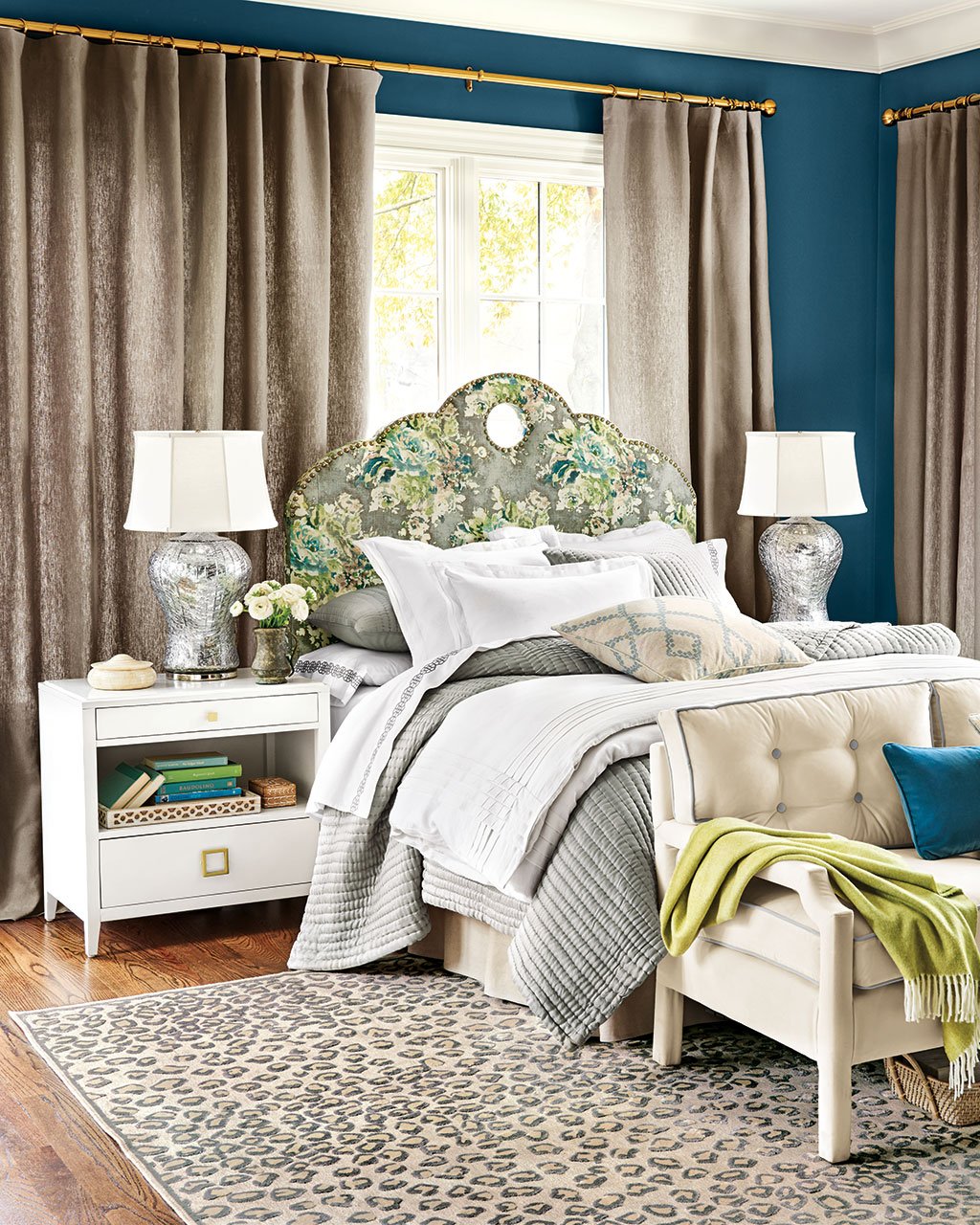 4. Wimpy Curtains
Curtains serve several purposes in a room, more than just providing privacy. They bring softness to spaces, they make your ceilings look taller, they add color and pattern, and they help fill wall space. Never underestimate the value of a fantastic drapery. But here's where most people go wrong: they're hardware is hung too low and their panels aren't wide enough for their windows.
In most rooms, we recommend hanging your curtain hardware just under the crown moulding. The only exception is when your ceilings are very, very tall. If that's the case, then hang the hardware betwen 8-18 inches over the top of your window. It's also a good idea to hang your hardware brackets much wider than your windows, probably between 6-8 inches from the widest part of your window mullions. That way, when you want to let natural light into your room, you can pull your panels all the way back so they aren't covering the windows.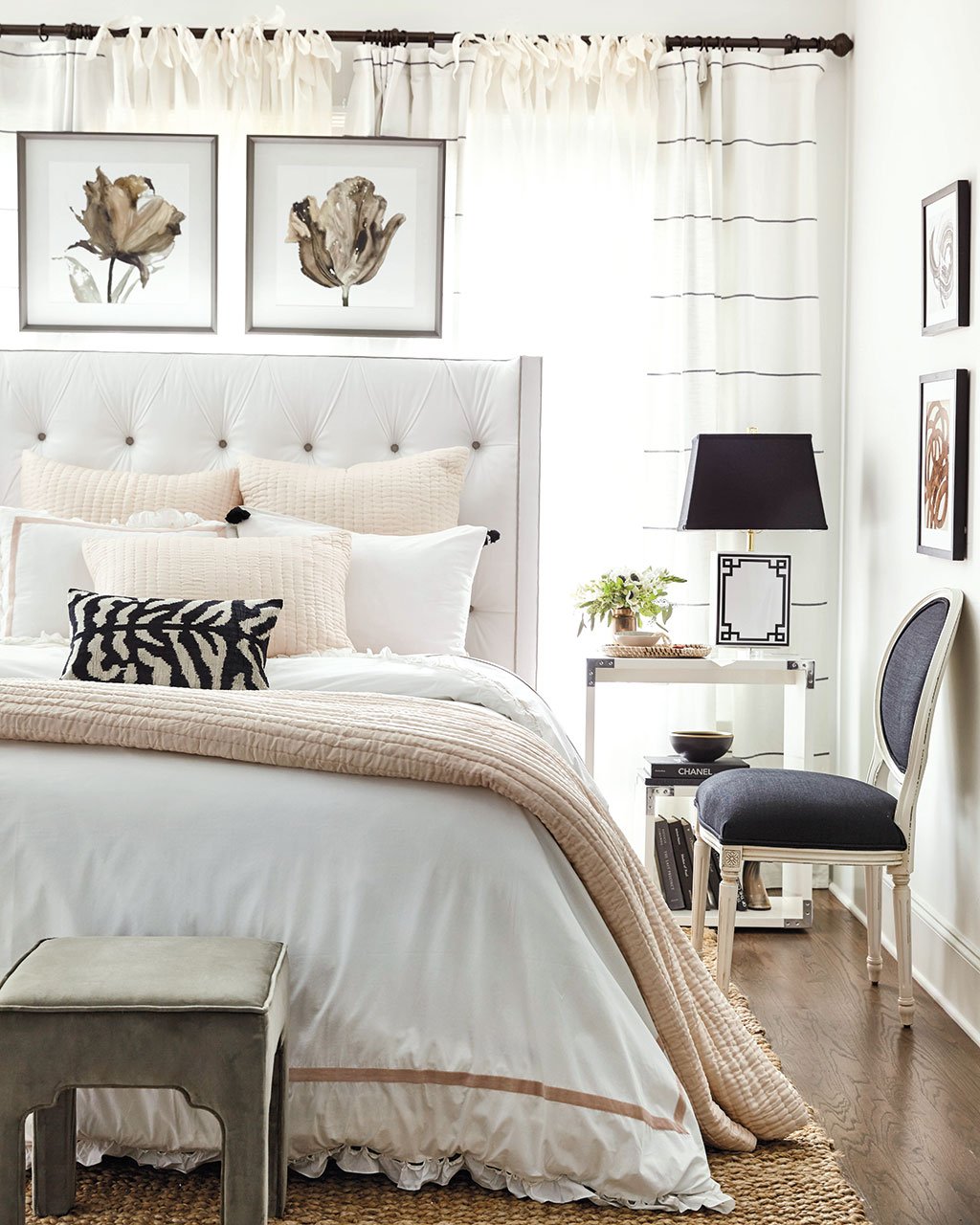 On the issue of curtain width, your panels should be twice the width of your windows. So for example, if your windows are 50 inches wide, you want a combined width of 100 inches. So that could be two panels that are 50 inches wide or one panel that's 100 inches wide. If your window is 100 inches wide, you'll want 200 inches of curtain panel. In this case, we recommend taking your panels to a dry cleaner or seamstress and having them serge two panels together.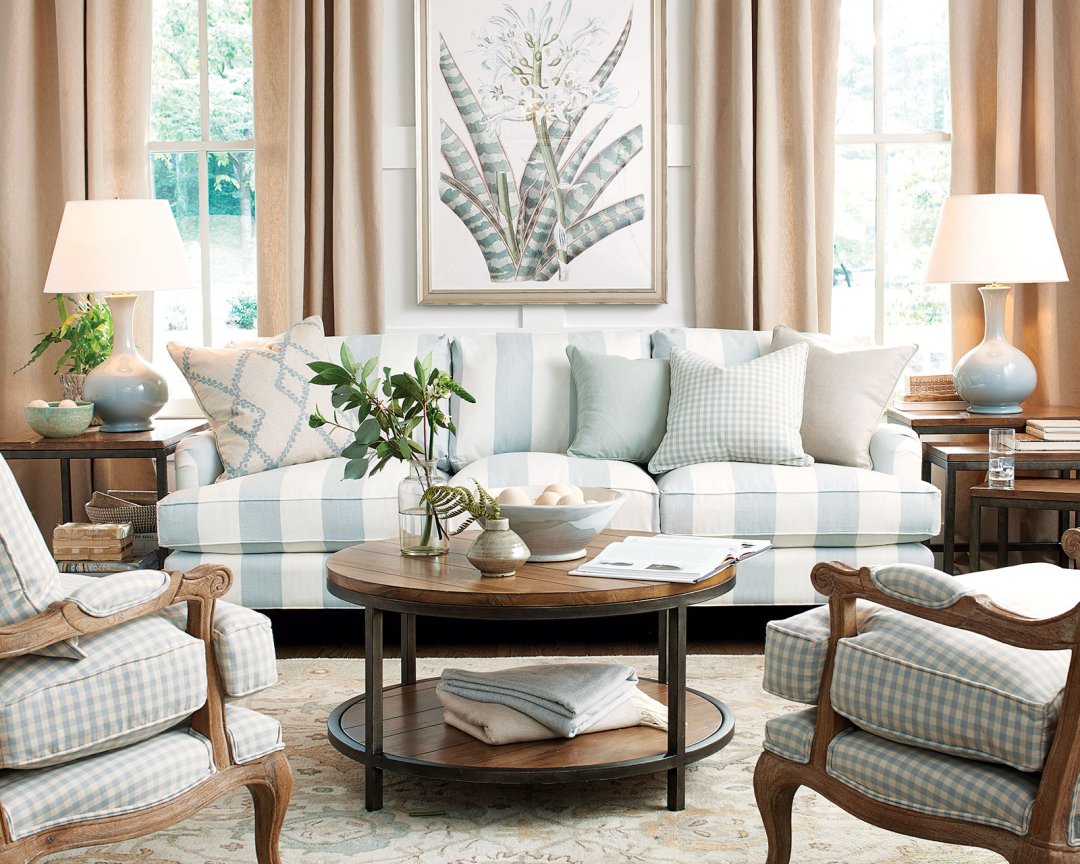 5. Out of Scale
Scale is important, but it can be very hard to get right, even for the pros. When we had designers Allison Smith and Anne Scott Shelley on the podcast, they even mentioned getting it wrong on occasion. To master scale, study your room and try options out before making your final decision.
If you have a very large great room, then use larger furniture pieces to help fill that space. On the flip side, if your room is small, don't choose oversized furniture.
If you have a small room, choose sofas and chairs with narrower, straighter arms. Anything with a big roll arm is a waste of space. An overstuffed sofa with a heavy roll arm may waste 12-18 inches just on the arm, where you aren't even sitting. While they feel comfortable in a large family room, they'll eat up valuable space in a small living room. Consider a sofa like our Cameron, Manchester, or Hartwell sofas instead.


The other two problem areas for scale? Properly sizing art on the wall or over furniture and hanging light fixtures.
Here are some more easy rules of thumb:
Art should be at least 2/3 the size of the piece of furniture it hangs over.
Your chandelier should be 1/2 to 3/4 the width of your dining table.
Art over a mantel should be no smaller than the size of the firebox.
See these other Decorating 101 posts:
Did you like this post and find it helpful? Rate it below and share your thoughts in the comments!