Celebrated interior designer Bunny Williams is a collector, so it's no surprise that many of the pieces in her holiday collection are inspired by antiques she's brought home over the years. We sat down with the entertaining expert herself to talk holiday decor, hosting tips, and the three main staples of her holiday decor.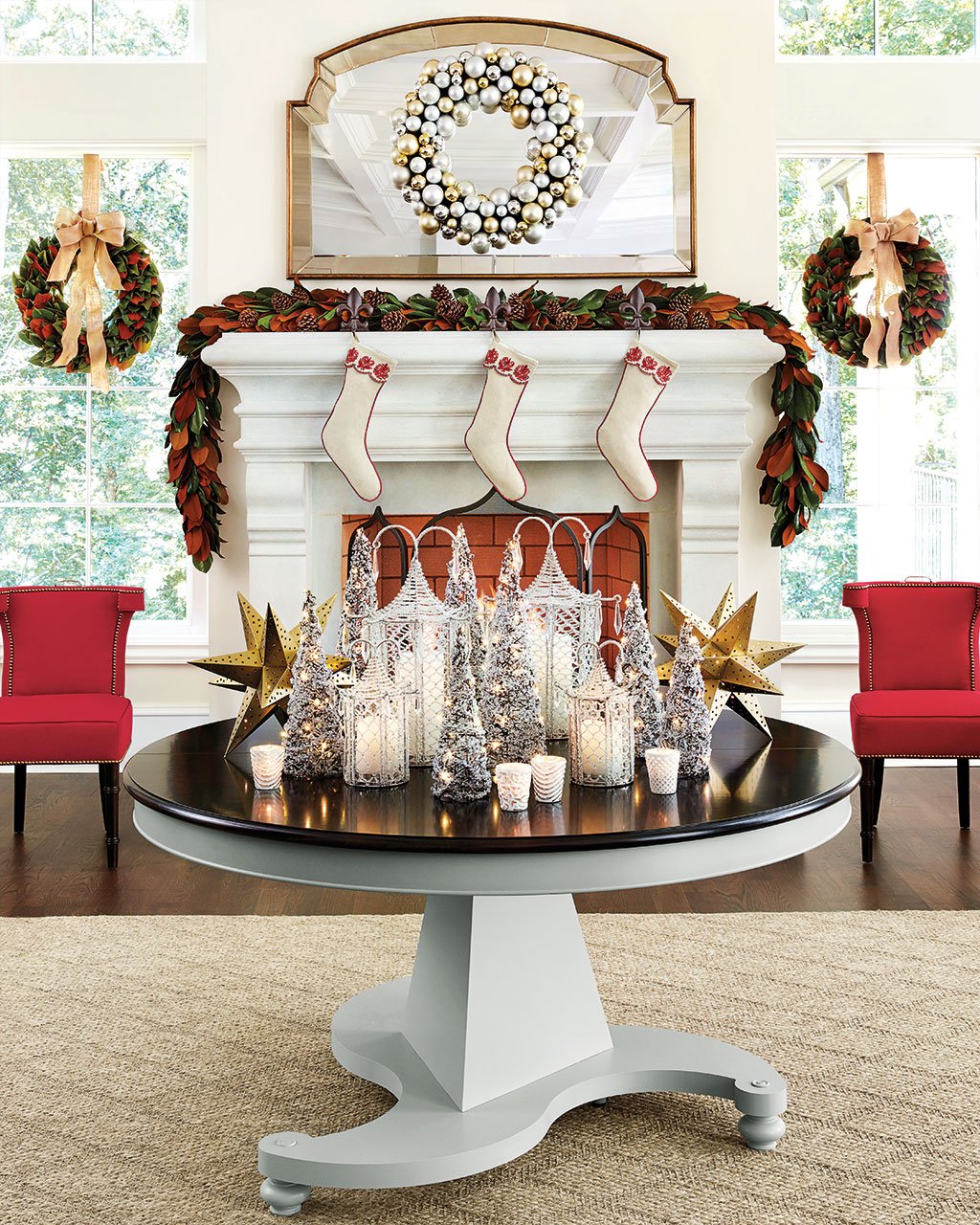 Ballard Designs: There are some pretty new holiday accessories in your 2017 Collection, what was your inspiration for these pieces?
Bunny Williams: The one thing that makes the holidays different than any other time is sparkle. Bring out your proverbial party dress, and use pieces with more glamour than you'd normally include. Bubbly champagne, glittering candle light, and extra festive touches make the season a magical time, so embrace it. That's why almost all of the pieces in my holiday collection have some sort of shimmer and shine — the beaded trees, the pagodas, and even the Moravian sit-abouts. They're all glittery and sparkling and give spaces a holiday feel.
I also love candlelight because it's so magical. Whenever I'm entertaining, I dim all of the lights and use a mixture of LED candles and small votives. The softer light creates a more romantic, festive feel.
Greenery is another element I love to include in my holiday decor, especially magnolia. Live magnolia garland and wreaths are great because they'll last the whole season. Even as they dry, they're still beautiful. Those three elements — sparkle, candlelight, and greenery — are always essential in my holiday decor.


BD: We love seeing classic holiday motifs reinterpreted in different ways, like your Vintage Star Sit About. How do you imagine these being used around the home?
BW: The reason I love to reinterpret classic pieces is that it makes them feel more modern. A grouping of these moravian stars would be so elegant on a dining table or entry table. I have big plastic boxes that I use to store my holiday decorations, and every year, I bring out my collections which, of course, I've added to over the years. But every year, I try to mix it up and create a new look.
Last year, I used my silver trees on the dining table mixed with magnolia leaves, but this year, they'll be on the mantel. It's fun to try new things.
BD: You seem to use lots of silver and gold. Why those colors?
BW: Silver and gold can go in any interior. You may have a living room with pink, blue, black, or any number of colors. Silver and gold can work with anything, so that's why I favor those. Like I said, each year, I reimagine the same pieces, so having them all in silver and gold means I can use them in different rooms of my house and not worry about competing against the decor.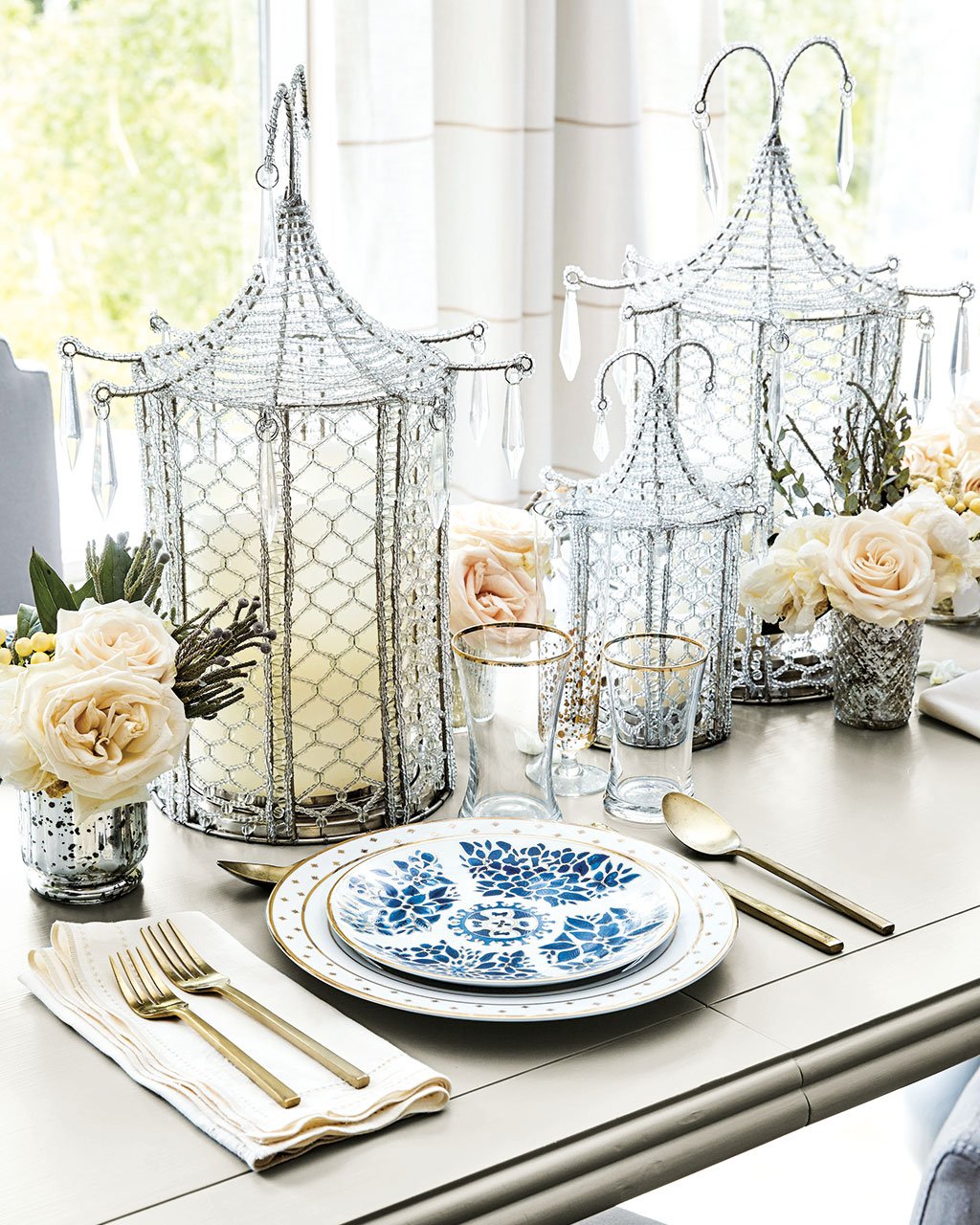 BD: You've introduced a new, much larger size in your beaded pagoda. Grouped together on a table they sparkle, almost like they've been coated in snow. Is this how you'll use them during the holidays?
BW: It's funny, I've had the smaller pagodas all over my house, and whenever guests come over, they ask about them. I thought it'd be fun to do a bigger size for more drama. I use the small pagodas in the center of a table because I want to be able to see over them, but the larger pagodas are perfect for a sideboard or entry table.


BD: You're all about holidays parties, and we've set up two bars as inspiration, both on your Manor House Sideboard and on the table with a punch bowl. What do you think are the best ways to serve drinks at a holiday party?
BW: Of course it depends on the size of your party, but as a general rule I prefer to have multiple drink stations. If you're having a dinner party with less than 12 people, that's not necessary, but for a cocktail party, it's better to spread the traffic to different parts of your house. Most of us aren't going to use a bartender for a holiday party at our homes, and in that case, have champagne, maybe a signature cocktail like eggnog, and drinks that don't need to be mixed. Keep things simple and let guests help themselves.
Because everyone will congregate at the bar, have multiple around your home to draw guests into different spaces. If you just have one bar, you're doomed for a traffic jam!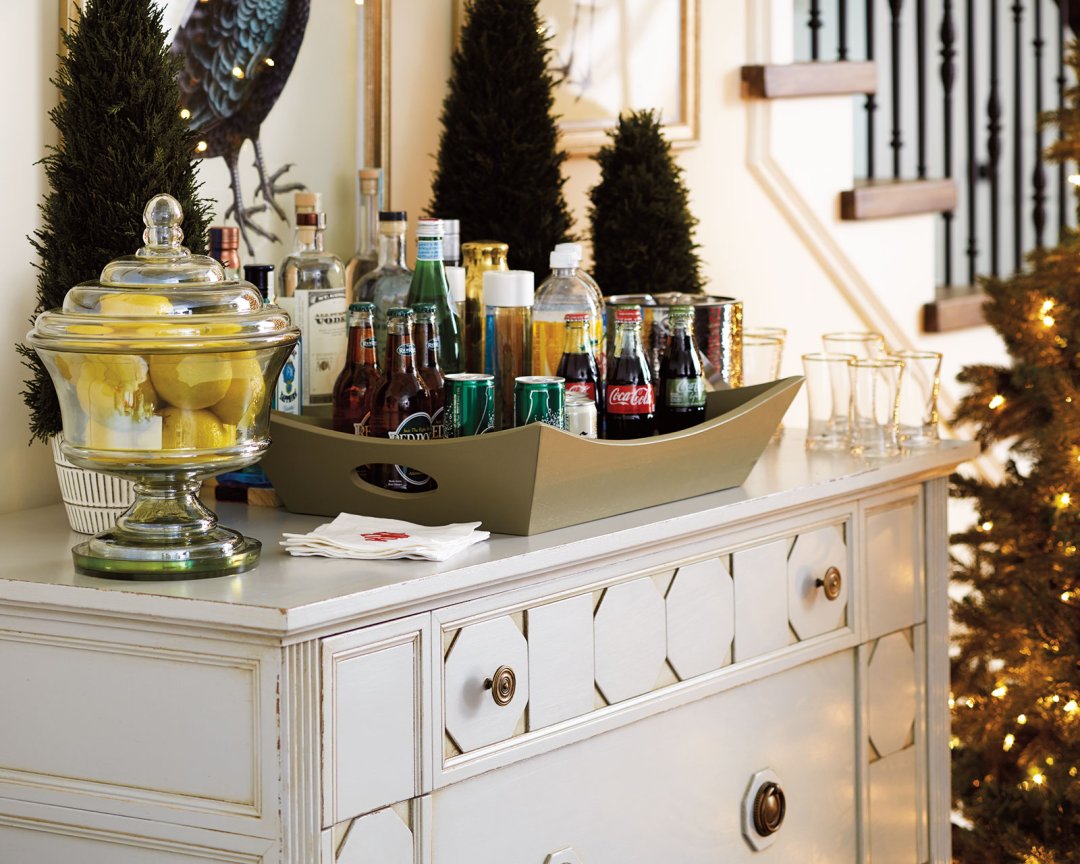 BD: What sort of holiday party to you host each year?
BW: I've found that the easiest strategy for hosting a holiday party is to have a cocktail buffet. Having a seated dinner is a lot of stress because dishes have to be timed just right. When John and I host a holiday party, I prep everything the day before — chilled shrimp, cheese straws, baked ham, biscuits, and cheese — then set everything out on gorgeous platters with a great centerpiece. Our guests can serve themselves, and more importantly, we can play host and hostess without having to worry about the meal.
On the buffet, I always use a big stack of small dessert plates in my Gold Star pattern and it's even fun to use dessert plates from multiple patterns. It brings more color and personality to your table.
What you don't want to do is serve anything that needs to be cut. That's my only rule!
BD: Other holiday party entertaining tips?
Make it easy for yourself. If you're having a good time, everyone else will too.


BD: Let's talk about seated holiday dinners. How do we pull them off without being overwhelmed, and should we be switching things up every year if we host annually?
BW: Often, I'll use the same china patterns to set my holiday dinner, but I'll use a different table cloth. With a simple gold or silver pattern, like my Gold Star Dinnerware, it easy to create a whole new look just by swapping out your table cloth. Last year I introduced this gorgeous ikat table cloth. The color really stands out and gives your table a whole new look. Your china doesn't have to change but you can update the look with fabric and flowers.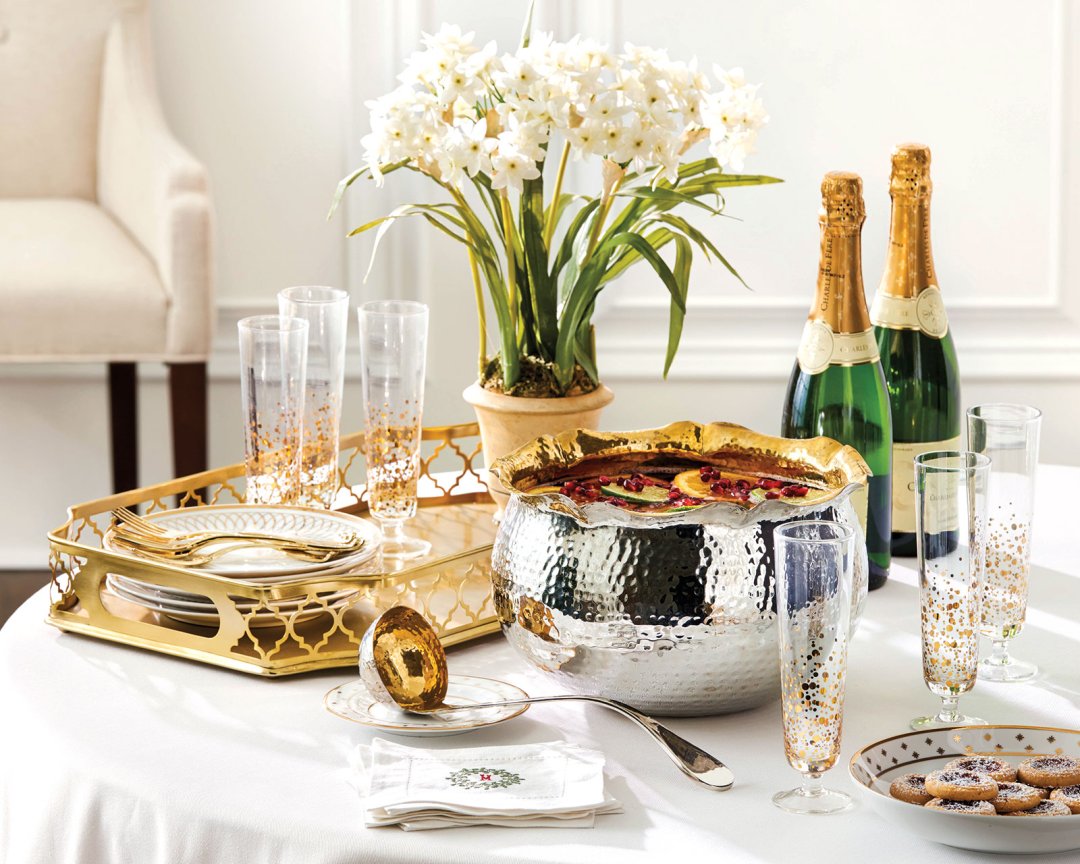 BD: Do you have any favorite hostess gifts?
BW: You know, I never like to give someone something that's too much of a statement. Actually, lots of my favorite gifts are in my collection like my Silver Wire Cachepot which I may fill with a small plant or candle. A simple set of cocktail napkins are always nice. You never know what someone's taste is, so choose something practical and simple. Don't get too complicated.
BD: You have some classic hemstitch cocktail napkins you're introducing. Are these some of your entertaining favorites?
BW: I happen to like cloth napkins, though I know a lot of people don't want to fool with them. Paper cocktail napkins just disintegrate in your hand, so for that reason, I keep lots of cloth ones around. For anyone that entertains a lot, you can never have too many.
Browse all of Bunny Williams' products designed for Ballard Designs, or learn more about Bunny Williams and her decorating style.
Did you like this post and find it helpful? Rate it below and share your thoughts in the comments.