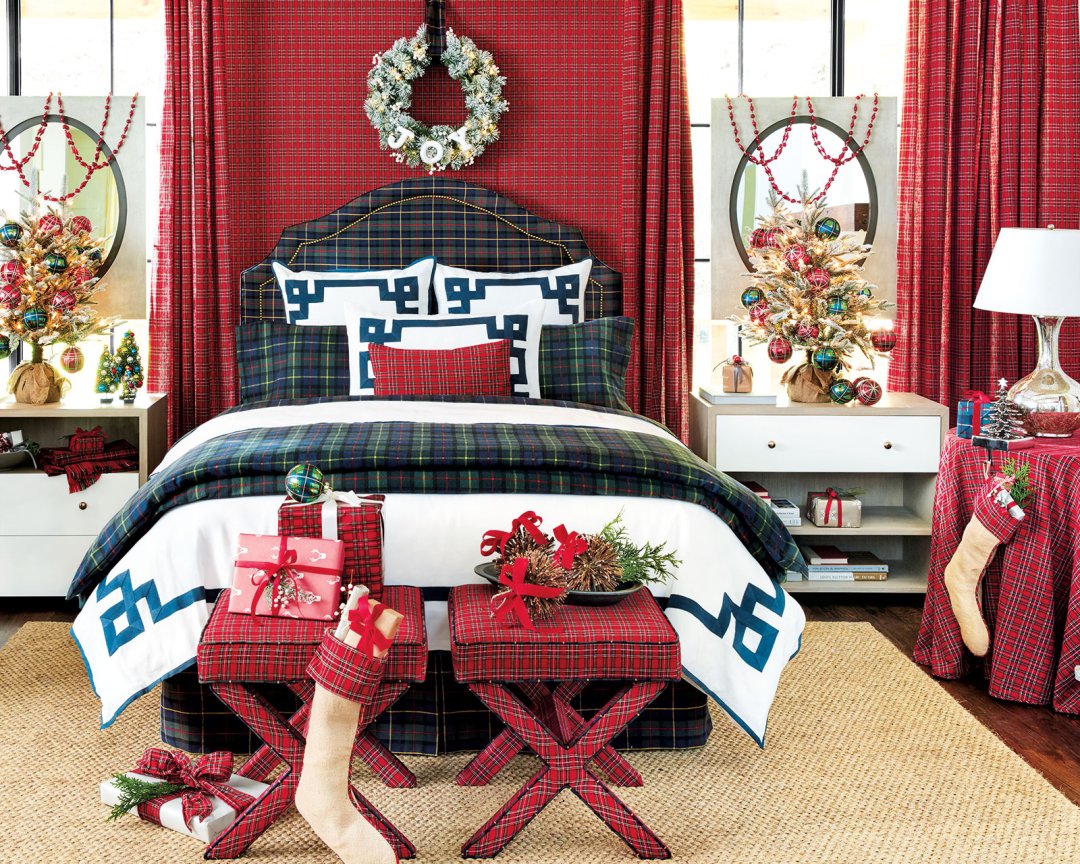 Every year, our design partner Suzanne Kasler dreams up new ways to decorate for the holidays, and we're always on pins and needles waiting to see how she's decking the halls. In this year's collection, there's no shortage of plaid, but even with bold patterns and holiday colors, you'll still find that timeless quality you expect from Suzanne's style.
BD: We know you're a big fan of the holidays and that you start decorating early. When do you start planning your décor and what's your favorite part of the holidays?
SK: Christmas is my favorite time of year because I love tradition. Since it takes a lot of work to get the house ready, I've always been adamant about decorating early so my family can enjoy the whole month of December and all of the festive touches I've added. If you get everything done early, you can enjoy the Christmas season without feeling overwhelmed.
Of course, I love a classic Christmas, and over the years, I've found things to add to my collection. Some years I may focus more on a theme that relates to things I've recently found — for example, when I found the antique Czech trees at Scott's Antique Market, it inspired me to take my holiday decor in a more sparkly, glittery direction. Then some years, I'm more drawn to rustic elements. I have lots of options and pull out certain pieces depending on what I'm drawn to.
There's something special about sentimental pieces that you celebrate year after year. I have a nutcracker collection that my parents have given me over the years. I display them in a new way each year. Last year, we mixed them with plaster sculptures similar to my Triomphe Models to give them a more modern look.
BD: What about greenery? Do you like fresh or faux?
It's important to mix both. I always get fresh garland and wreaths for the outside of my house, but then I'll use faux trees around the house. Because I like to decorate so early, a faux tree really makes more sense inside, but I can't resist the smells of greenery, so I mix fresh and faux together.


BD: You designed two looks for our holiday catalog, both so different. One room that's a celebration of plaid – color and pattern everywhere. Plaid is one of your signatures, but you've mixed your two patterns together this year. How do you accomplish the perfect mix without overwhelming the space?
SK: When we started brainstorming ideas for my very first Christmas collection, I designed a classic red plaid pattern inspired by a shirt I used to wear every Christmas. It came in a fabric by the yard, and we were all surprised and delighted to see how much everyone loved it! So that red plaid was the foundation of my whole collection. Then, of course we added our MacKenzie Plaid because the dark green can be used all year.
This year, I wanted to mix the plaids together to create a bedroom that really wows you. Using one or two patterns on every surfaces keeps things from getting too busy. It seems counterintuitive, but using one pattern over and over again almost gives it the feel of a solid. One of my favorite things to do with my catalog spreads is to reimagine in new ways, so I was thrilled it came together so beautifully.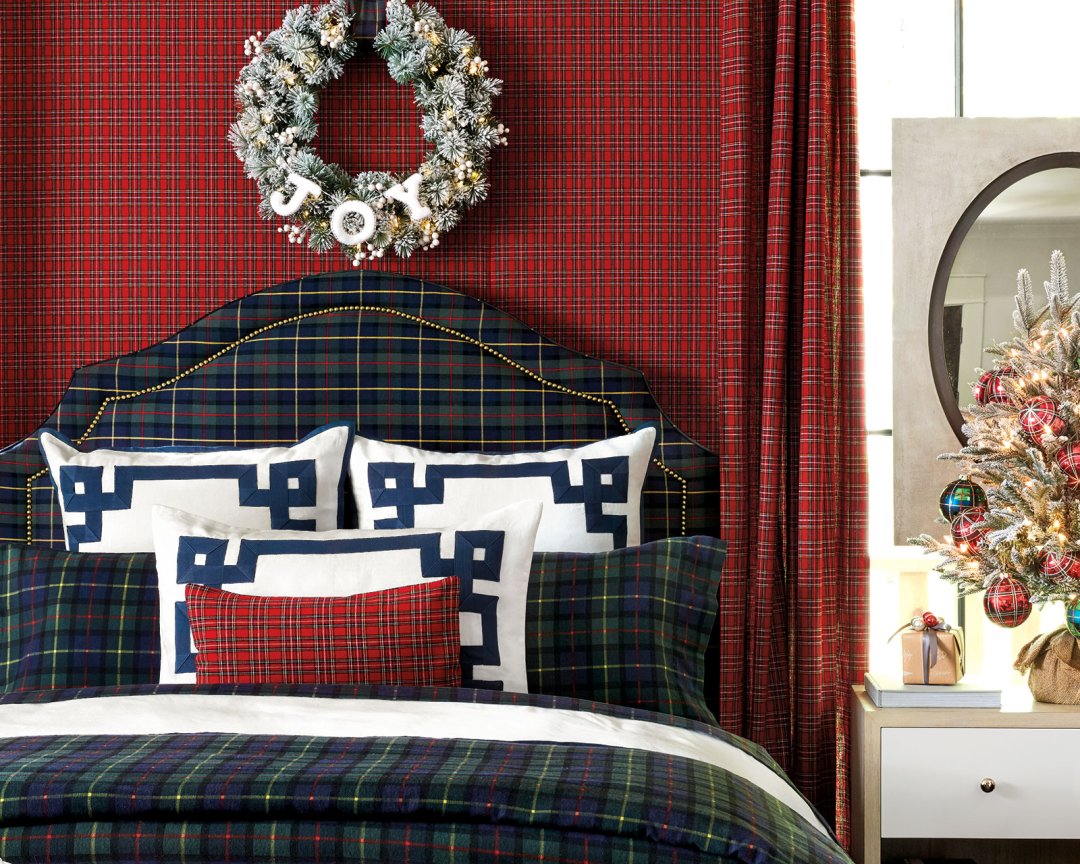 BD: We love your new plaid bedding because it's the perfect way to add a festive touch to a guest bedroom. Do you change up the décor of your guest room for the holidays?
SK: Plaid isn't a seasonal pattern. For my clients, I love to use them in libraries. There's nothing more handsome than a great wingback chair in a classic plaid. But for some reason this year, I just kept thinking about using plaid in bedrooms. You want a cozy bedroom during the winter, and plaid is an instant way to bring that warmth and nostalgia into a bedroom.
Like I said, I use plaid year round, but if you're having holiday guests and want to bring some more personality into your guest bedroom, a duvet and shams or a set of great sheets injects your space with that festive feel. I mix the plaid pieces with my classic Greek Key Bedding, but any timeless white bedding would work. Crisp white will balance that plaid pattern.
BD: Your new Hallen nightstand has a sleek silhouette in modern finishes. We love how they add a modern touch to this plaid space. Why does this nightstand work so well here?
SK: I've always loved furniture pieces that combine finishes, especially a natural wood with a painted white. Nightstands can be tricky to come by. These could work anywhere, and I wanted something practical with storage and open shelving. I always look for that combination in my client work, and the Hallen Nightstand checks all the boxes for me. It has a clean, modern shape, but it works equally well in more traditional or more contemporary rooms.

BD: Tell us about your inspiration for the Saxony Zinc Mirror.
SK: I'm a big shopper and loving hunting for antiques, and recently I've been drawn to mirrors that are inset into other shapes. This one has an iron rim to help define the oval mirror, and the finishes are just right.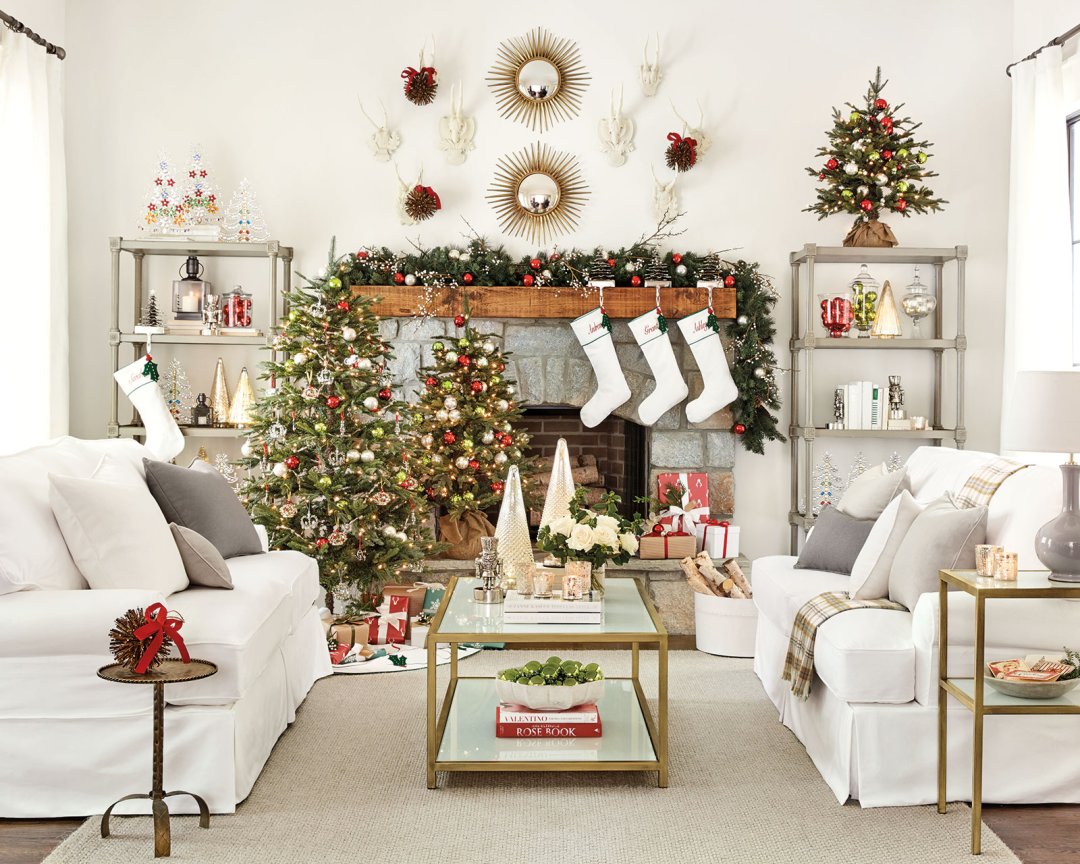 BD: Of course in the living room you designed, the décor goes in a cleaner direction. Do you accent with red every year, or do you like to switch up your color palettes?
SK: Red has been trending in fashion, and those colors from the runway always influence interiors because we become more receptive to colors we're seeing a lot. Since I'm a lover of red, it's fun to see it surge back into style. Bringing red accents into your neutral living room is like carrying a fabulous red purse with a timeless outfit. It draws you in, feels effortlessly stylish, and instantly updates pieces you've had forever.
This particular living room doesn't actually have all that much red in it, but those few festive touches really dazzle you.
BD: Layering trees is something you always seem to do. Why do you love this look so much?
SK: With smaller trees, I like to mix them together and play with different heights. The layering is fun because it helps move your eye around the room and really fills out the space.


BD: Tell us about the special ornaments you designed this season – the Gilgen Crown, Carinthia Petite Ornaments, and Marien Snowflake Ornaments. Are these based on pieces you collected?
SK: They're all based off ornaments I've collected over the years. The Gilgen Crown Ornaments work so well with my Czech Crystal trees, and they catch the twinkle of the Christmas lights on your tree.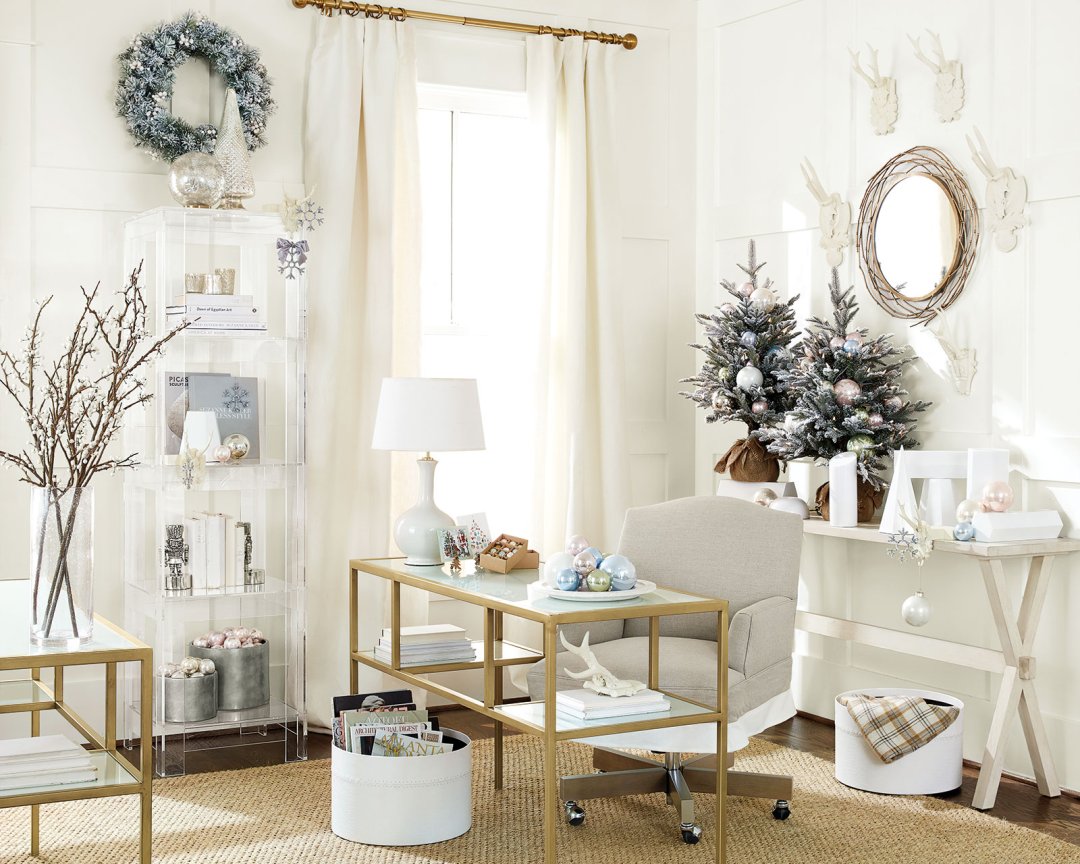 BD: The established color palettes in our room can be hard to work around when you're decorating for the holidays, especially when it comes to rugs, artwork, and pieces that aren't easy to switch out. How can we add festive touches that also complement the colors we've already brought into our home?
SK: There are lots of ways to approach this, but greenery goes with any color palette, so start by bringing in your wreaths and garland. Because it comes from nature, green is a great backdrop to nearly any color.
Another great strategy is to use metallic pieces — silver and gold will go anywhere. Mix them together in all of your accent pieces, and start collecting holiday decor in neutral colors. If you've got fresh greenery and sparkling ornaments, you'll capture that Christmas spirit without changing your room's color palette.
BD: What was the inspiration behind the Beaumont console and why is this a versatile piece in your growing collection?
SK: Narrow consoles are so versatile. Use them in a hallway, in a dining room, behind a sofa, or in an office like we did her. They can go just about anywhere. I love the simplicity of the base, and the whitewash finish can work into so many rooms. In my projects, I like to mix casual and dressy pieces, like the Beaumont Console, with a skirted desk chair. Those two disparate elements make a space feel collected and unstuffy.
Learn more about Suzanne Kasler, or find Suzanne Kasler's collection for Ballard Designs here.
Did you like this post and find it helpful? Rate it below and share your thoughts in the comments!