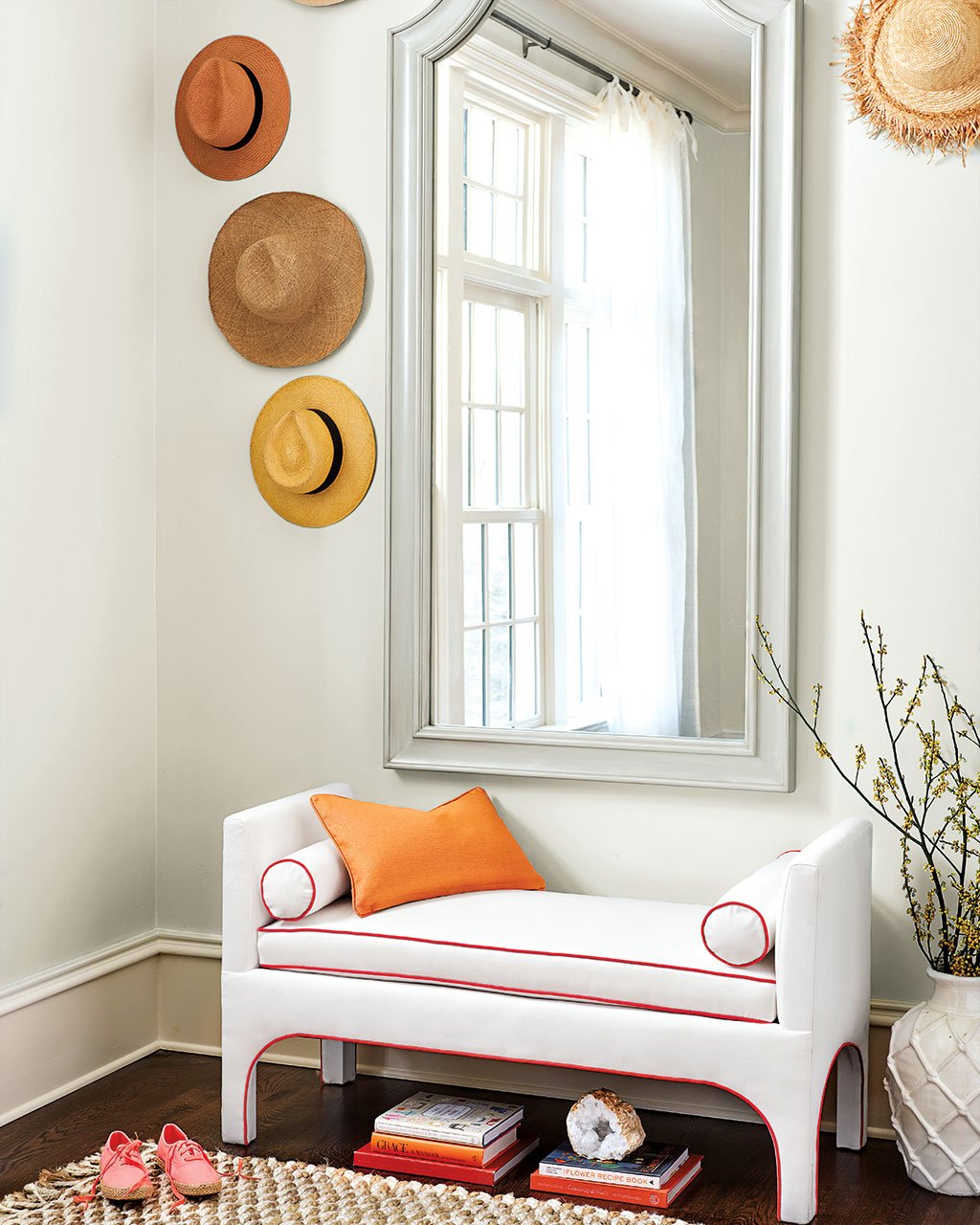 Your entryway is the first space guests see when they enter your home, and even more importantly, they're the first place you see. That's reason enough for us to make it a beautiful focal point that functions for your family and looks pretty too. We've rounded up 10 entries from our summer catalog to bring you a little inspiration so you can whip this little spot into shape.
1. Hats Off
Isn't this the perfect summer entry with it's light and airy feel? We outfitted our Jackson Bench in tough-on-spills Sunbrella fabric so it can stand up to heavy traffic. Then, we topped it with an oversized mirror which reflects sunlight from your doorway straight into your home.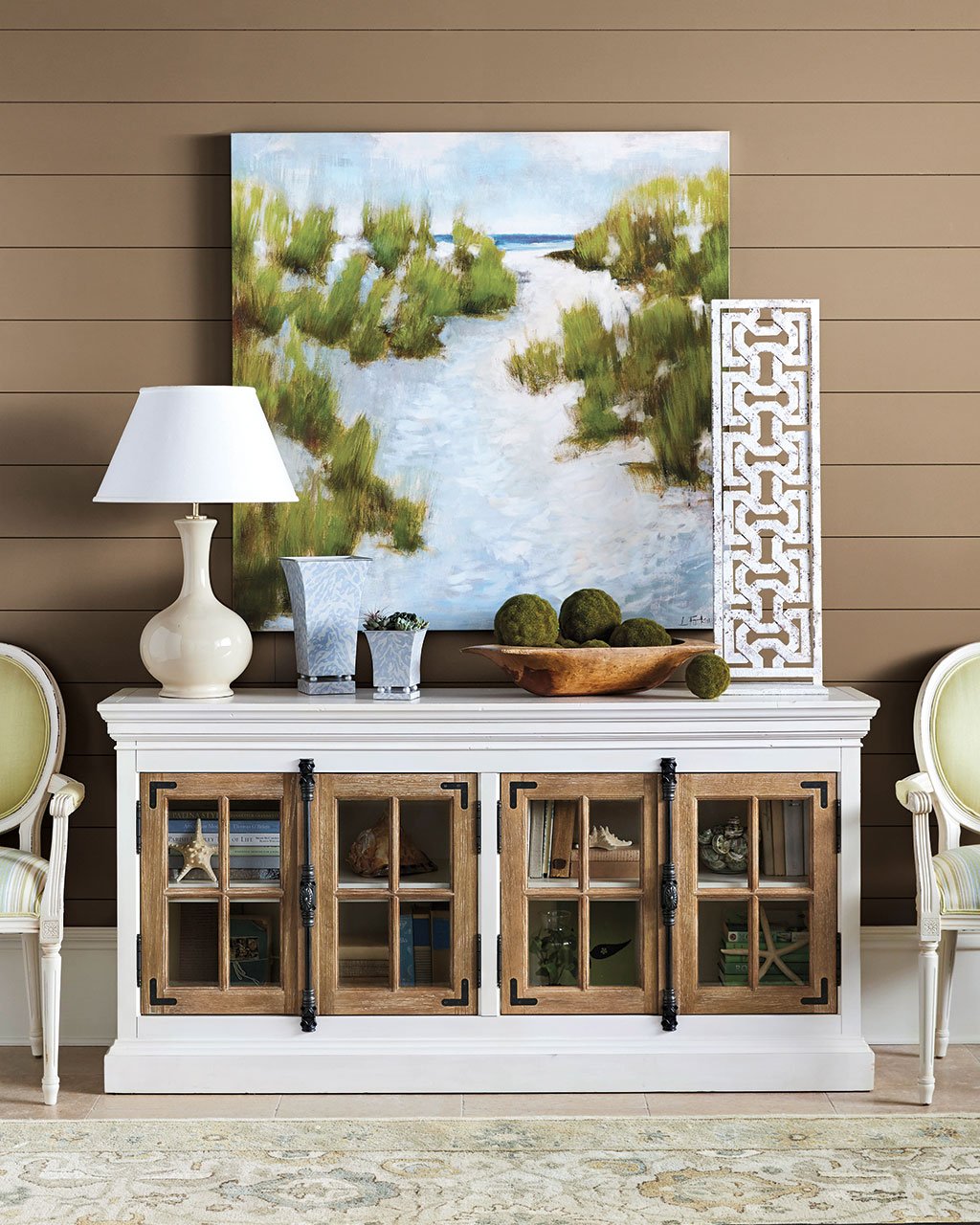 2. Fresh Color Palette
Blue and green is a timeless color palette and one that we can't help but love right now. Inspired by Laura Lloyd Fontaine's Walk Together Art, we chose simple accessories and a spring green and striped fabric for a pair of Louis Armchairs in Bunny Williams' Honeydew and Garden Stripe.
If you have a large two story entry, scale up with your art pieces and furniture. Anything too petite will feel out of place, and a large piece of art can help fill those cavernous walls.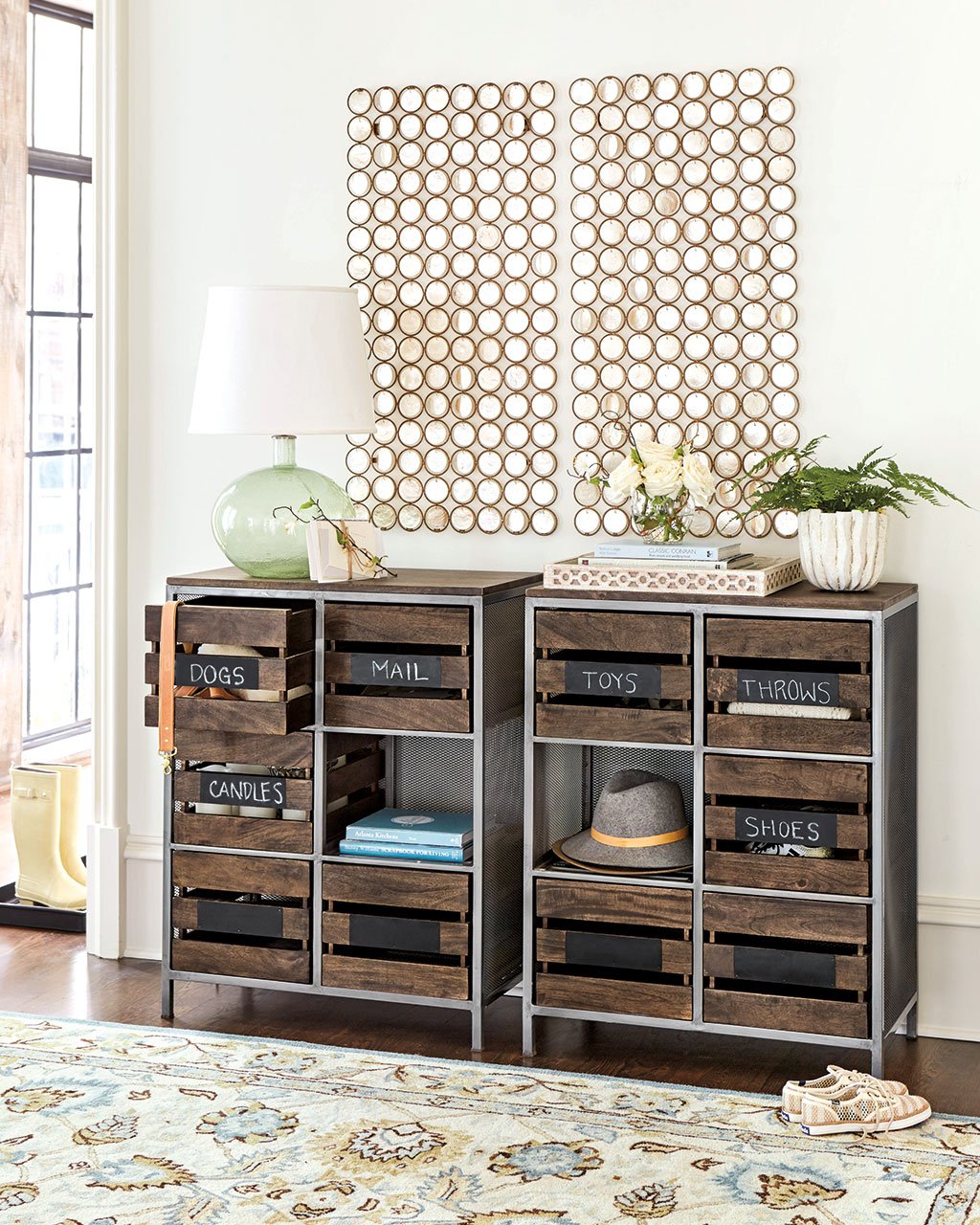 3. Storage is Key
If you've got a busy family, you'll need plenty of storage to keep all you necessities corralled. In this week's episode of the How to Decorate podcast, Domino Magazine editor in chief Jessica Romm Perez talks about the importance of having a system in place for your kids. Labeled bins are the perfect solution because everyone in the family will know where something lives — shoes in one bin, toys in another, dog stuff in another. Our Brandon 6-Drawer Cabinet answers all of your entryway prayers.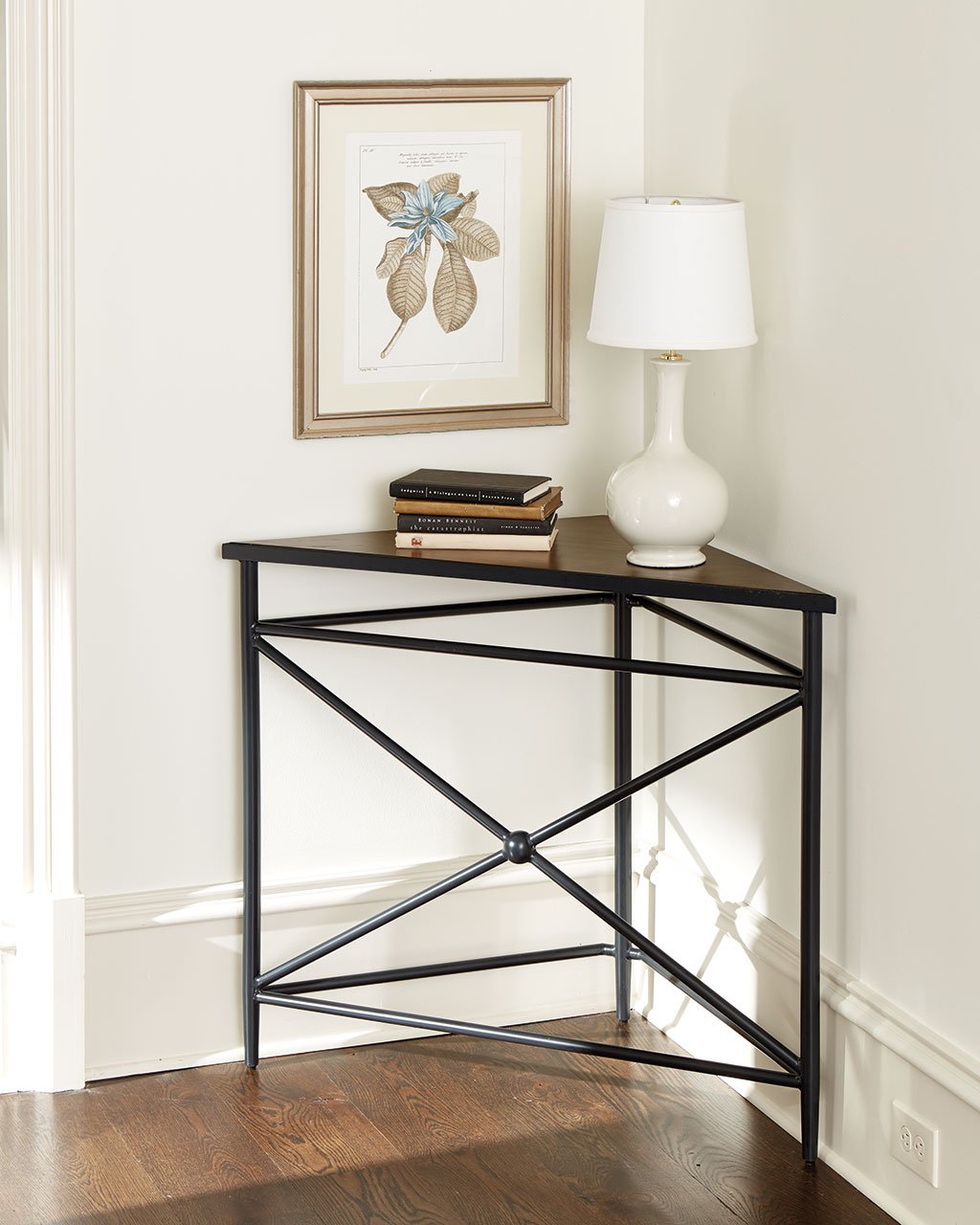 4. Tight Fit
Small entryways are tricky because your options are limited. Our Lindale Corner Console is perfect for homes without a proper entry. Tuck this little table into the corner by your front door as a drop spot and pretty focal point.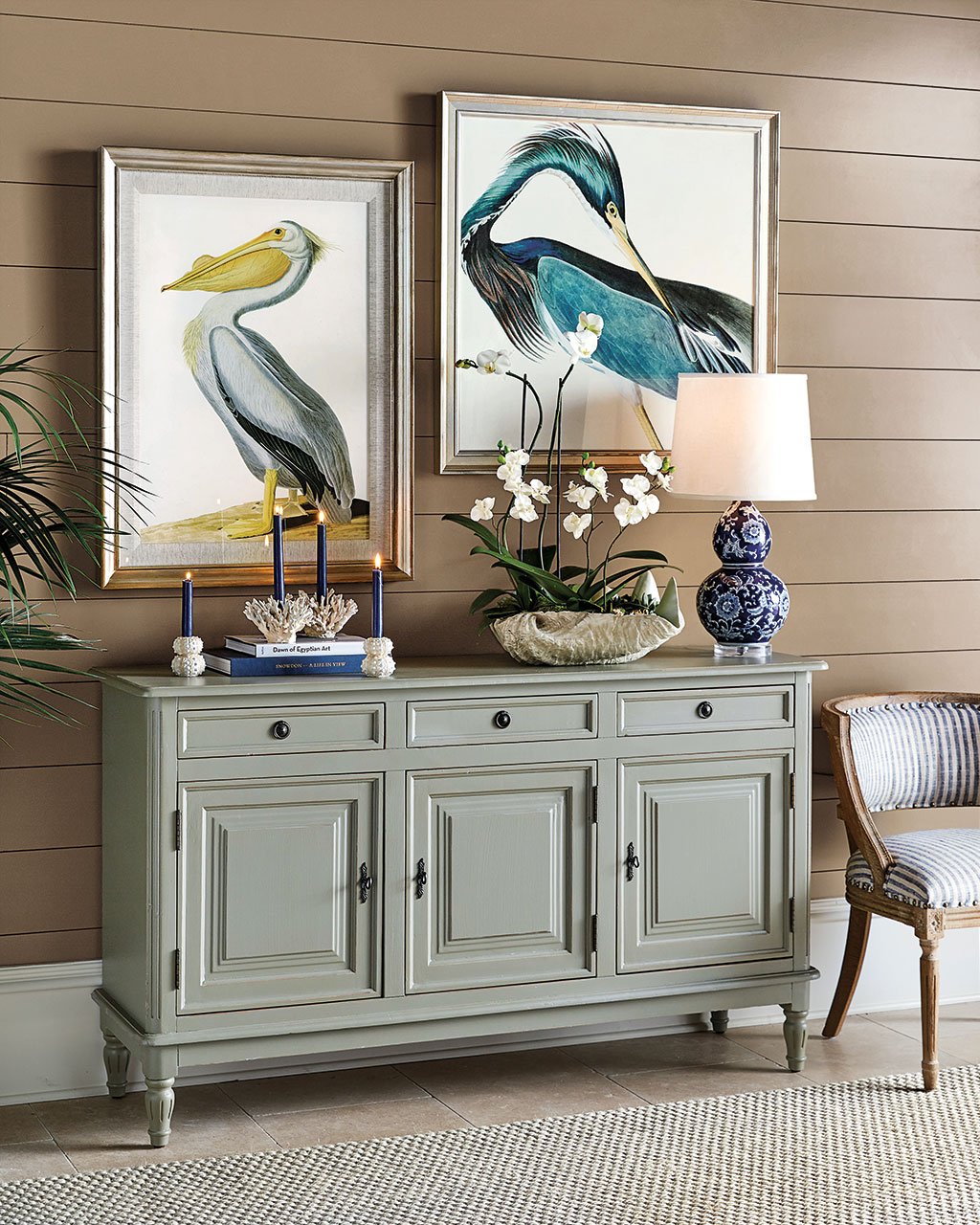 5. Birds of a Feather
As a rule of thumb, art should be at least 50% the width of the furniture piece it hangs over. If you really want to create drama, consider a much larger piece, two thirds or the full width of the furniture piece. Here, we hung a pair of Audubon prints, our Sea Heron and White Pelican Art, over our Dehavilland Console. Because the prints span the full width of the console table, it demands your attention creating a gorgeous focal point in an entryway.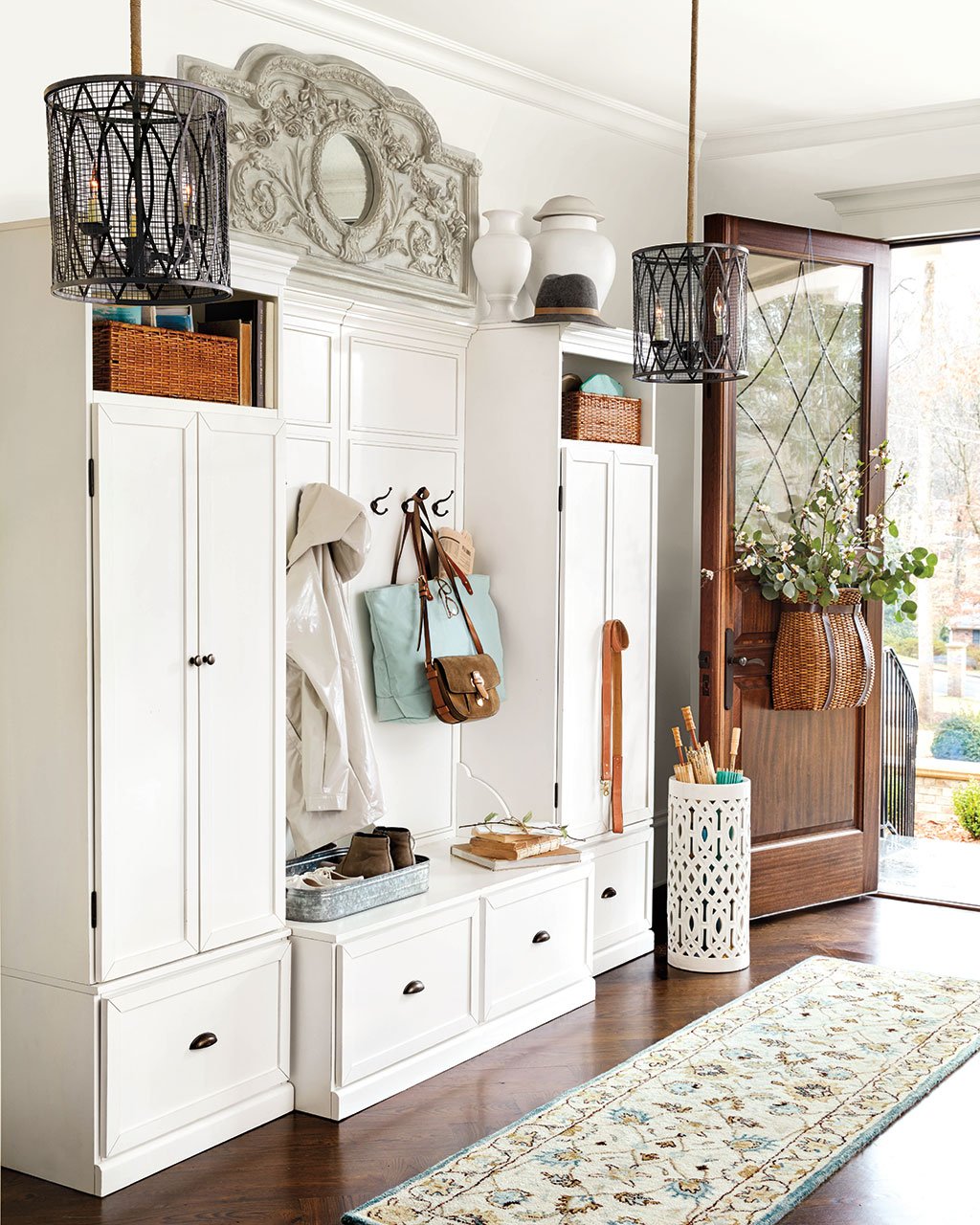 6. Tucked Away
Many of us dream of a gorgeous, formal entry that wows our guests. But the reality of needing storage and organization can thwart those grand plans. We say there's no reason you can't have a pretty space that functions properly too. Our modular Owen Entry Cabinet is the perfect example. With extra tall cabinets, moulding details, and classic Shaker doors, this piece can make a real statement in your front hall or mudroom. Outfitted with a pretty runner, pendant lights, and a few well chosen accessories, you can have that gorgeous entry you want and the storage your family needs.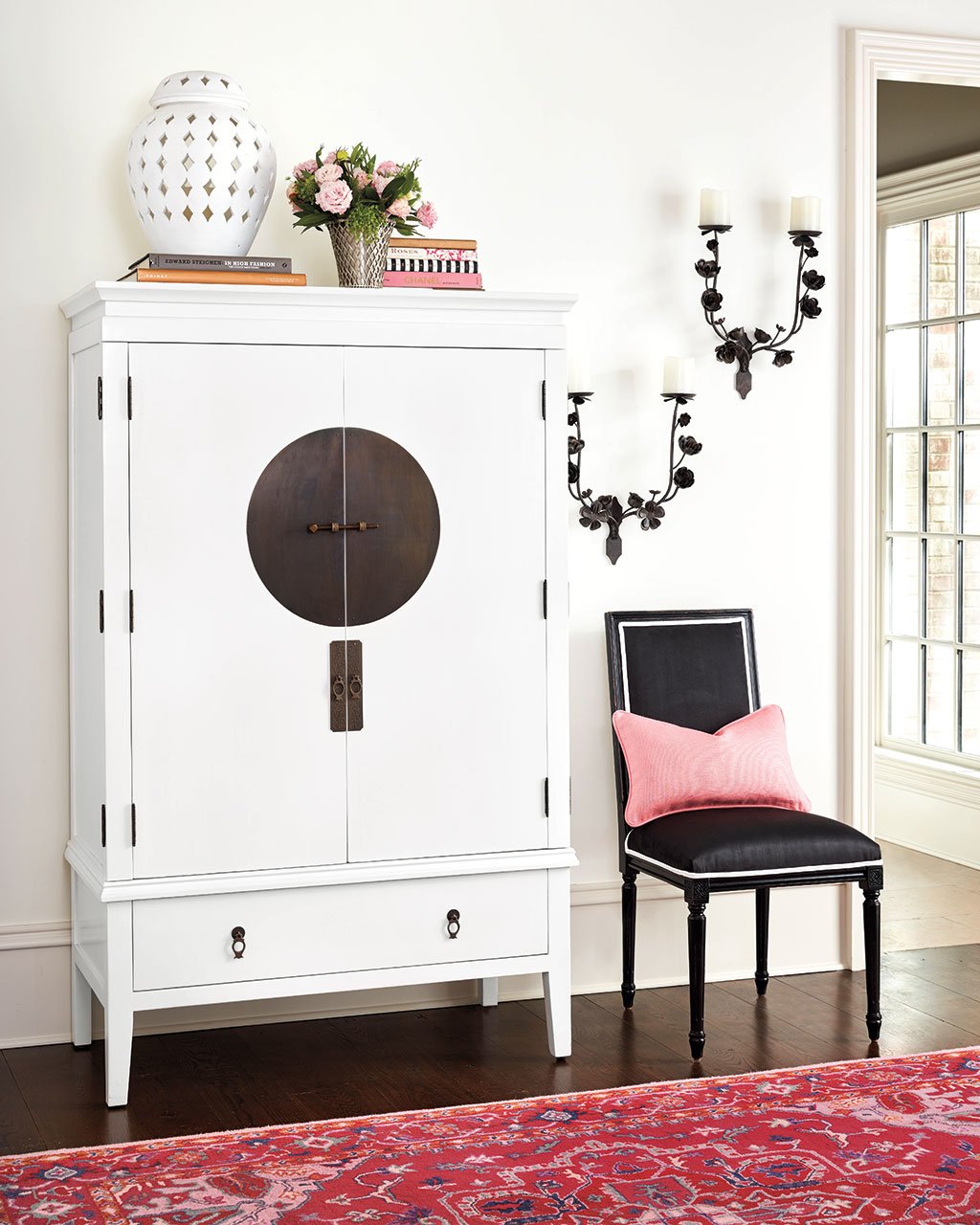 7. Pretty in Pink
We've shared our growing love of pink, and our Elle Rug is the perfect way to bring this happy hue into your space. It has several different blues in it to temper all that magenta, and it can really dress up a boring entryway. Add a hardworking armoire that hides everything from sneakers to mail, and your entry brings you the best of both worlds.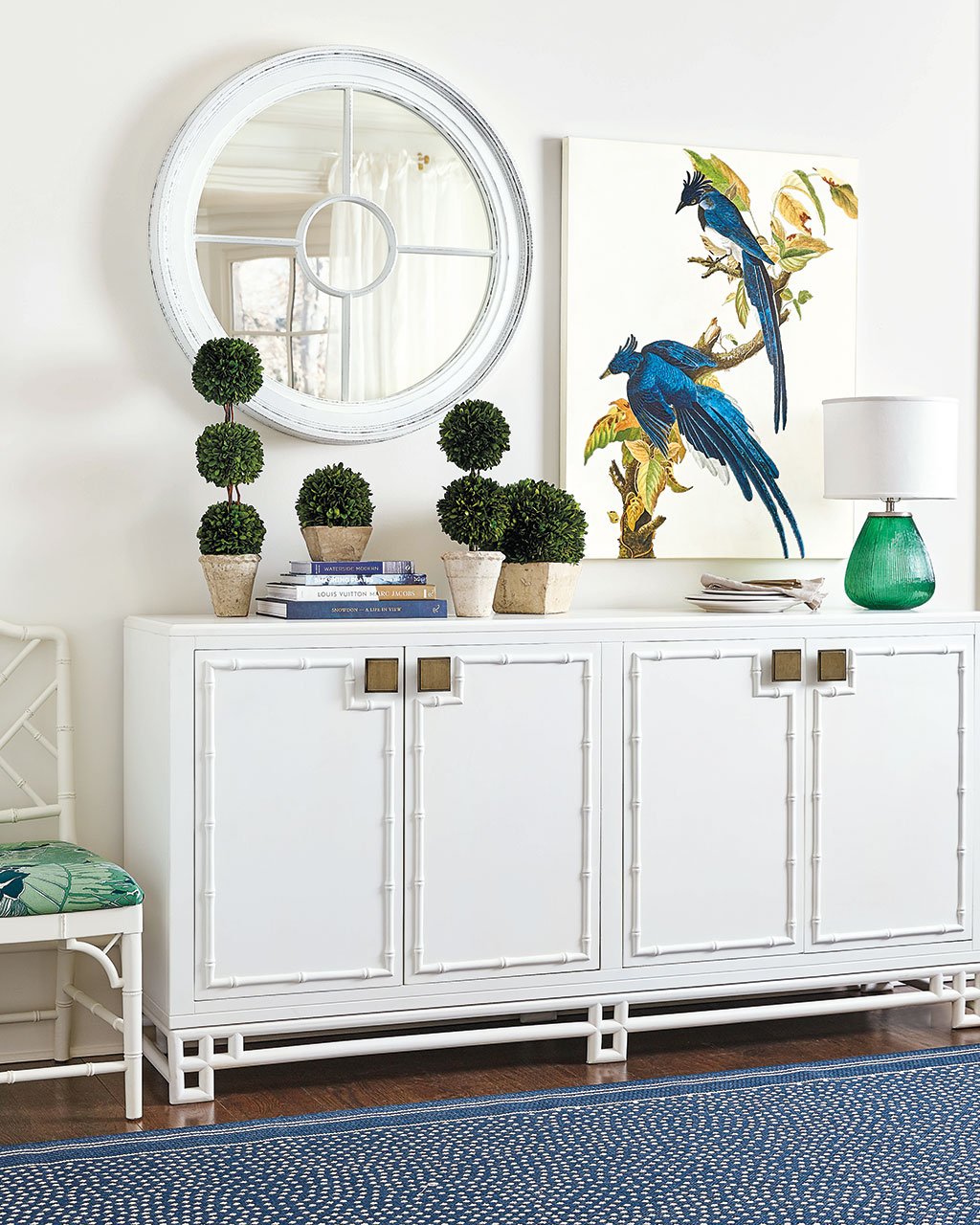 8. Tropical Flair
Leafy prints, bamboo details, and vibrant colors turn what could have been a boring foyer into a hallway with tons of storage and personality. Our Blue Bird Art pairs beautifully with our Palmae Green fabric by the yard.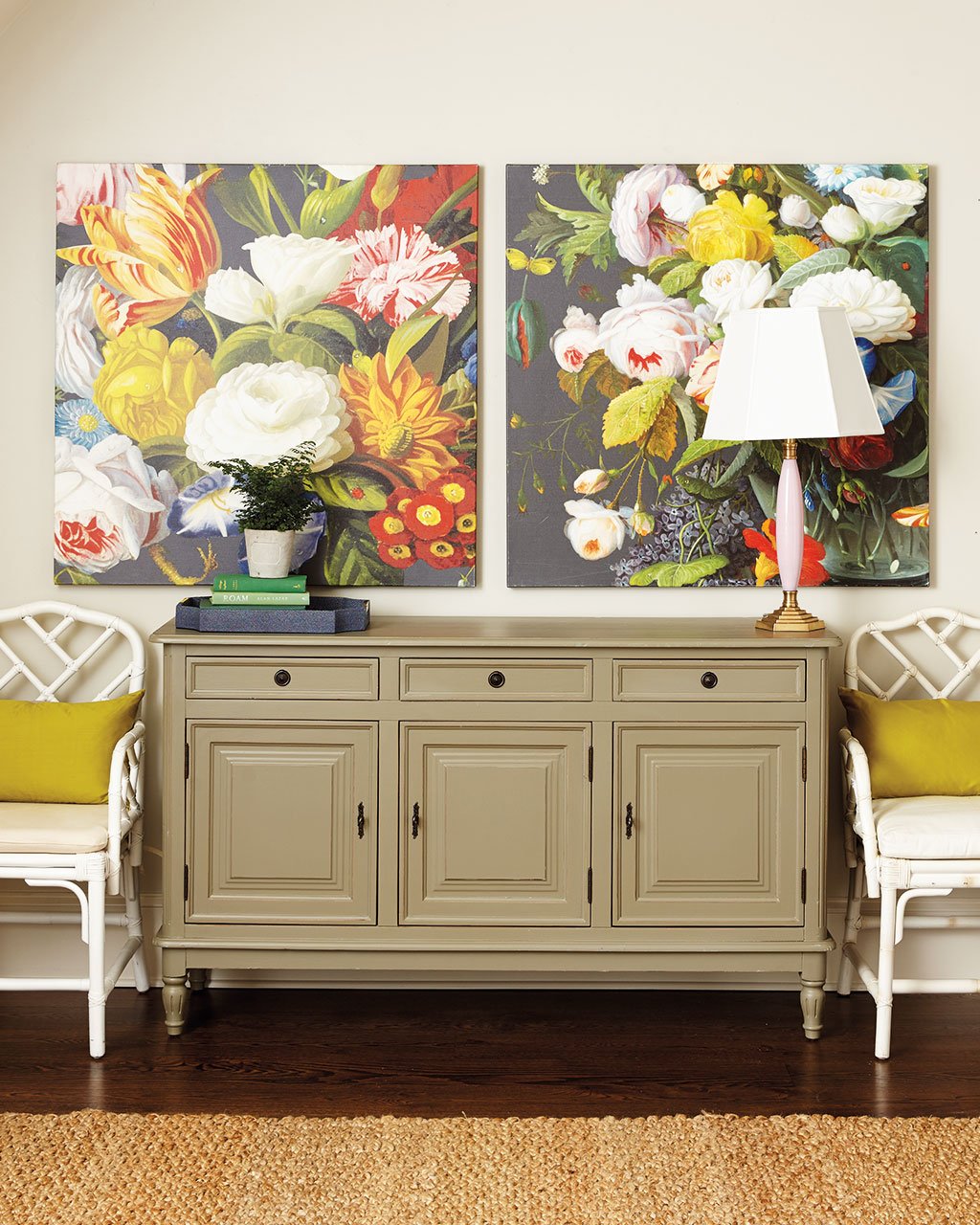 9. Dramatic Florals
Oversize floral prints have been all over the runway the past few years, and as most trends do, what you're craving in your wardrobe will eventually make it into your home. Our Opulence Art pieces have a dramatic black background, a large size, and bring a big dose of color into your space.
Tip: Don't worry if your art is wider than the furniture piece it hangs over. Instead, extend the visual width of your console with a pair of chairs on either side.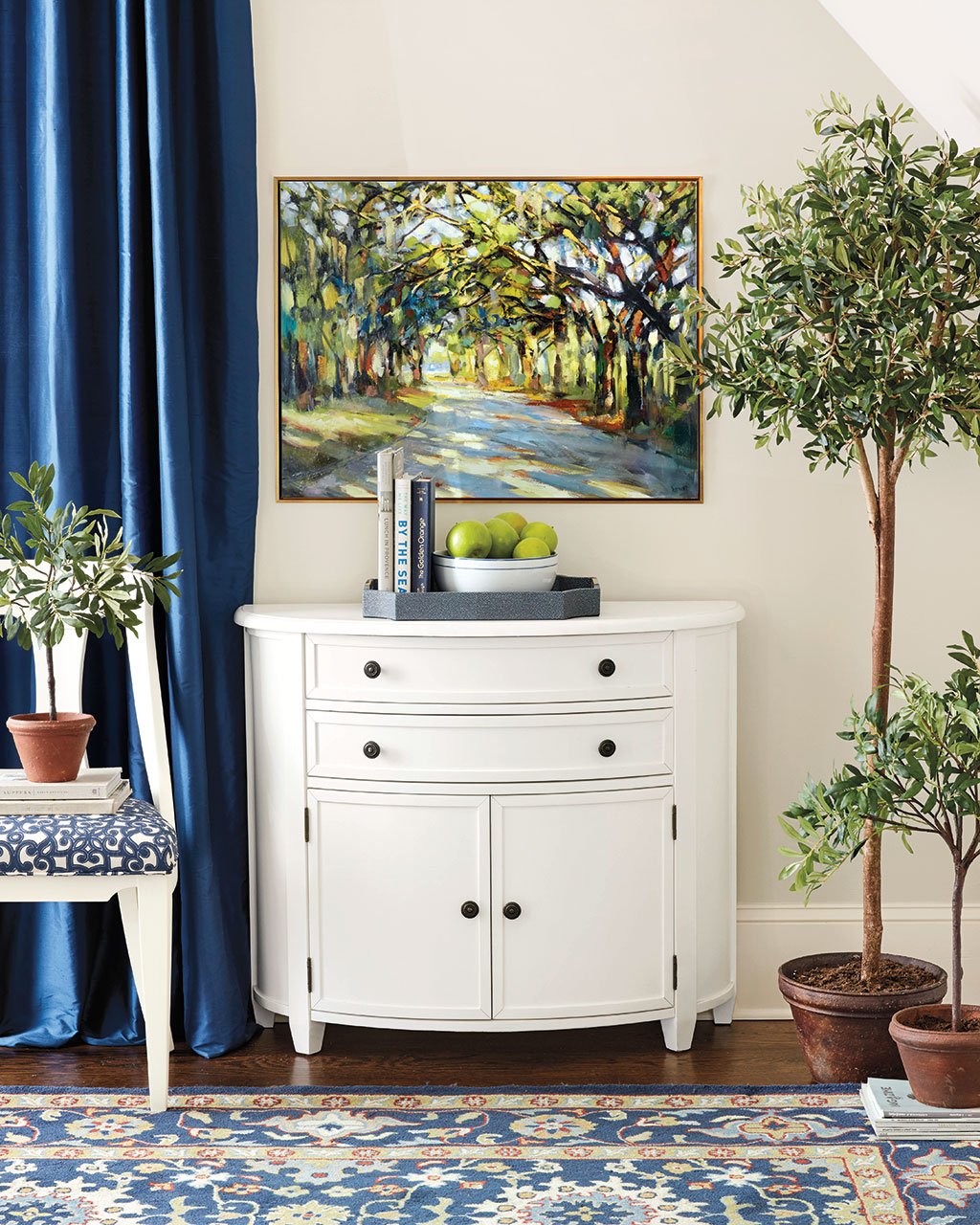 10. A sliver of wall
We're all craving the wide open spaces that open floor plan homes provide, but to get that great big space, you're often sacrificing an entry or hallway. Turn a small sliver of wall just as you walk in the door into a proper drop spot with a narrow demilune table. Add a piece of art and a chair, and you've got a place to put the mail that welcomes you as you walk in the door.
For more design inspiration, visit our Pinterest Boards, or find more gorgeous rooms in our Photo Gallery.
Did you like this post and find it helpful? Rate it below and share your thoughts in the comments!