Few things kick off the holiday season more than a wreath on the front door and some twinkle lights. We love seeing how our neighbors and friends get in the spirit with different wreaths and bows and ways to doll up their homes, so we thought we'd share a few ideas of our own.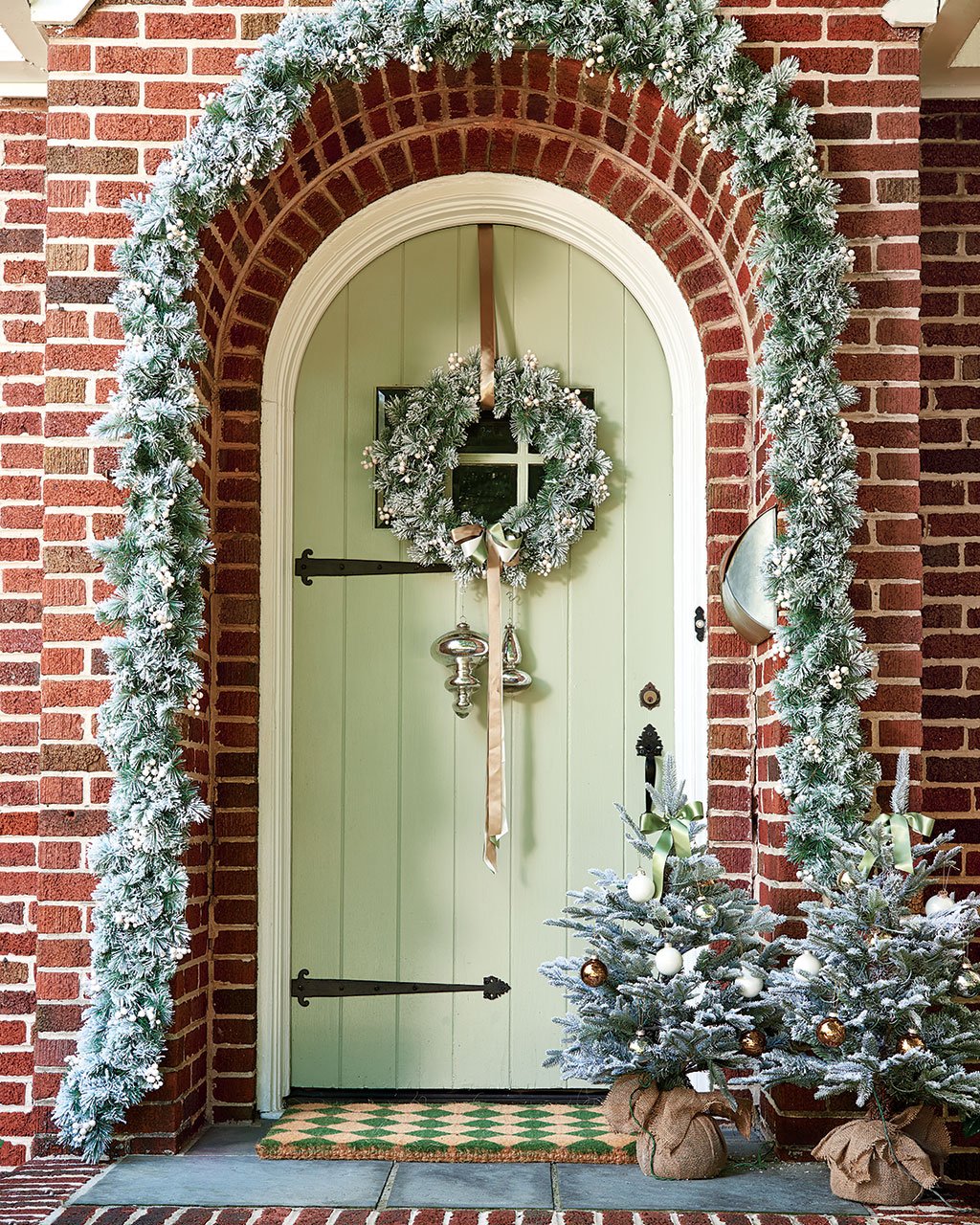 1. Make It Standout
Our number one rule for decorating your home for the holidays is to express your home's own unique personality. Which characteristics are unique to your home? Highlight them with colors and shapes, then add your own personal flair.
For this classic, tudor home, we wanted our garland to stand out against the red brick so we chose a flocked garland. The light color echoes the sage green door and is more noticeable against brick than a plain garland would have been.
To echo the icy feel of the garland, we added silvers and golds in ribbon and large ornament finials for just enough glimmer to make everything feel festive.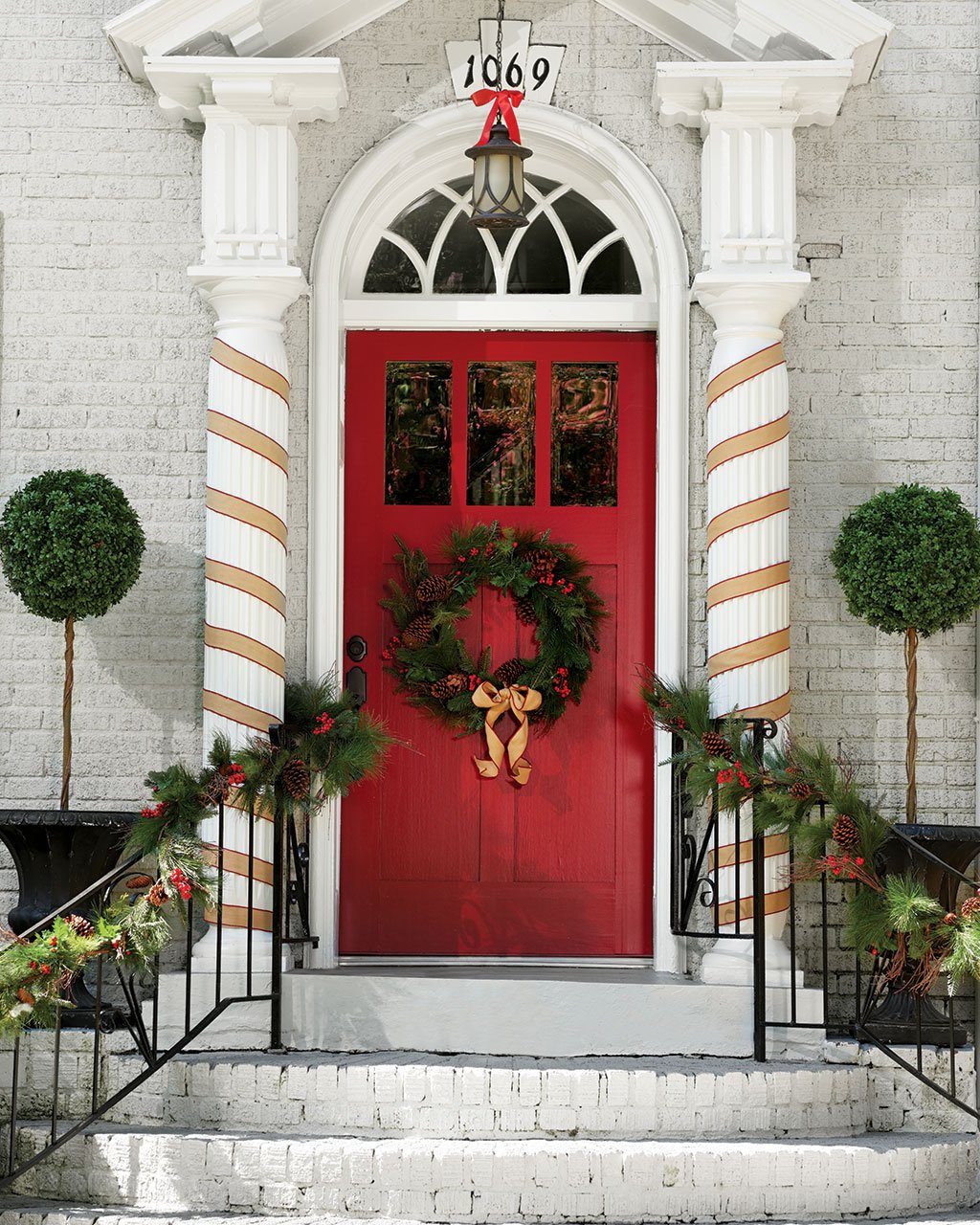 2. Lead with Color
An easy place to start with holiday decor? Consider the colors of your home — do you have a painted door, flowers that bloom during the holidays, an unusual trim color. Let the color palette already established in your home guide your decor choices.
For this timeless white brick home, we played up the cherry red color of the door by using garland with red berries and burlap ribbon with a red trim.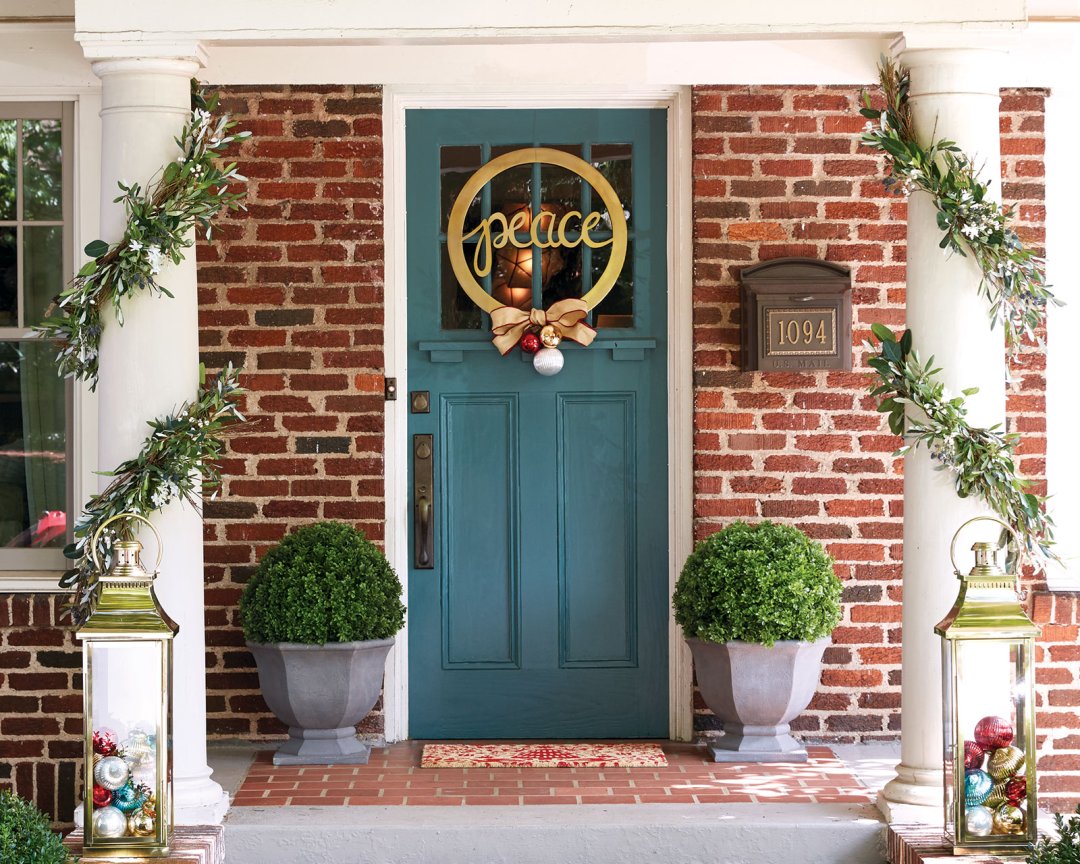 3. Break the Mold
Unexpected elements bring personality to your front door, especially if you want to set your home apart from the others on your street. To play off the gleaming brass finish of our Script Metal Wreath, we added brass lanterns filled with ornaments.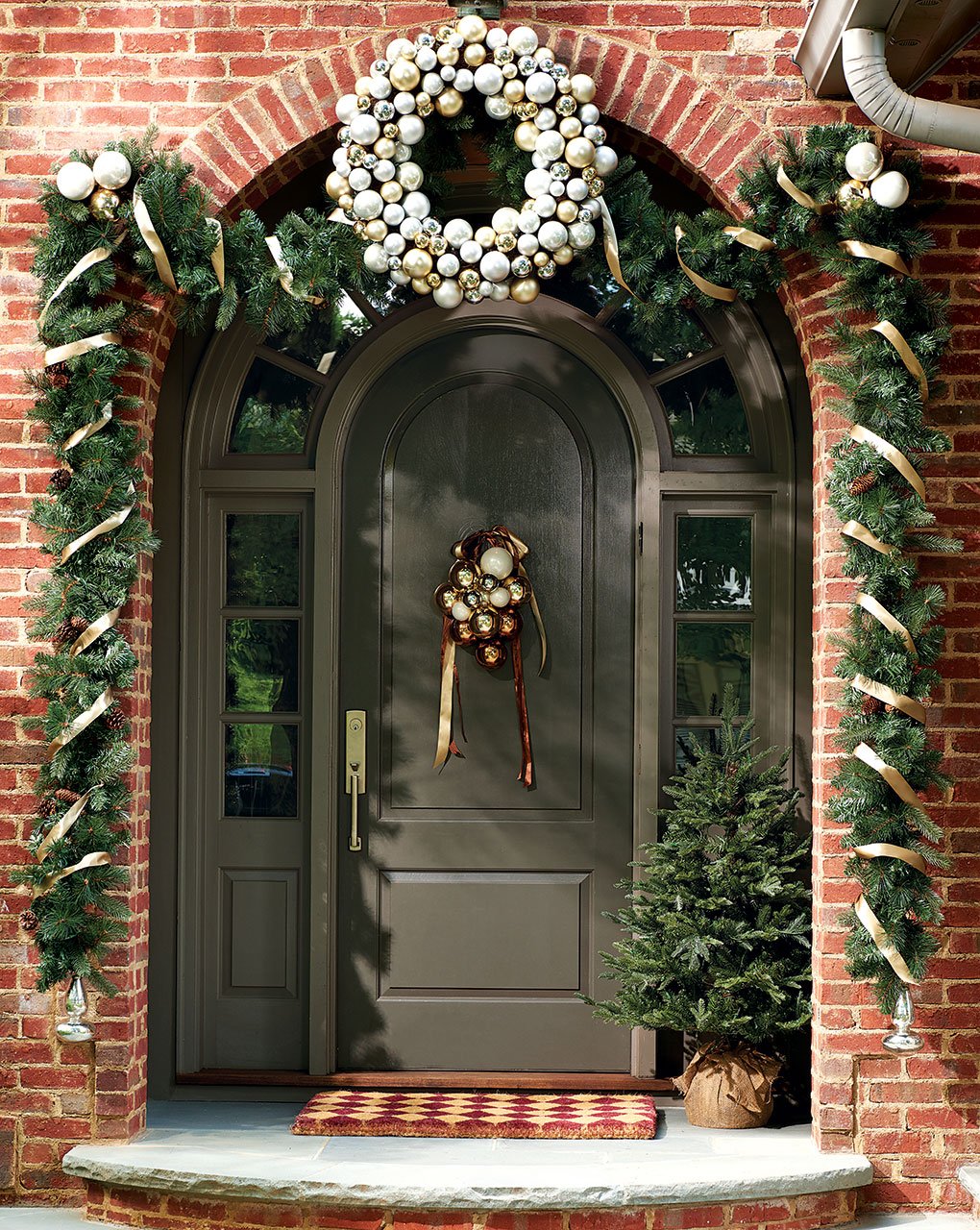 4. Sparkle & Shine
Of course if there's ever a time to embrace glimmer and glam, it's the holidays. We used Bunny Williams Gold and Silver Ornament Wreath in an unexpected way – over the door instead of on the door. Then we added a cluster of metallic ornaments at the door knocker for an extra accent.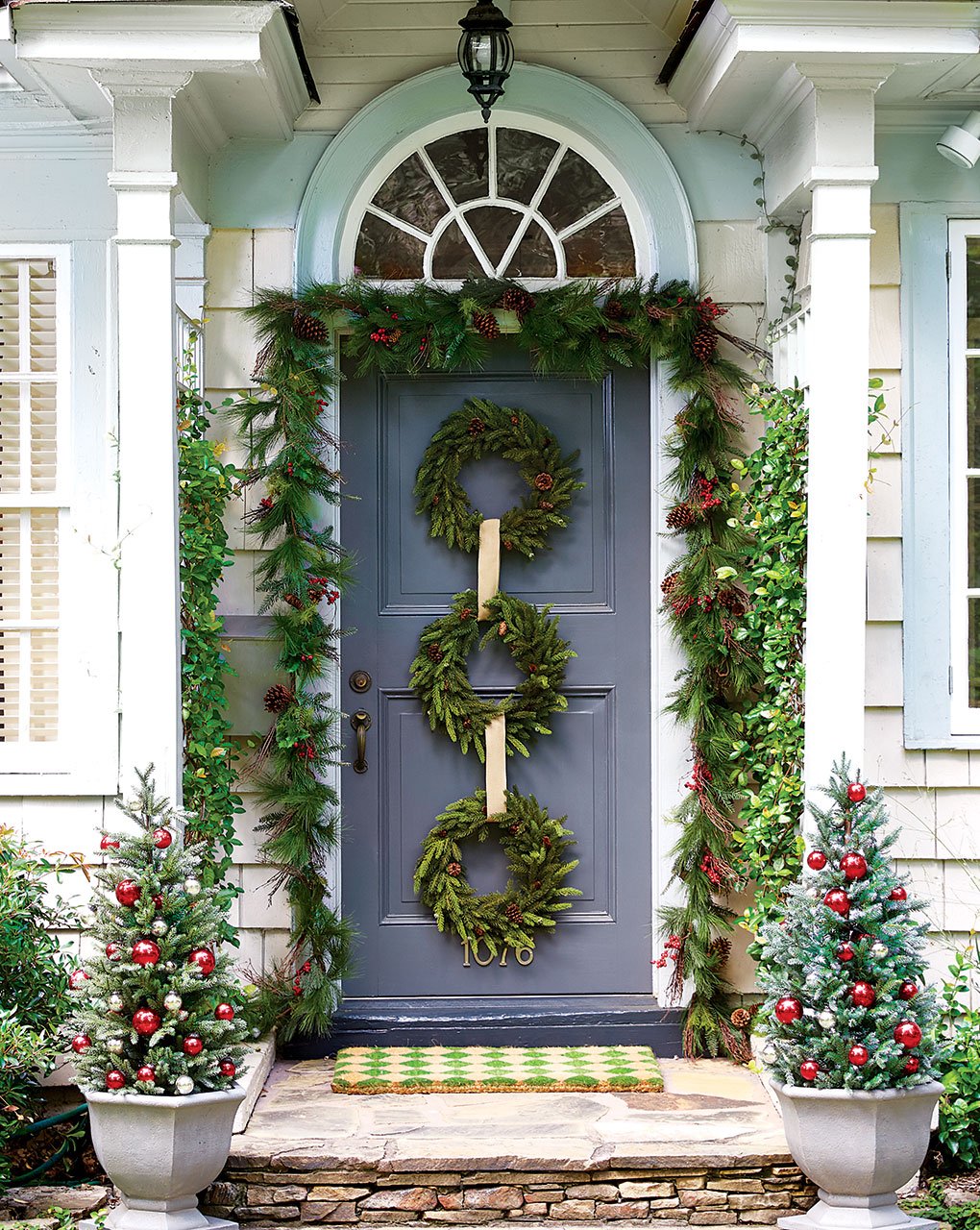 5. Try a Trio
Of course there are plenty of ways to mix up your holiday day using the same pieces. Instead of just one wreath, hang a trio. They'll make more of an impact and set your home apart from your neighbors.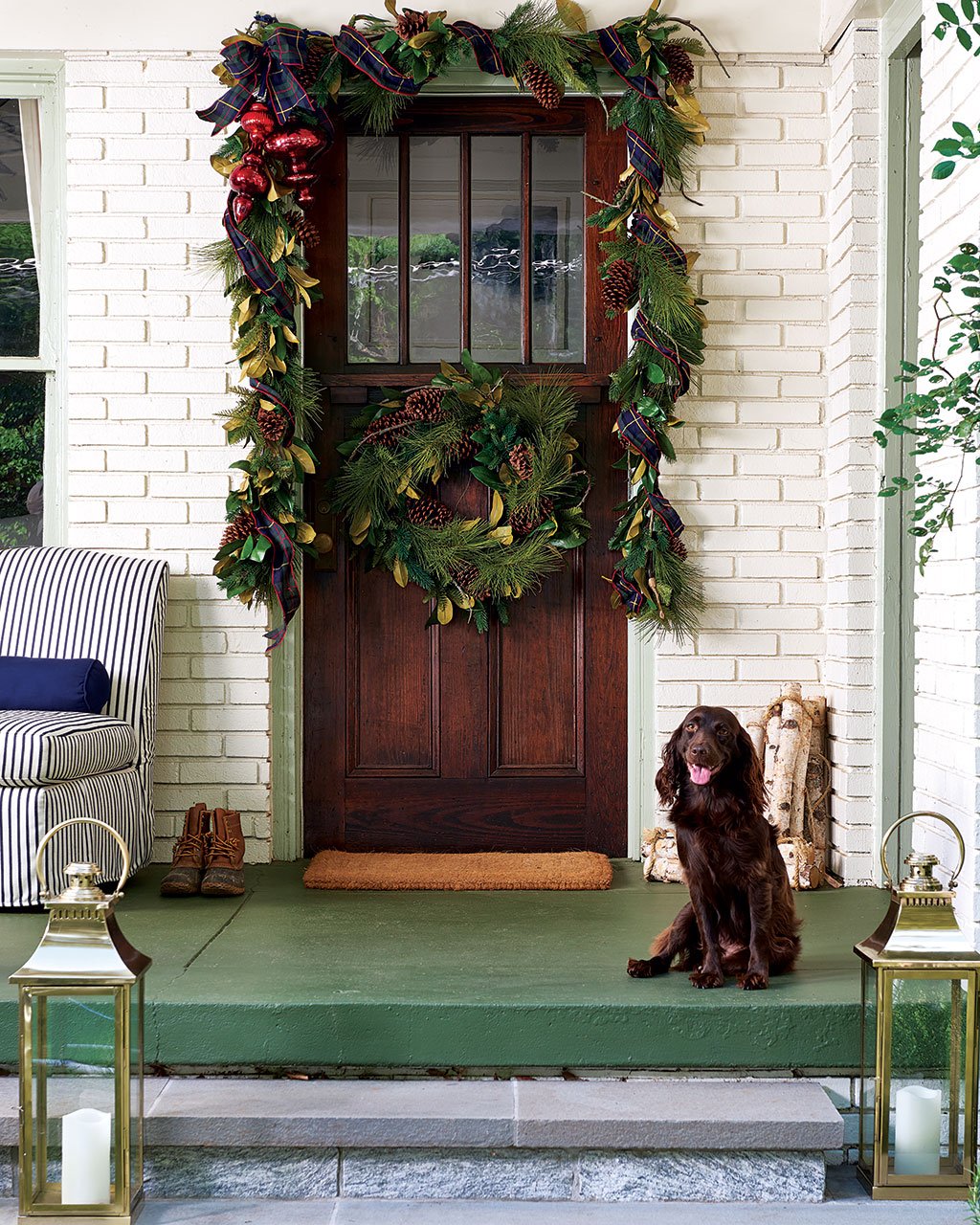 6. Pick a Pattern
Ribbon is an easy way to change up your holiday look from year to year. Find something festive and colorful and weave it through all of your holiday decor. For this door, we choose Suzanne Kasler's 3″ Plaid Ribbon which has deep greens, navy, yellow, and red. The color palette perfectly echoes the navy and green craftsman home. Wrap the ribbon around your garland, tie a big bow, then bring accents of that ribbon inside as well.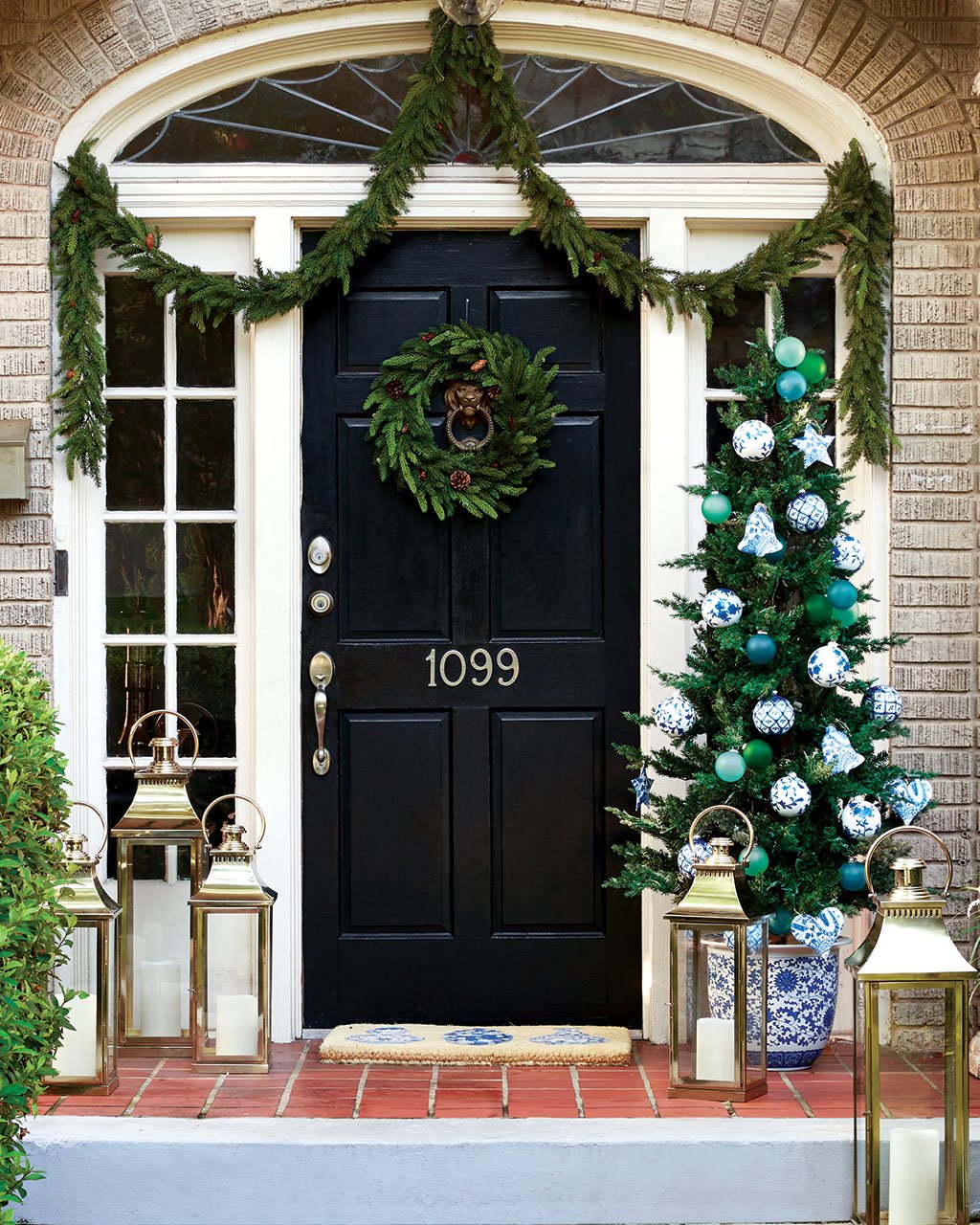 7. Blue & White Beauty
Blue and white chinoiserie porcelain is timeless, and we love using it in heavy doses around the house. There's no reason you can't take your own collection and bring it outside, or at least find ways to bring the spirit outside. Ornaments, colors, and accents inspired by your own favorite collection are a great way to bring personality to your front door.
---
Designer Doors
Of course we couldn't let our three favorite designers miss out on all the fun. We asked Suzanne Kasler, Bunny Williams, and Miles Redd to dream up their own perfect front doors. Here are their tips: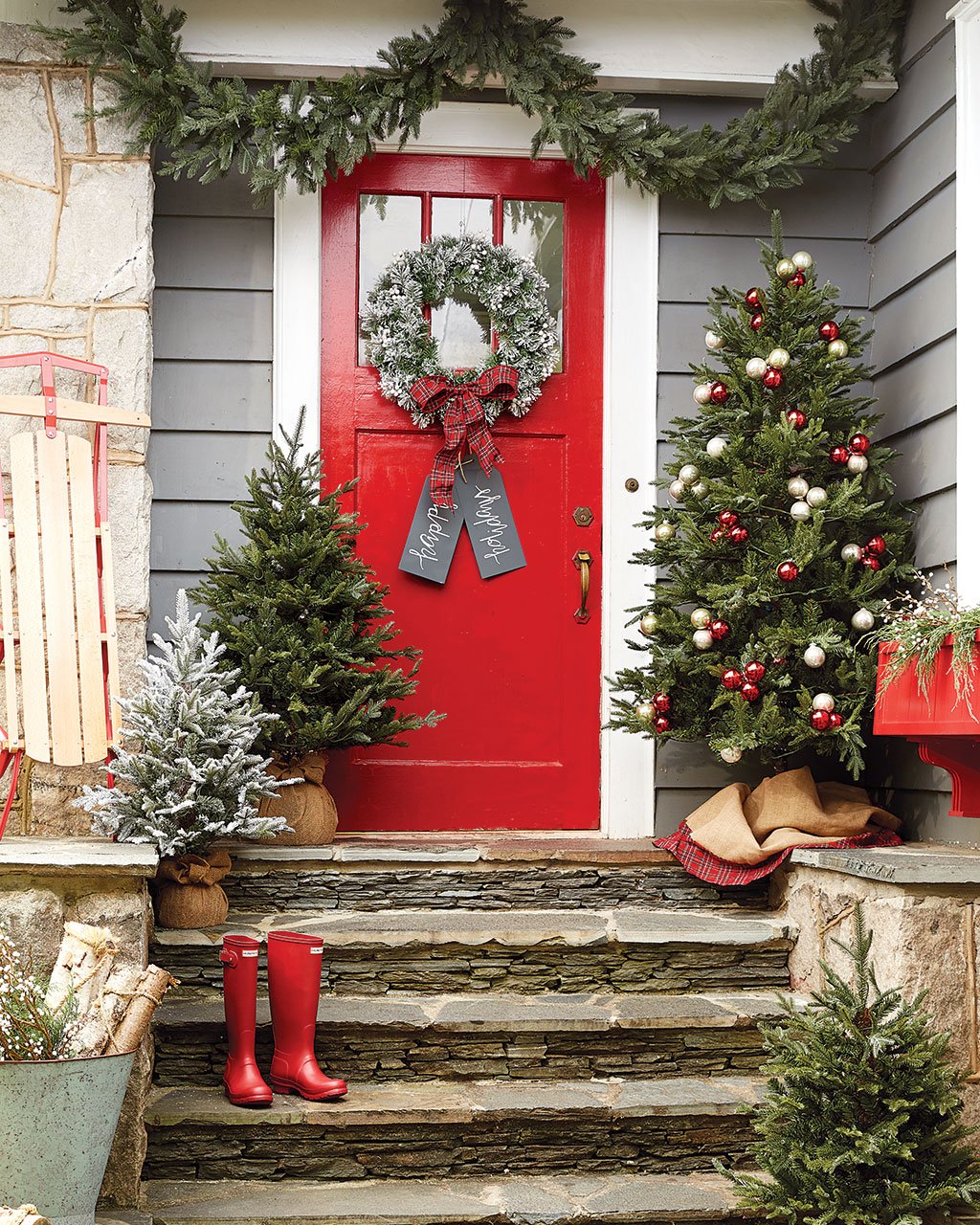 Suzanne Kasler
"I love to use red during the holidays, especially when paired with classic Christmas elements like a vintage sleigh. Layers help give your front door shape and draw you in. We used small trees to pull you up the stone steps, then accented everything with hits of cherry red. If this front door doesn't get you in the Christmas spirit, I don't know what will!"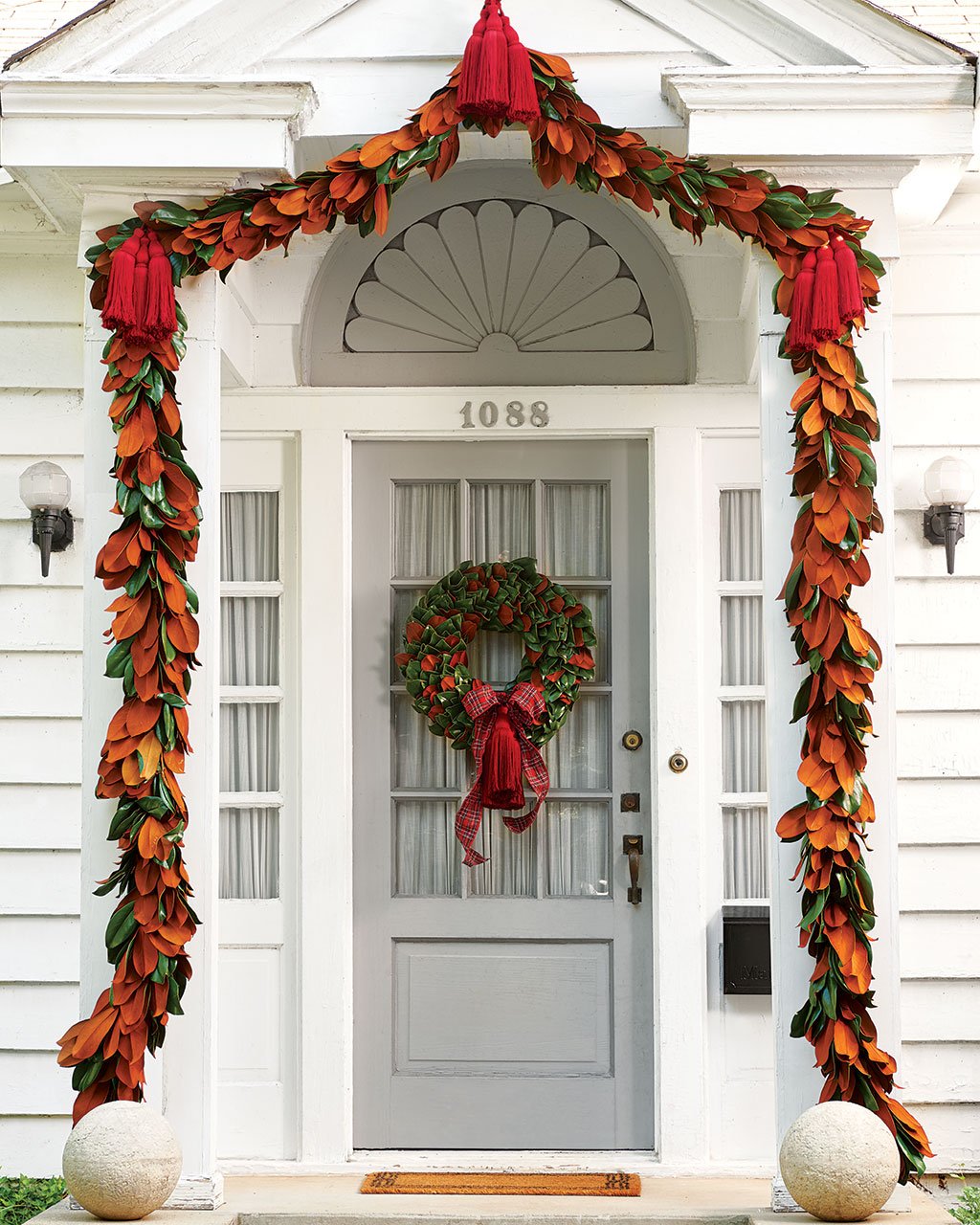 Miles Redd
"I am a traditionalist when it comes to Christmas, and I like things to look like the Nutcracker Suite. Since I'm from Atlanta, magnolia leaves from our yard were a staple for holiday decorating, especially on our mantle, so I am naturally drawn to it. I love those shiny green leaves. And who can resits a red tassel? It lends a festive attitude and punctuates things — like an exclamation point that says come on in and have cup egg nog!"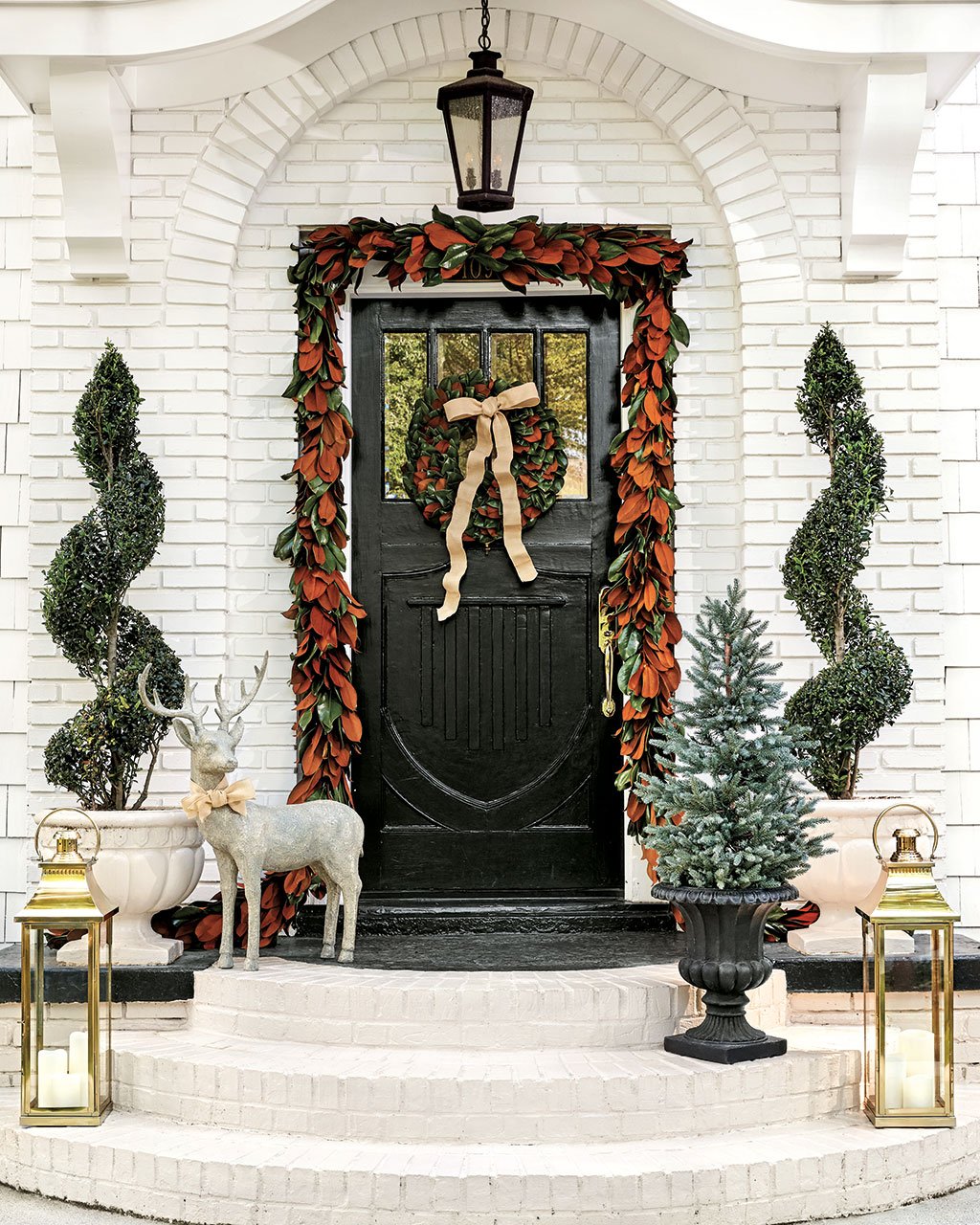 Bunny Williams
"I prefer a classic look for my holiday door. I always use magnolia garland around the front door and hang a pine wreath with a pretty burlap or red bow. Urns filled with pine and magnolia cuttings add more shape and create a focal point for curb appeal. A few playful, nostalgic touches like a deer or lantern complete the look."
Find more holiday decorating and entertaining ideas, or visit our Pinterest Holiday board.
Did you like this post and find it helpful? Rate it below and share your thoughts in the comments.