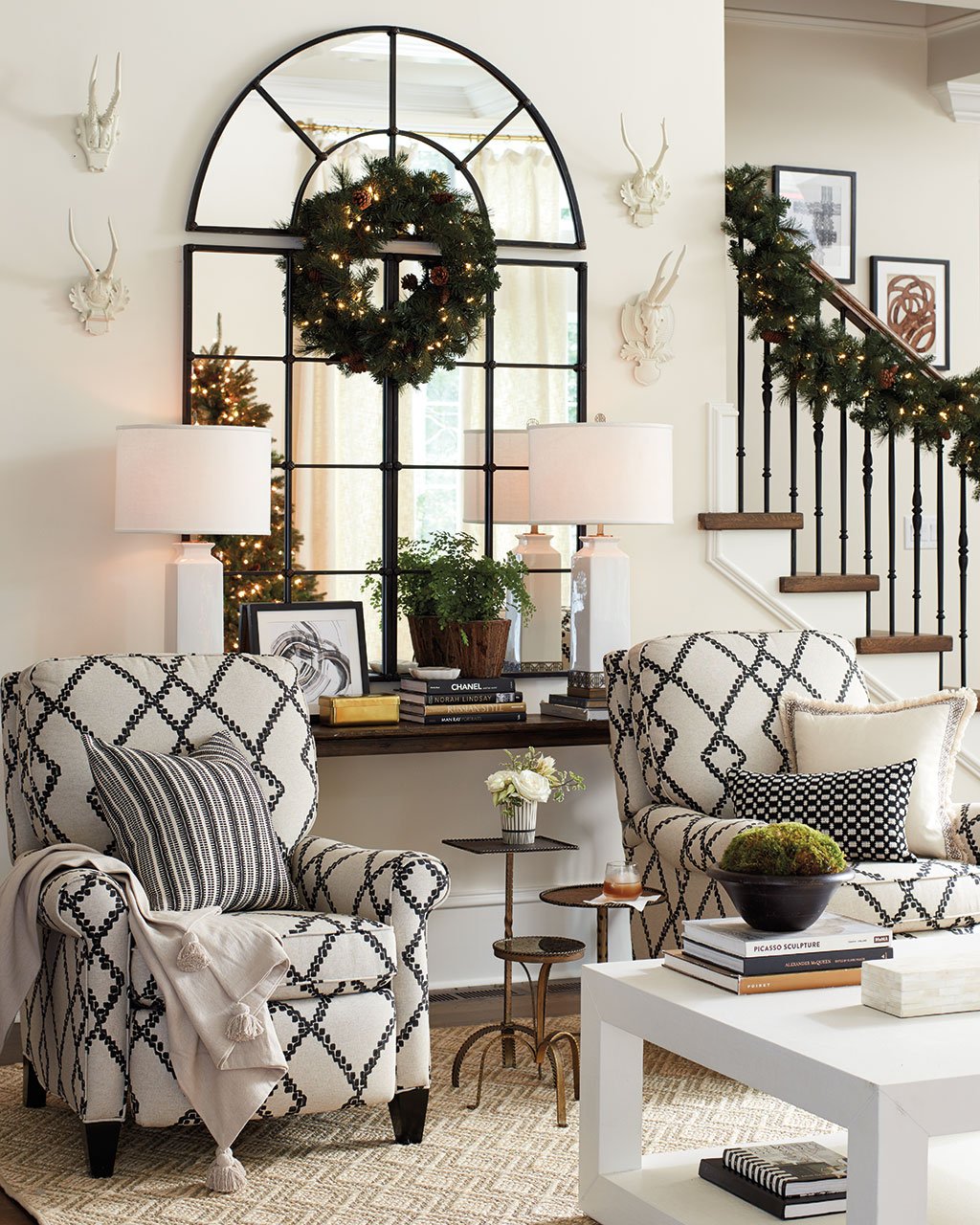 The holidays are kind of like the super bowl for those of us who love decorating, houses, and entertaining. You've primped and primed your home all year, now it's time to enjoy the spaces you've built by having friends and family over.
This year is no different, and as Fall picks up, we've got entertaining on the brain. We sat down with our Senior Vice President of Brand Management Karen Mooney to talk about all of the new pieces in our collection and why we can't wait to use them during this busy time.


Ballard Designs: The holidays are a busy time, and this early in the year, it can be overwhelming to think about everything that has to be done. Where should we start and how can we have holiday on the brain without playing carols?
KM: Well, I mean I hadn't gotten stressed out about holiday until now! Geez, so much to do! But you know what, the first rule should be that the holidays are about enjoying it, not worrying so much about your checklist. It's about your family and friends and time spent together. So, with that in mind, I guess my first suggestion would be to know yourself and only bite off what you can chew. If you have never built a gingerbread house before, don't make that the centerpiece for your holiday table.
Some people love a list and that helps them focus and prioritize. I'm more from the 'wing it' school, so a long checklist just stresses me out! If I know I'm hosting a big Thanksgiving dinner, I'll start thinking about it two days in advance.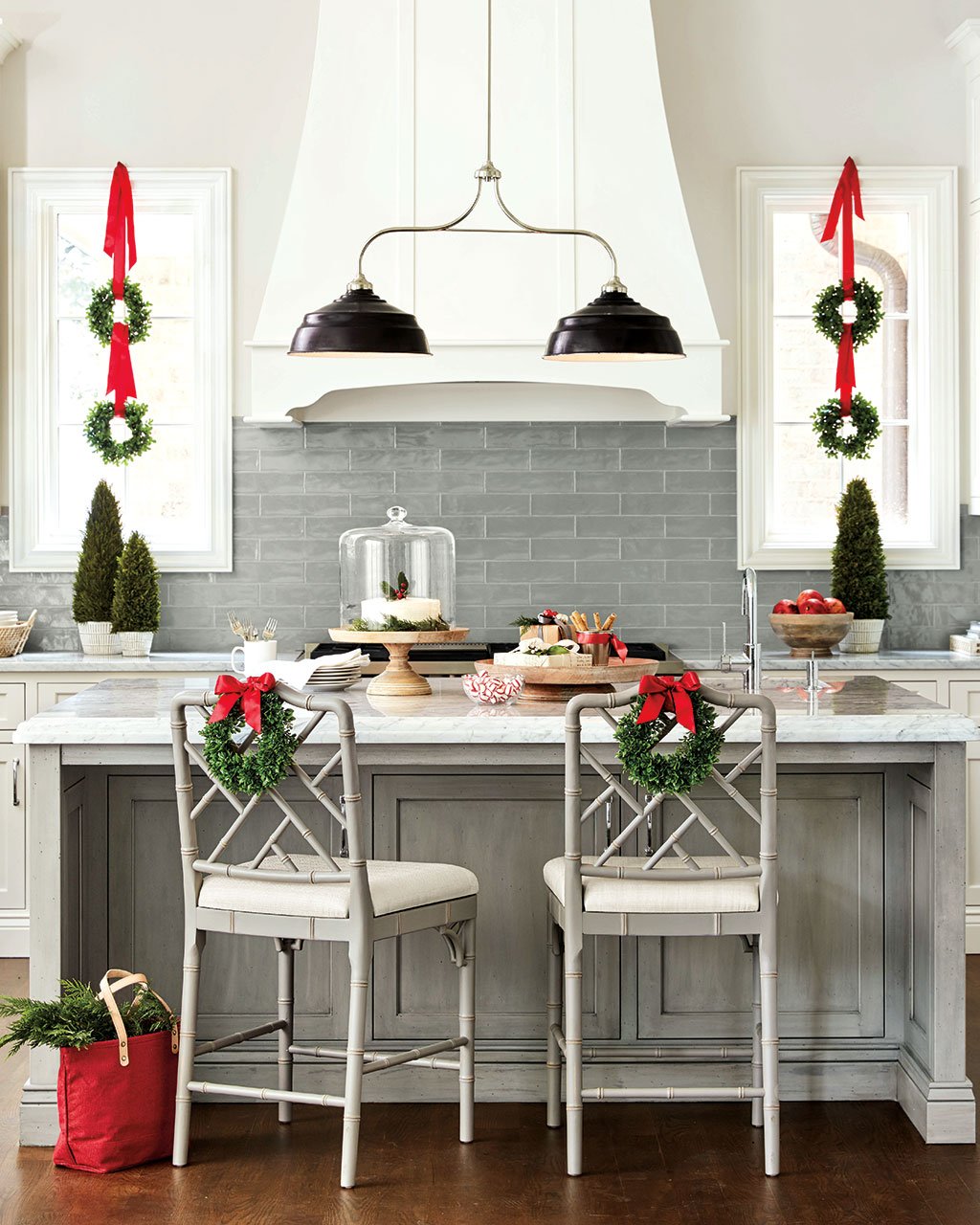 We did ask all of our favorite style makers and entertaining experts for their best tips, so I highly recommend you go look at those. They're pros and have great thoughts on pulling it all off.
BD: If we've procrastinated and find ourselves down to the wire, what kinds of things can we still cross of our list to make sure the season goes smoothly?
Now this I can speak to because I'm not a huge planner. One project we've been working on that is right up my alley is our new Quick Ship program. It's a new group of furniture pieces that ship immediately so you can pull spaces together just in the knick of time. Maybe you're having last minute guests and you don't have a headboard or dining chairs, we've got those pieces and can get them you in just a few days. Easy fixes to spruce things up!
BD: Entertaining is our main focus this time of year. What does that mean for our décor?
KM: I like to do little things over the course of a few weeks that give my home a seasonal feel. Right now, I've got gourds on the brain and will start peppering those around. Then, I'll start transitioning that stuff through the season, adding in acorns and pinecones and eventually greenery. As we get closer to Christmas, I'll pluck out the gourds and replace them with large ornaments.


BD: If you've got a limited amount of time and budget, where should you focus your decorating and entertaining dollars at crunch time?
KM: Personally, I think your front door area is important. All of your neighbors see it, but it's also a beautiful, festive space that welcomes you home. There's something about seeing a Halloween doormat or pumpkins or lanterns that put you in the spirit. Everyday when you leave your house, and everyday when you get home, it'll cheer you up.
Start early. Even just some planters filled with mums or a few festive touches will really brighten up your whole home.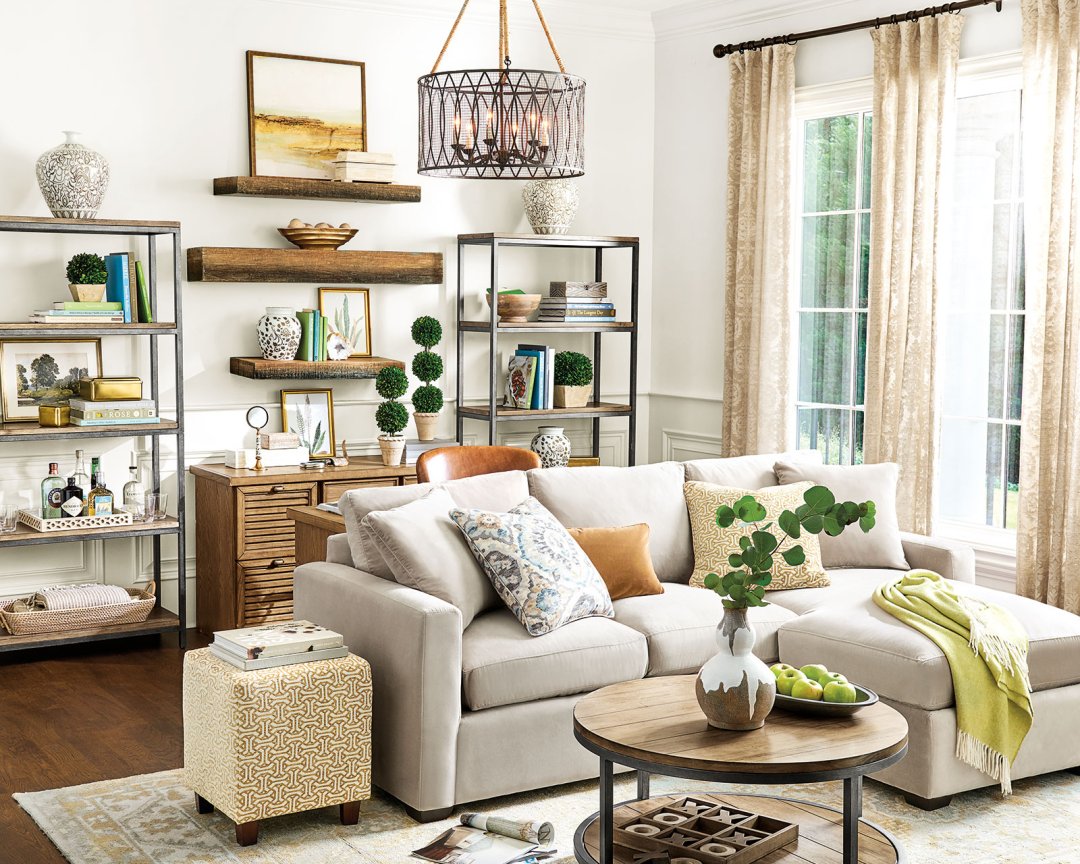 BD: So many of the rooms have a really cozy and warm feel to them. Caramel velvets, chunky knits, and warm color palettes. Is the gray kick over and how can we combine both warm neutrals and grays together?
KM: We love color, and it's a great way to bring the warmth we're all craving into our spaces.I have lots of gray around my home, but this time of year, I swap out throw pillow covers and throw blankets for more jewel toned colors.
The rule of thumb is that if you want something to look intentional, you need to repeat it three times. That could be three throw pillows. Or it could be a throw pillow, a vase, and a piece of art that you tuck in somewhere. So if you have an all gray room, and you add in one touch of color by itself, it won't feel as finished as if you were to add three pieces. You want enough accents to draw your eye around the room.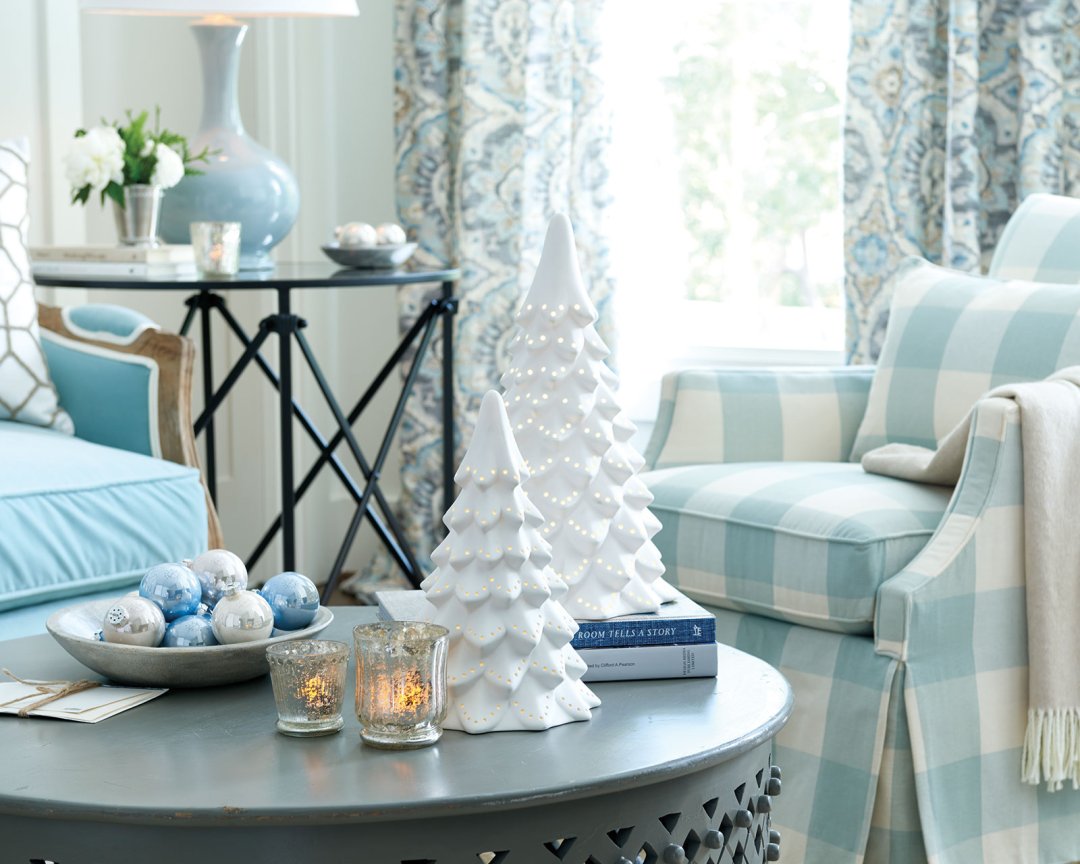 BD: What about texture?
Texture is so important, especially during the cooler months. Think about your fall and winter wardrobe — there are knits, suedes, leather, cashmere, and tweed. Bring those same textures into your home. I don't switch my drapery panels, but if that sparks your interest, our velvet drapery panels are so scrumptious and come in great colors. Take down your linen panels, have them dry cleaned and pressed, and hang heavier, velvet panels for the winter.
I add a faux fur to my family room this time of year. It's so soft, and the texture just feels so indulgent and cozy. I also like to add some heavier bedding and a duvet cover too.
That's what works for me, but find what works for you, and bring in colors and textures in those small ways that will evoke that cozy feeling. You don't have to start from scratch.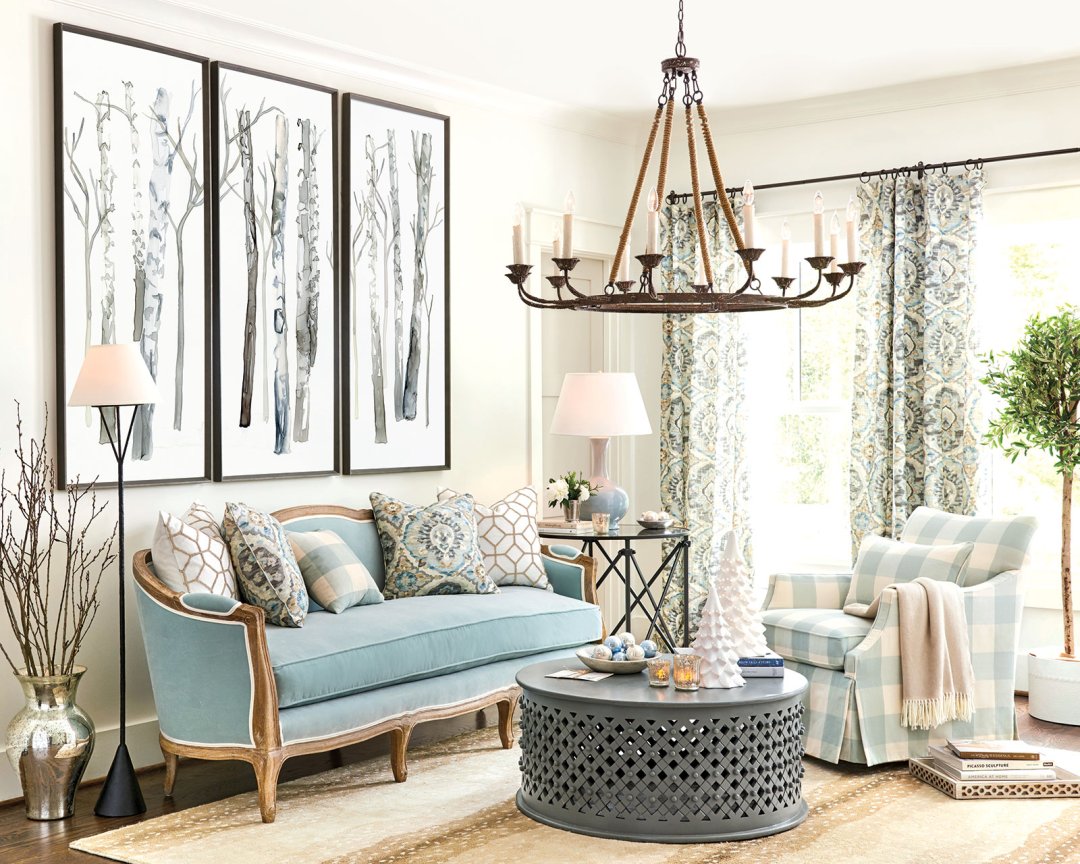 BD: When most people think of holiday decorating, they think about red and green, but there are so many spaces in this catalog without any of those colors at all. Why is that, and what inspired these rooms?
KM: When we were brainstorming our holiday stories and themes, we were thinking about how challenging it could be to decorate if you don't love traditional holiday colors. I remember a million years ago an interview with Martha Stewart, and she said, 'anything but red please.' Some people love it and embrace it, like Suzanne Kasler. If you want a lesson in how to do holiday red right, Suzanne is your girl. She loves red plaid and uses it in a joyful way!
But there's also a place for a more subdued palette that blends more with your year round decor. We tried to weave some examples of that into our catalog this season. We wanted to show how you can layer in a holiday vibe without screaming Christmas. Mercury glass is one of our favorites ways to do that. It has a gorgeous texture and bounces light around the space, perfect when paired with candlelight or lights from your tree. Another option is to take greenery, and use it in untraditional ways. Swag it over a mirror in your dining room. I love to tuck a boxwood garland and glittering ornaments into my dining room chandelier like jewelry. Then, every evening when my family is eating dinner, there are extra holiday touches around to make this busy time feel special.
We often don't think about our bedrooms as a place to interject bits of holiday, but these are spaces where we spend a lot of time. If you have guests visiting, swag some garland over the headboard. It's a gracious touch because they're spending this time away from home. They'll appreciate the extra effort you've made to make their holiday feel festive.


BD: Of course there's a lot of blue all throughout this season – both navys and icier blues. Why does blue work so well during the holiday season.
KM: It's hard not to love blue, and we like nearly every shade — spa, mineral, teal, and navy. They all have their place, and we're not ready to break up with them yet. But mixing them together or with other colors can make you fall in love all over again. Think emerald and navy together, or Christmas red with spa blue, citron green with navy. Suddenly these favorite colors feel modern and fresh.
Color is becoming more and more intense. We just got back from Europe to look at trends, and color isn't going anywhere. There was color blocking and rich, intense hues everywhere. Don't be scared!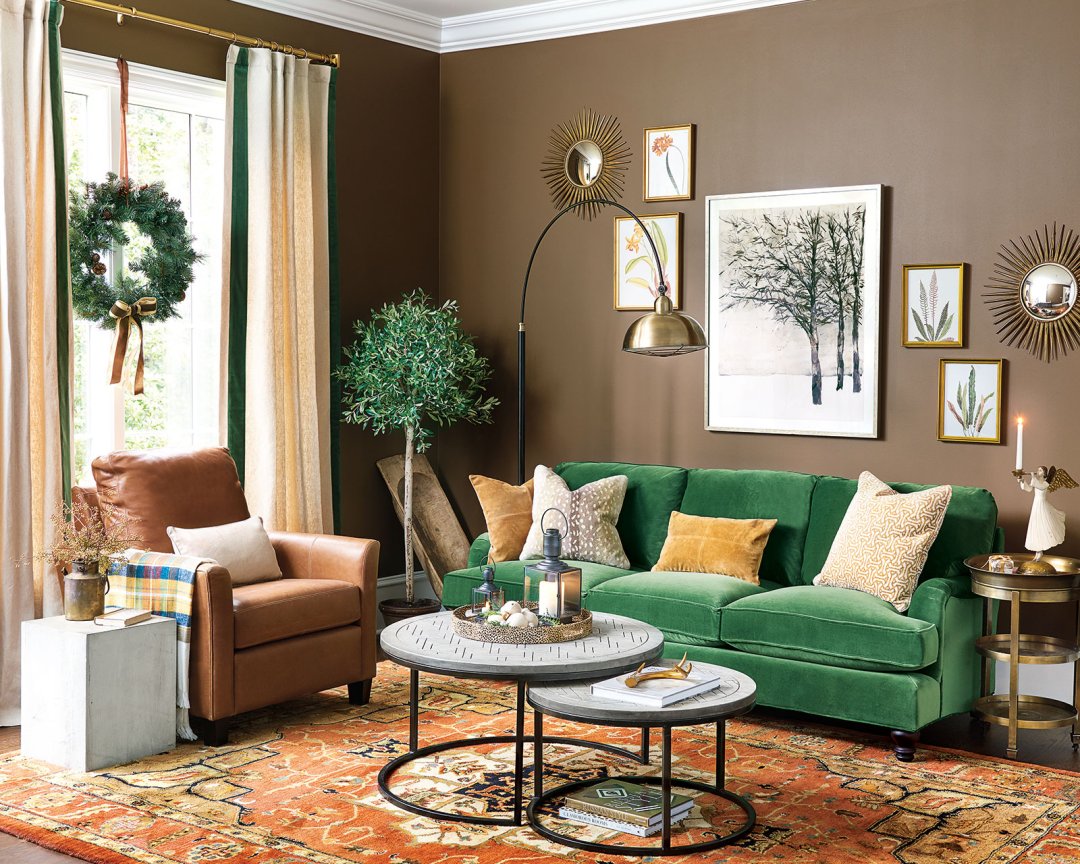 BD: Velvet is woven into nearly every room this season — upholstery, pillows, draperies, or bedding. Why do we love velvet so much, and is this a material we should only use during the winter months?
KM: We definitely have a velvet crush! It's hard not to love velvet. People think of it as a delicate fabric, but it's actually pretty durable. We've done a lot of work to make sure our velvets stand up to busy households. It gets back to that luxurious feeling we were just talking about. We want our homes to be our getaway and where we feel the most comfortable in the world. What could be better than sinking into a big velvet reading chair or climbing into a bed with a velvet quilt?
It's a year round fabric, and you don't have to worry about it being seasonal. Use linen and velvet year round in equal measure. Throw those old school rules out the window. We have tons of gorgeous shades of velvet, and they just hold pigment so beautifully. What a shame it would be if we could only enjoy them half the year.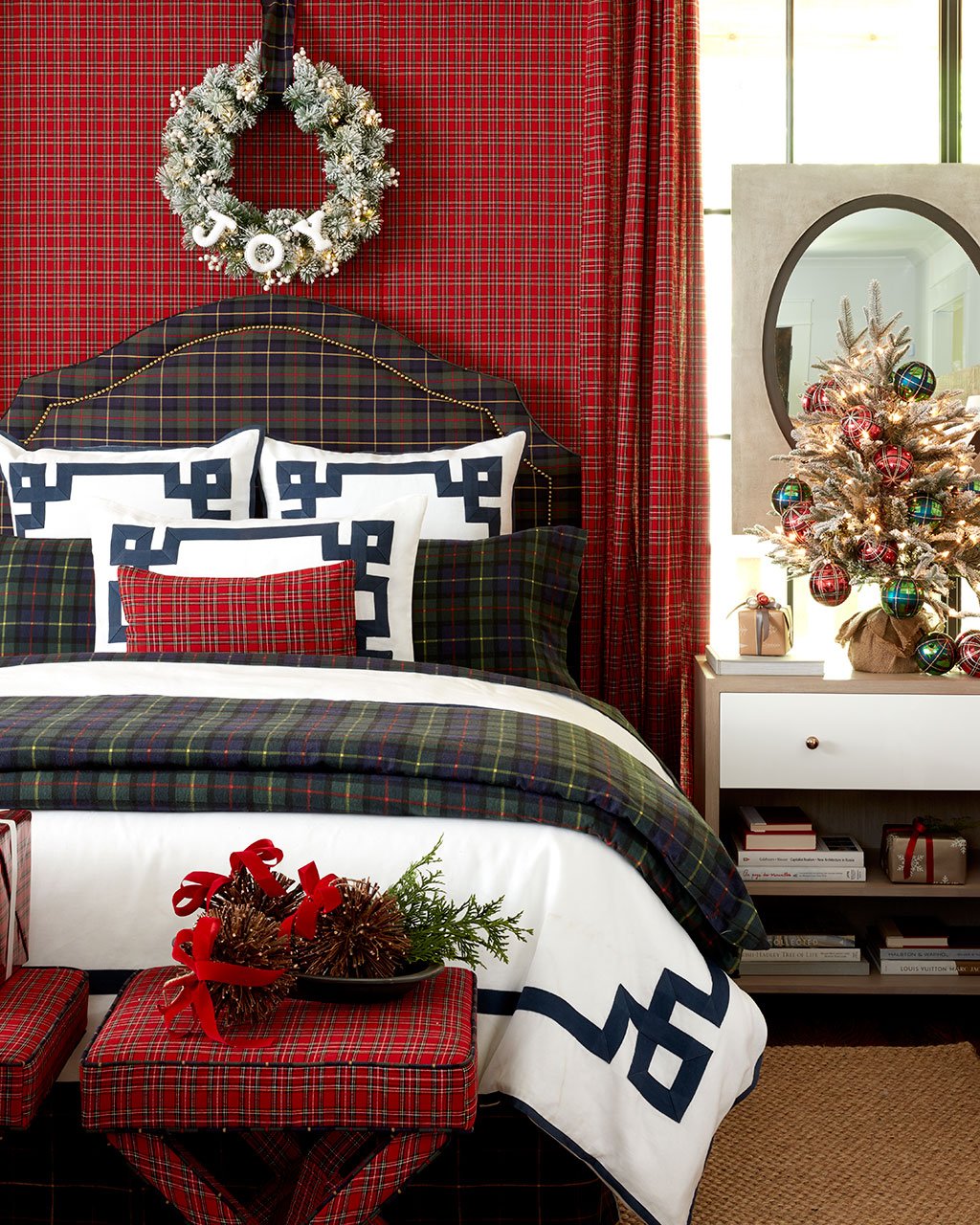 BD: Of course we have to talk about Christmas red. Red hasn't been a color we were seeing for so long, but it's fun to accent with during the holidays. How can we do red in a fresh and modern way?
KM: Our role model for a sophisticated, red Christmas is Suzanne Kasler. No one does a red holiday better than her. Her mantra is more, more, more. She can't get enough of red and blue plaid mixed together. Add in red ornaments, but she mixes in other pieces too. Add a flocked tree, pine cones, or even some pastel ornaments. It's about mixing red with other textures and finishes, like mercury glass and rustic wood. Red is timeless during the holidays!
And red isn't just for the holidays. Some of our favorite pieces in this collection aren't even holiday pieces. Our Lewis Rug has a bold, red background. You could use this rug in so many different rooms, with so many different color palettes, and it'll work. We just had a listener on the podcast write in with photos of her dining room. She used our Lewis Rug with a big farm table, spa blue drapery panels, and gray linen dining chairs. It looked dynamite! And it wasn't overwhelmingly red.


BD: There's a lot of sparkle scattered throughout the book. What's that about?
KM: This is the time of year where we all need to embrace our inner glamour puss. Pull out your high heels, jewelry, and red lipstick for festive holiday parties. Bring that same level of glamour into your home! Use candle light, add some brass lanterns, or crystals to your chandelier. We love the idea of dressing up your rooms up like you'd dress up for a holiday party.
Karen's Favorites
I think everyone in our whole building is in love with it. It is about the sexiest thing I've ever seen. It's this gorgeous combination of polished wood and brass. It's modern, but not too modern. It's classic and yet traditional. I don't know what to say, I'm in love with it! It's on my Christmas list. I have to be a good girl to get it!

I'm trying to get my friend to buy one. It's covered in a linen, then painted. It's a modern silhouette, but it has this great texture up close. That texture warms it up, but sadly it won't fit in my living room.

This is another piece I'm buying for myself. I live in a 1920's bungalow, and I don't have an entry hall. You walk straight into my living room, and I have a small table when you come in for keys and mail, but it's never really fit the space. This little demilune is perfect and an answer to my prayers. I love the sleek silhouette and marble top.

They remind me of a kind of a Scandinavian Christmas. I have my mother's red Lenox Christmas china, so I always set a red and green table during the holidays. I love the color palette of these linens and the handmade quality to it.
This garland is so weird, but I really love it. It's got a lot of movement to it, and you can use it in so many different ways. You can pin it up on your mantel, but we also covered an entire tree in it. The result is stunning. I want to use it as a wall sculpture in my house.
Browse all of the new pieces for Holiday 2017, or see the paint colors we used in our Holiday catalog.
For more design inspiration, visit our Pinterest Boards, or find more gorgeous rooms in our Photo Gallery.
Did you like this post and find it helpful? Rate it below and share your thoughts in the comments.