Our heart beats for color, and we love seeing which hues are trending each season. Pink has been on our radar for a long time, but this year, we're really embracing everything there is to love about pink – from bold peony to subtle blush. Here are our favorite ways to use pink.


1. Accents of Blush
We get that decorating with pink can feel scary – especially if there are men in the house. But small accents of blush pink can subtlety perk up a space. We love the way our Nelle Channel Bedding in a blush silk brings a luxurious feel to this bed and gives a little extra interest to an otherwise neutral collection of linens.
Our Gardens Gate Art incorporates navy, taupe, grey, and splashes of blush into an abstract composition. While this painting certainly uses pink, it doesn't feel overly feminine or girly, so it's easy to work into nearly any space.
2. Embrace the Season
With Valentine's Day and Spring on the way, we embraced the romance – Benjamin Moore's Romance that is. We've always loved the idea of painting your front door for the season, so we couldn't resist this happy front door, complete with 'Hello Gorgeous' door tags.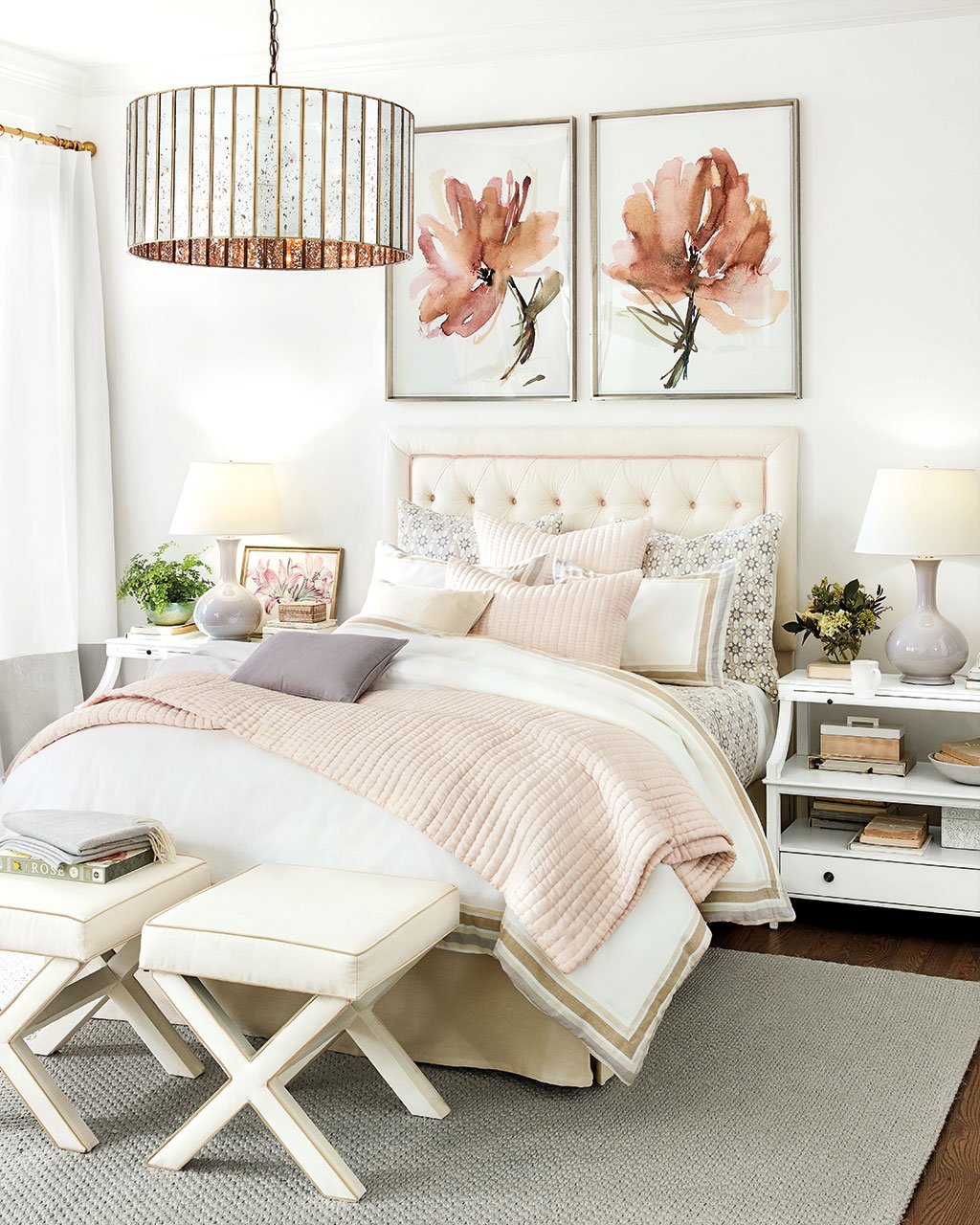 3. Go Full on Femme
There's nothing wrong with a ladylike space, and we love how this bedroom really goes for it with a pink color palette and bold floral art. We certainly wouldn't mind bunking up in a space like this!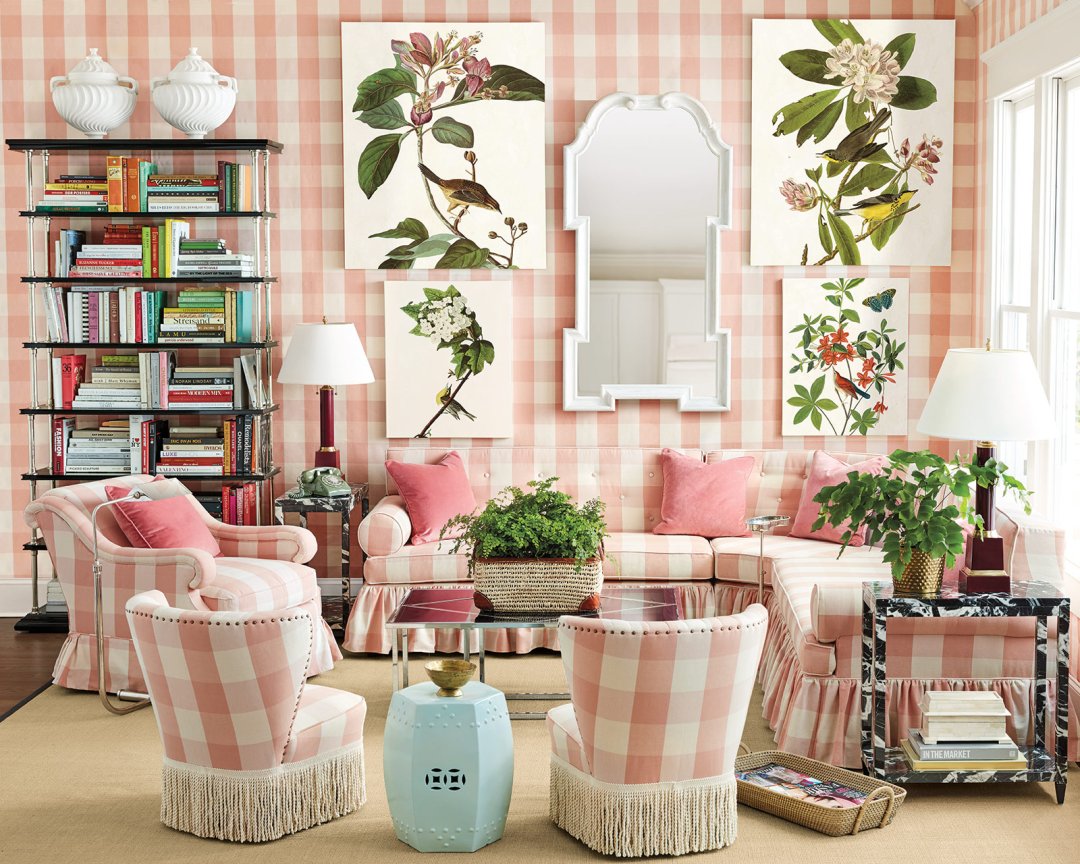 4. All Over Color
In our Winter 2018 catalog, Miles took our Buffalo Check fabric in blush and used it on all of the upholstery and even the walls. He argues that even though the color and pattern are bold, if you use it everywhere, it starts to feel like a neutral. Once you bring it art and accessories, we love the way this bright, airy garden room feels cheery and inviting.
5. Balance Masculine Details
We talk a lot about balance, and we can't overstate how important it is to keep balance in mind when choosing furniture and accessories for a room. Use both feminine and masculine accents in equal measure for a room that feel comfortable and timeless. In this space, designer Miles Redd chose a black wall and his Miles Bookcases which combine black lacquer shelves with nickel plated plumbing fixtures. The effect is decidedly masculine, so we loved that he add his Lily Bolster Sofas in magenta linen. Their ruffled skirt and vibrant color palette keep the space from feeling too heavy and serious.


6. Make Shapes Pop
It may seem counterintuitive, but a bold wall color can emphasize the shape of subtle furniture pieces. Take this space designed by Miles Redd. A peony pink wall color turns a white headboard and a white console table (both with interesting shapes) into statement pieces when there's a vibrant background.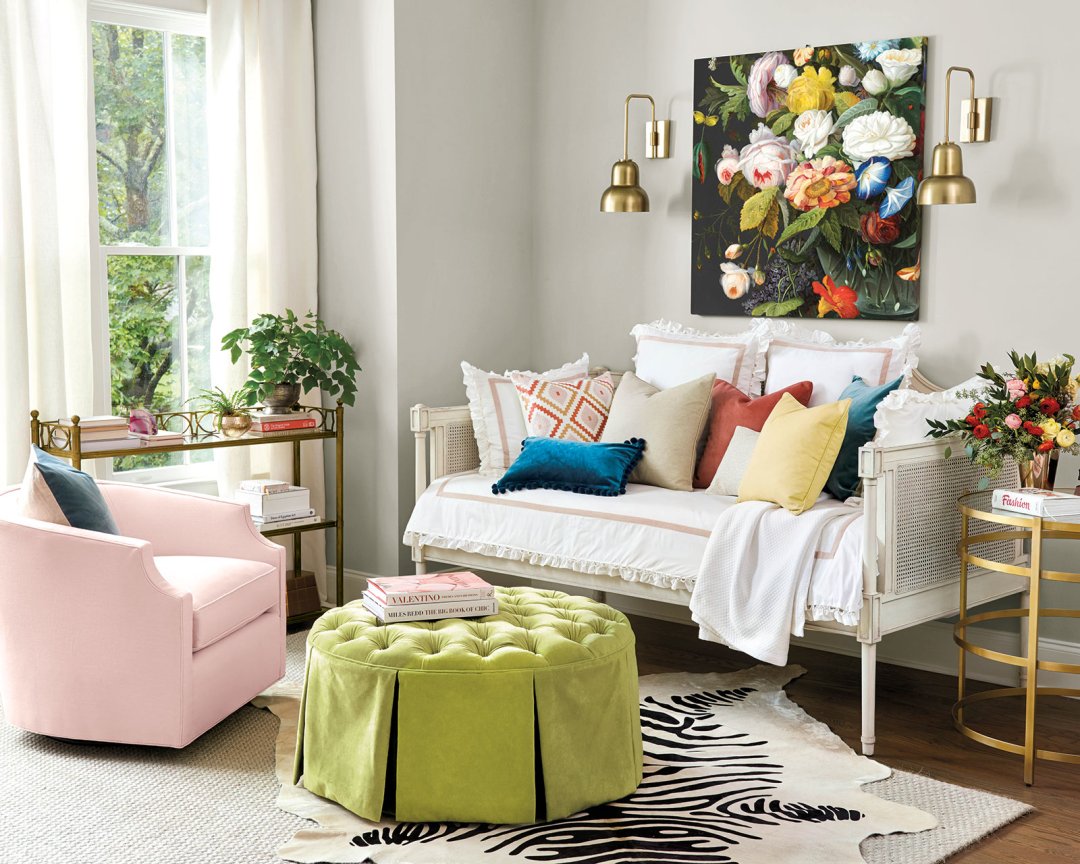 7. Play off a Painting
Pull the color palette for your room from your favorite painting. We love the happy combination of green, blue, yellow, and pink in our Opulence Art, so we let that quirky palette dictate the fabrics for our space. An ottoman in kiwi green, a chair in blush pink linen, and a collection of pillows in fun colors and textures comes together to echo our art. In a space like this, the pink chair isn't the focal point, it's a small part of a larger whole. If you aren't totally sold on using pink in your home, this is a great way to dip your toe into the trend!
8. Add a Little Softness
In hardworking rooms like bathrooms, closets, or laundry rooms, a little softness can go a long way to making the space feel inviting and fun. We upholstered our Faye Ottoman in a gorgeous petal pink. A pink this light doesn't feel overly feminine. In fact, in this space, it looks more like a neutral.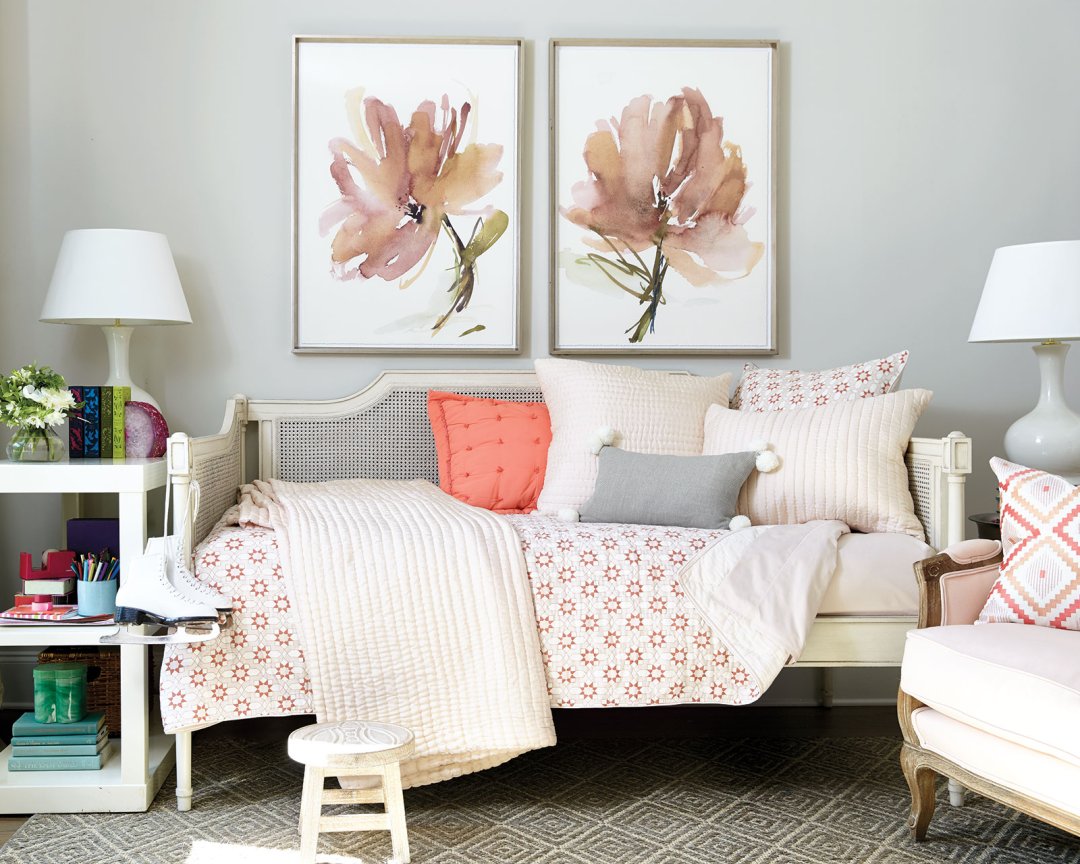 9. Embrace Playful Rooms
Don't shy away from color in kids spaces. We love how unabashedly girly this room feels with pink bed linens, floral art, a French-inspired daybed, and blush pink upholstered chair all come together in a girls' bedroom.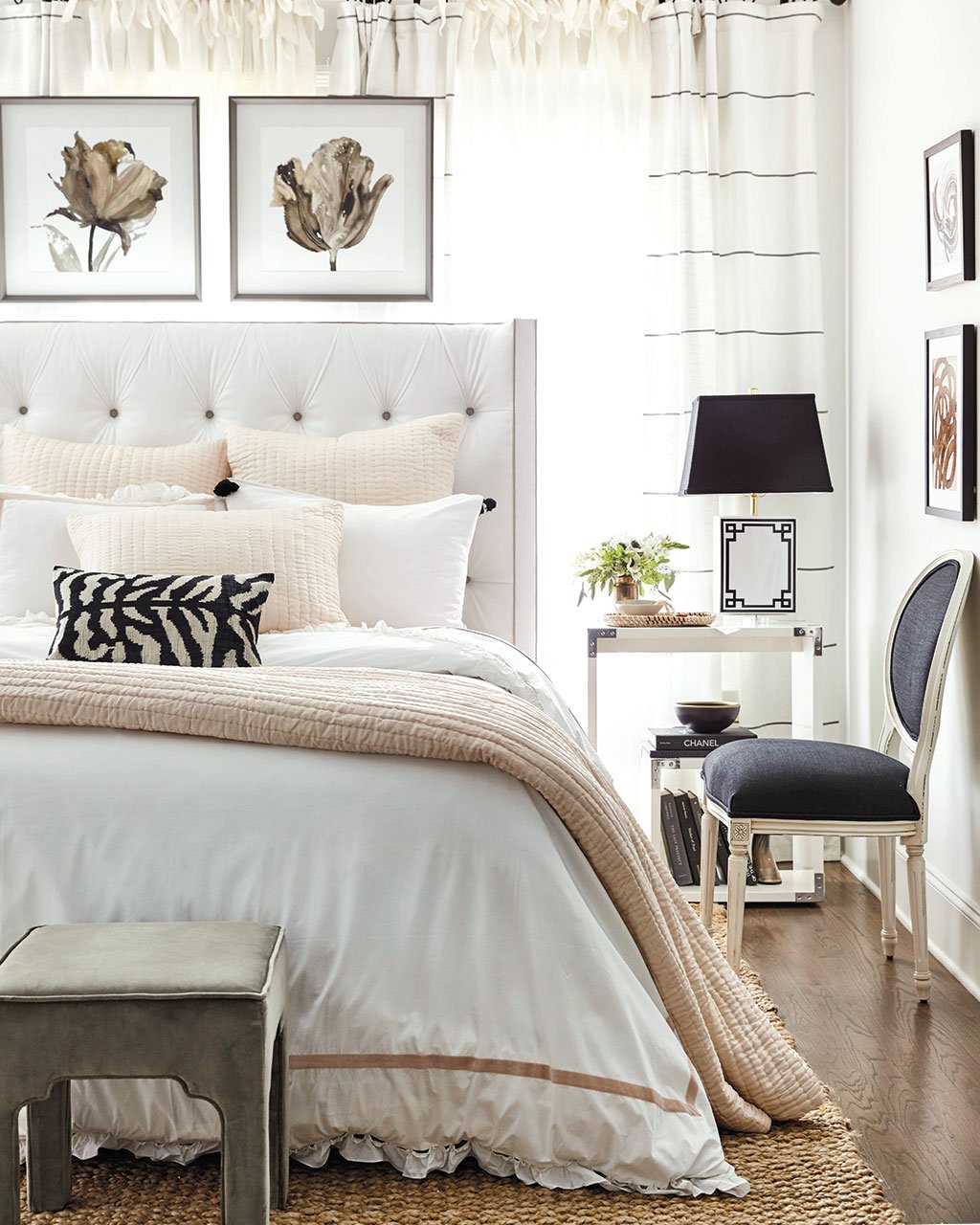 10. Jazz Up Neutrals
In a room that combines lots of neutral spaces, just a few subtle touches of color can make a big impact. In this bedroom with lots of black and white, we added just a couple pieces of blush pink bedding – a quilt and three shams. The end result is timeless, and the pink could easily switched out down the road when a new hue strikes your fancy.
Did you like this post and find it helpful? Rate it below and share your thoughts in the comments.