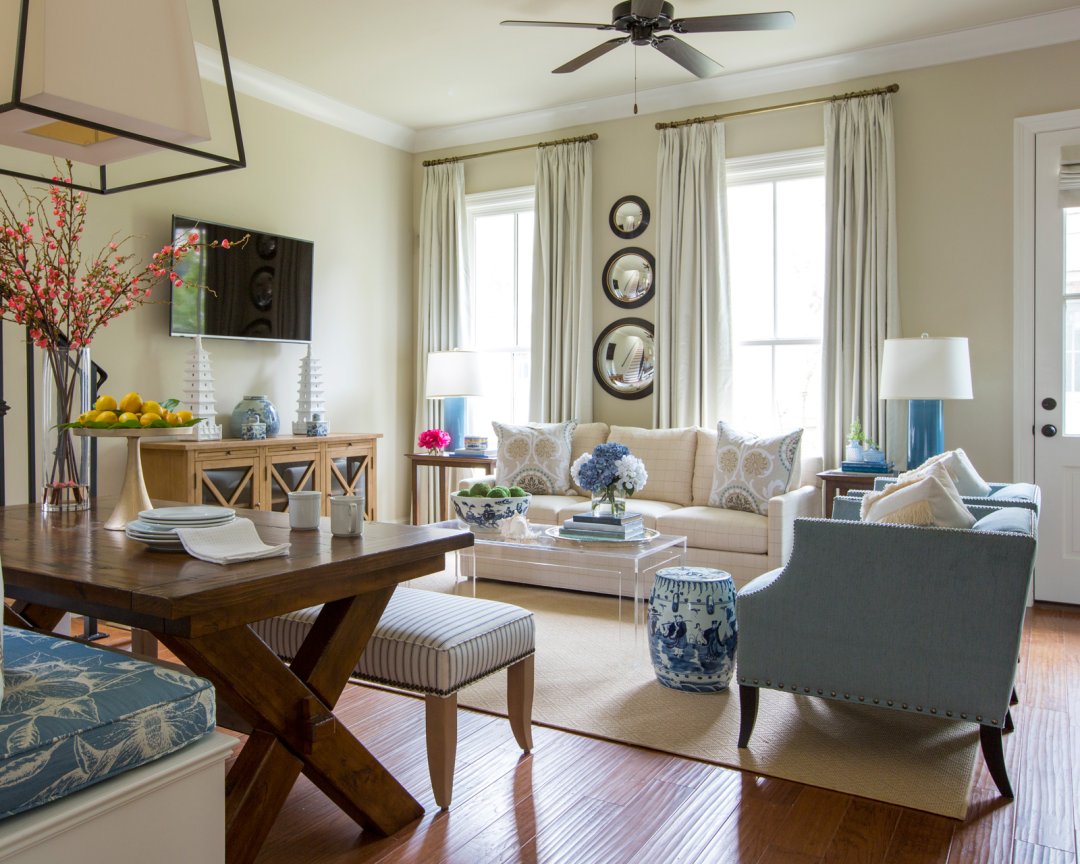 On tomorrow's episode of the How to Decorate podcast, we sat down with Baton Rouge interior designer Rachel Cannon. Rachel is known for her classic and fresh style inspired by her formal art history training and her previous experience in the commercial design industry, and when she showed us this recent project, we knew we had to share it here on the blog.
Rachel designed this home in Baton Rouge, Louisiana for a client living in Minnesota. Her client wanted a second home closer to family so that when she and her daughter visit, she'd have a place all her own. We asked Rachel some questions to elaborate on this charming space.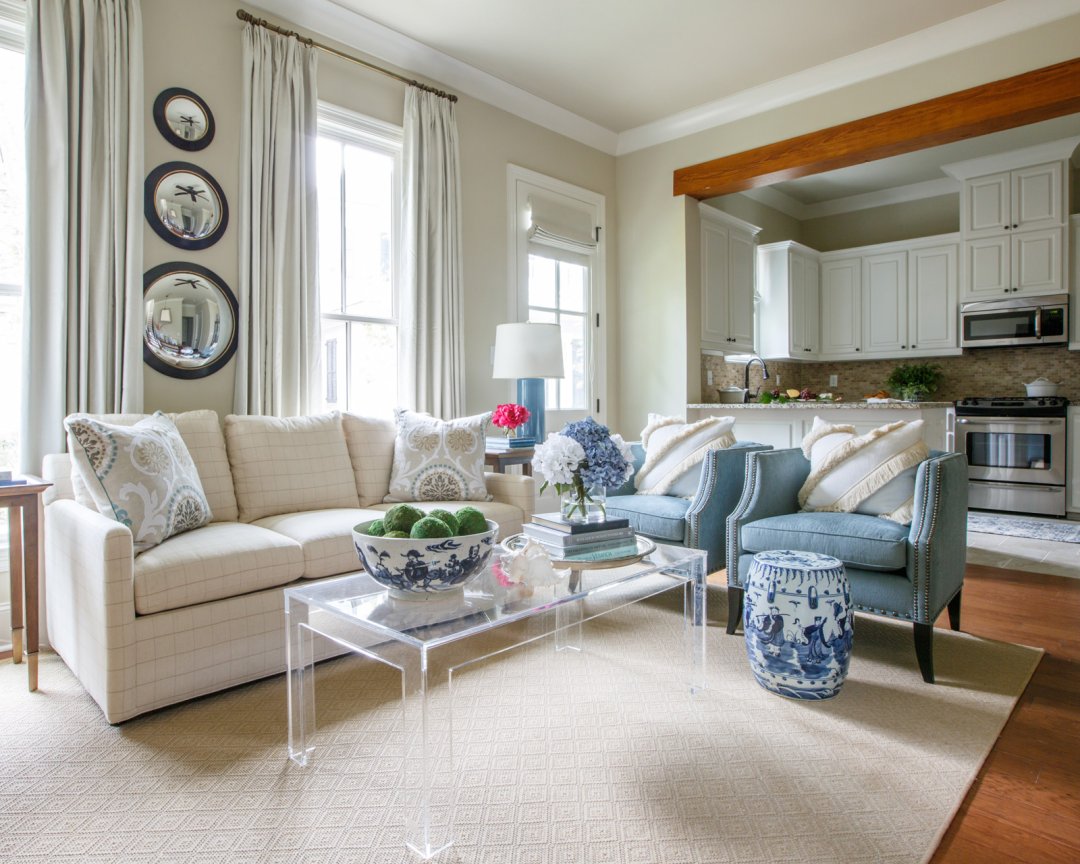 Ballard Designs: How did you work with your client to create this bright and airy home? Did your client ask for anything specific?
Rachel Cannon: This project was for clients who live in Minnesota and have a second home in Baton Rouge. Because we follow a 10-step process for designing, ordering, and installing the home, communication was really easily done via email (and some snail mail to approve fabrics). She certainly did ask for something specific – no white bedding! That was interesting for us because we love how white bedding looks so luxurious, but we were able to still create that feel through color mixed with solids.
BD: What is your favorite room from this project and what about that room stands out to you?
RC: Definitely the living room and dining area. It feels so comfortable and inviting! It is a great example of how we focus on classic, fresh design.
BD: I love the blues you use throughout the home. Can you tell us some steps to your process of designing these rooms? How did you start?
RC: Most of our projects begin with a fabric scheme and furniture plan. Right off the bat, my client mentioned wanting a Cape Cod-inspired space which is why we chose the blue and white palette.
It's important to know how the scale of furniture will work in the room, along with the way color and pattern will move the eye around to each piece. To keep the space from feeling matchy matchy, we chose a variety of blues from cornflower to spa to navy. Mixing them all together gives the space warmth and layers.
BD: Please describe your reasoning behind choosing certain Ballard pieces for this house.
RC: Since this home has limited space (1400 square feet total), the size and proportion were the guiding factors in our selections. Because our client wanted that "Cape Cod" look, we looked for classic details on each piece, blended with a fresh color palette. We loved the Felicity Coffee Table because it helped the smallish living room look open, and the Chilton Corner cabinet was perfect to house a collection of blue and white porcelain.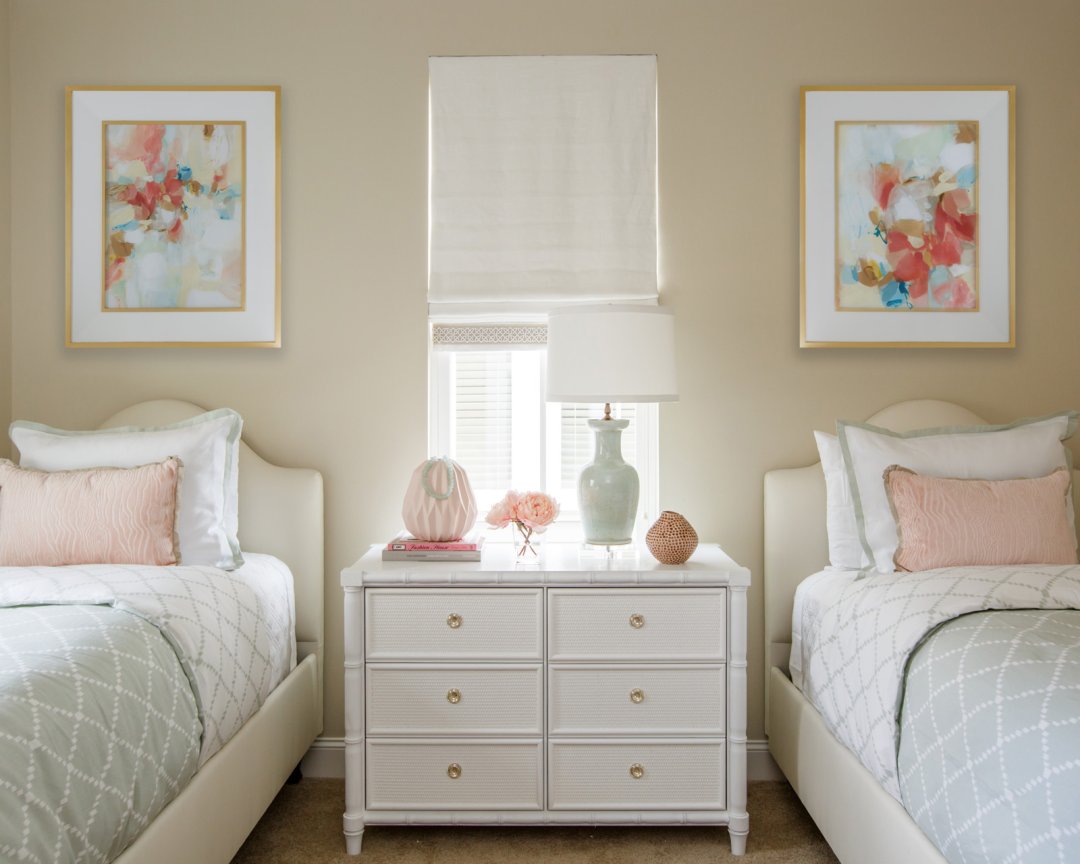 BD: What are some of your go-to Ballard pieces that are versatile enough to work in a number of your designs?
RC: I love the Belgard Cabinet, the Isabella Corner Daybed, the Eastman Secretary, and the Antelope Hand Tufted Rug, all of which I've used in projects over and over.
BD: You mentioned that this is a second home. Are there certain aspects of a second home you design that you wouldn't normally pay as much attention to in a primary residence? Do you have any recommendations for readers who are designing a second home?
RC: We treated this as if it was their one and only home. We didn't want to leave anything out, so we took into account the number of visitors they'd have, how many times a year they'd be coming down South, how long each stay would be. The goal for anyone working on a second home should be to make it feel just like home feels – don't skimp on the details!
Thank you so much to Rachel for letting us share her design on How to Decorate. To see more of Rachel's interior design work, follow her on Instagram or check out her website.
For more design inspiration, visit our Pinterest Boards, or find more gorgeous rooms in our Photo Gallery.
Did you like this post and find it helpful? Rate it below and share your thoughts in the comments!