Introducing Miles Redd's debut furniture collection is a bit like welcoming you into his home, and that's not just because all 29 pieces so embody his trademark modern glamour. It's because many of the pieces in his collection are based on antiques he's collected for his New York townhouse.
One sunny Monday this summer, we stopped by for the full tour, and we're bringing you along!
Miles added a little strip of mirror to the ceiling in his dining room, inspired by the mirror in his bathroom.

Ballard Designs: Miles, thanks for welcoming us into your home! We couldn't pass up the opportunity to share the original inspiration for so many of the pieces in your collection and to show how you've used them in your own space. Can you tell us a little bit about the house?
Miles Redd: My sister and I bought it together in 1998, the idea being that I'd live on the top two floors and her on the bottom two floors. When we bought it, it was not in good shape to say the least and it took 24 months to renovate. It's been a slow process, and I'm constantly refining it.
BD: On the podcast, you talk about the mirror details in your dining room, both the paneling and that little band that outlines the ceiling. Why does a dining room benefit so much from mirrored details?
MR: You know, I was just as surprised as y'all were that it made such an impression. Giving it that edge creates this sparkle that I didn't expect. I had a suspicion it would look great, but I was really blown away.


BD: On many of your windows, you have spectacular, silk window draperies, but others you leave bare. Which windows need panels and which ones don't?
MR: I use drapery when the windows call for it, especially in bedrooms where you obviously need that privacy. Plus, I like to sleep in a darkened tomb. Other rooms, drapery can just make a statement like on my stair landing. I don't have them in the library mainly because the sofa is pushed right up against the wall, so they'd feel smushed. It depends on the room arrangement.
In a room where I'm trying to get the maximum amount of floor space, I'll push the furniture to the walls, and in those cases, drapery doesn't make sense so I'll use shades or shutters.
BD: When you aren't using window treatments in a room, how do you fill out that space decoratively?
MR: Art is my favorite foil. I love a lot of art and will take pieces all the way up to the ceiling to draw your eye up.
BD: You meticulously light the rooms in your home, and flip one switch and all the lights come on at the perfect level. Give us a little lesson. How many sources does one room need, and how do you know when you need one type of lighting versus another?
MR: It's decorator magic! Those details come when someone has thought and obsessed about everything. My rule of thumb is to use at least 10-15 sources of light. They should come from 20-60 watt bulbs. I add picture lights, task lamps like my Deco Floor Lamp, and also uplights. You want a room to glow like a jack-o-lantern, and my favorite way to achieve that is through many different sources with low wattage bulbs.
BD: One of my favorite details in your home is the staircase landing between the first and second floors. You've added little bits of mirror, the most sumptuous Tiffany blue curtains, and a wall mounted console table. The space is only maybe 3 x 5 but it's such a glamorous focal point as you walk in the front door!
MR: I'll be honest — I ran out of spaces to decorate! That's what happened. If you look inside my closet, they're decorated. If you're of the obsessive decorating personality, you want every single space to be considered, staircase landings included.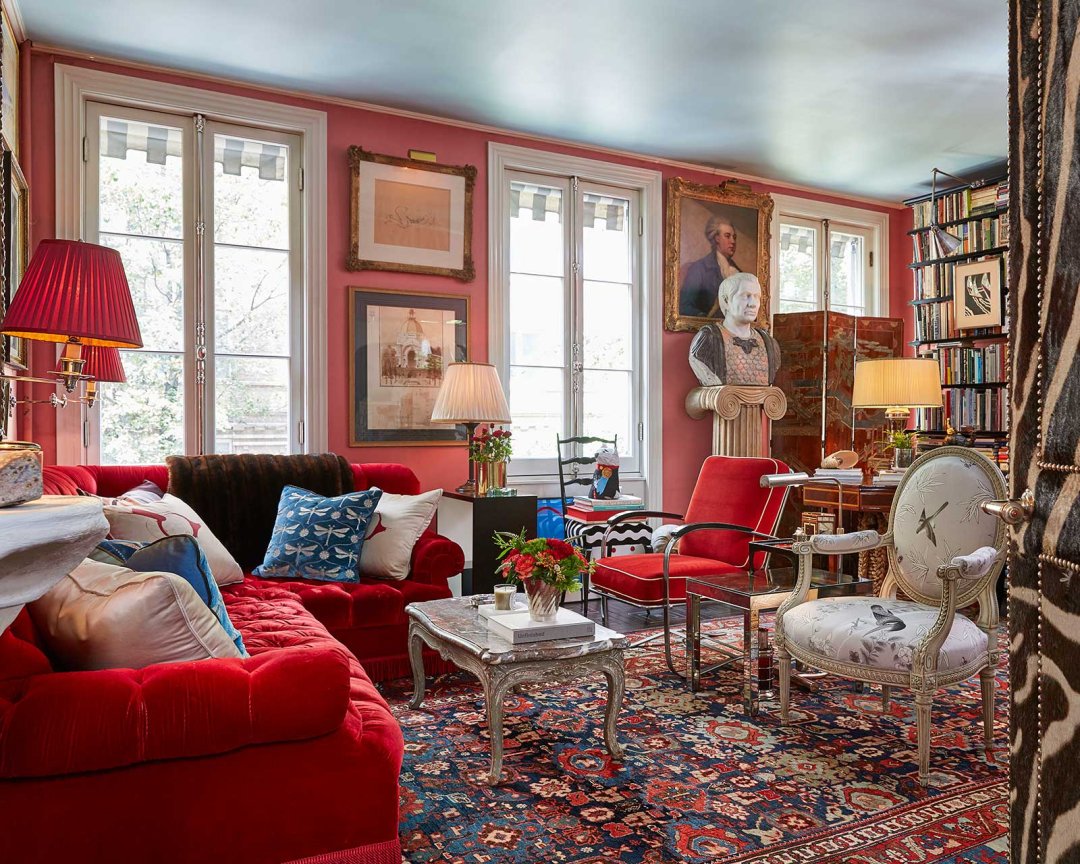 BD: Let's talk about your den. The color palette is bold, but it feels so comfortable and happy. Where did your color inspiration come from here?
MR: It's not as overpowering in real life, and I think that's just my decorator eye. It's just the gift I got. We all get certain things in life, and for whatever reason, I see colors and room arrangements. The palette actually came together because of the doors. I wanted something striking with the zebra doors, and I kept thinking that the pink and red and black would feel so good with them. The color pairing was a long shot, and I didn't know it would work. I just went for it.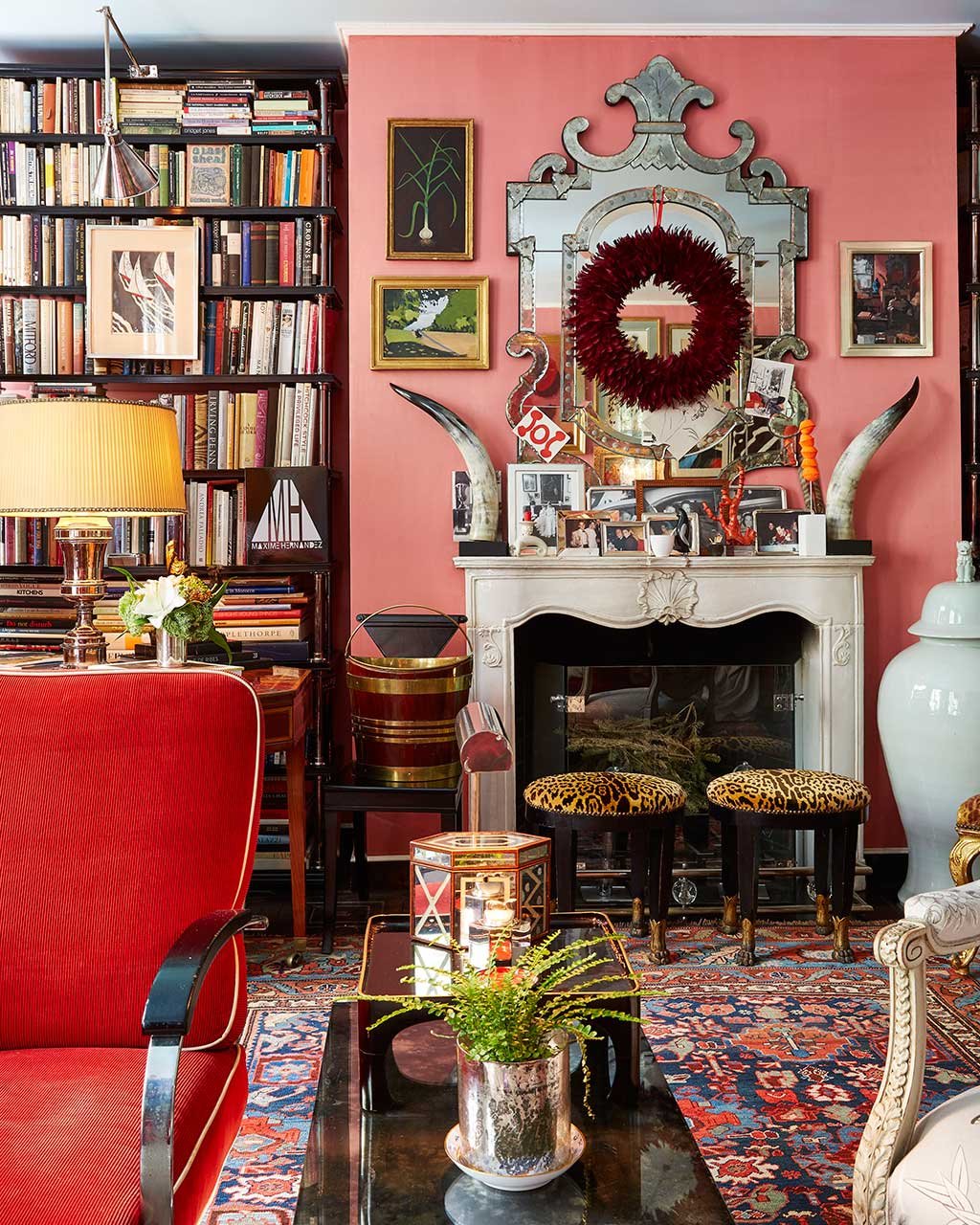 BD: You designed your Miles Bookcase to echo the floor to ceiling shelves made for your living room. Why plumbing pieces?
MR: I needed book storage, so I designed them to fit perfectly on either side of my mantel. For the ones in my library, I had plumbing fittings silver plated, but I've actually improved on the design for my bookcase for Ballard. I wanted the bottom to stick out a little so you could place a flatscreen on that little ledge. I also used a nickel finish instead of silver because my bookcases tarnish!


BD: Your living room has a lot of glam factor, but it's also super comfortable. How do you make sure a den has both of those elements?
MR: You want a big comfortable sofa, a comfortable grouping of chairs, and I always want something interesting and exciting on the walls that your eye can play upon. Of course, plant material is hugely important to a room and makes everything come alive. I'll use a huge fern frond stuck in a vase or an orchid. I think a lot of people forget to carefully consider lighting. Use many sources of light like we just talked about! Finally, books and a little bar tucked somewhere. Those are your finishing touches.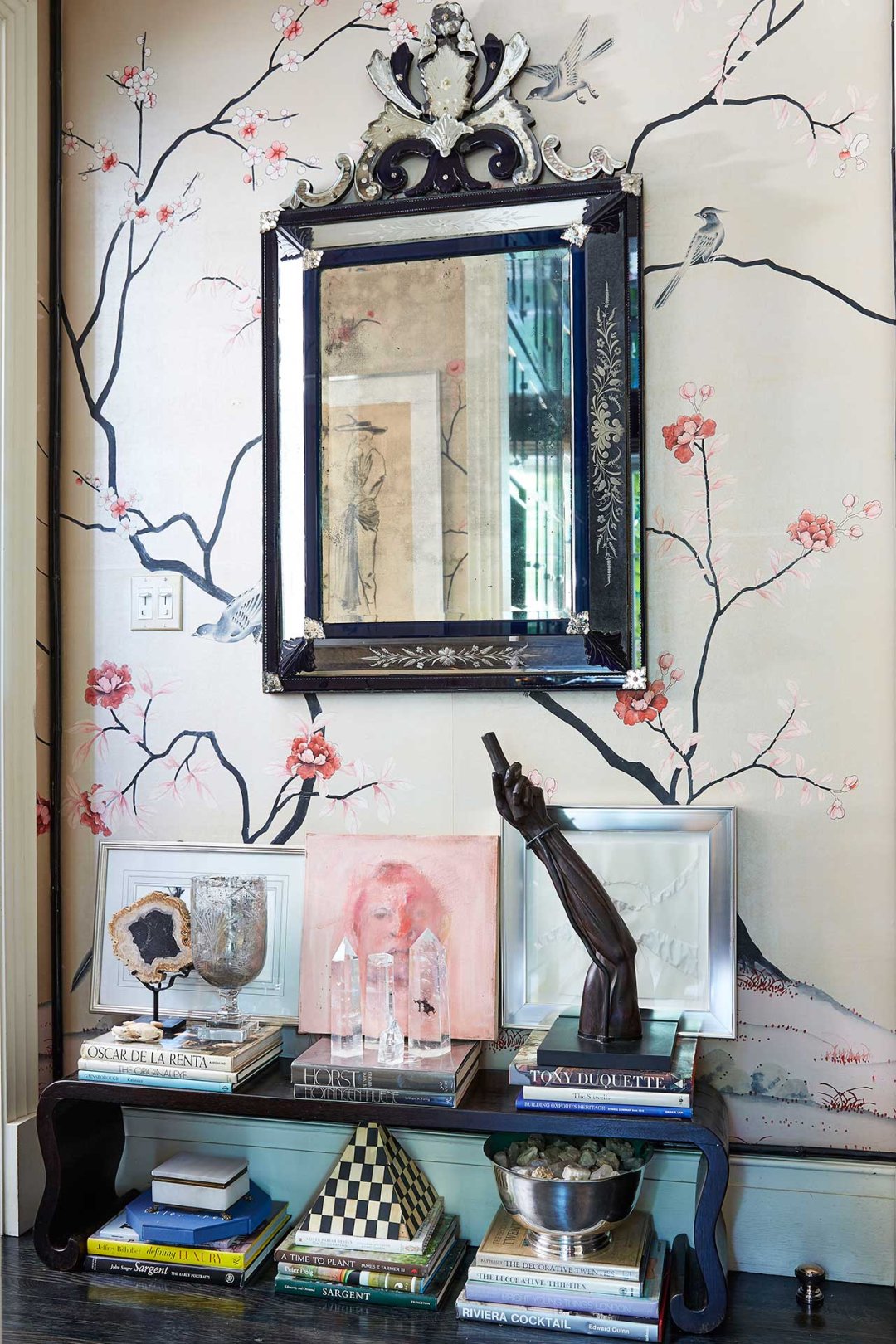 BD: Tell me about your black lacquer kitchen. For those of us who don't know a lot about lacquer, when should we use it and why lacquer versus a high gloss paint?
MR: There is more depth in lacquer because usually the under coat is another color than the top coat. It's just richer, like chinchilla versus rabbit. It's also more time consuming and expensive, so if you don't have the budget, a good oil high gloss can be very effective. I lacquered my kitchen black because I wanted it to feel more like a butler's pantry than a kitchen, it just works with my house.
BD: Your home is chock full of fantastic art. Where are your favorite places to pick up a new piece?
MR: I shop a lot, so I'm always on the lookout for clients and myself. Most of my art I've gotten at an auction or were given to me by friends.
BD: You love a canopy bed and use them in so many of your projects, including both bedrooms in your home. Where does this love affair come from?
MR: They're just cozy to sleep in. They create this little nook that envelops you. They also make a room! If you have a small, boring bedroom, there's nothing like a canopy bed to make the room. A canopy bed and great drapes are all you need.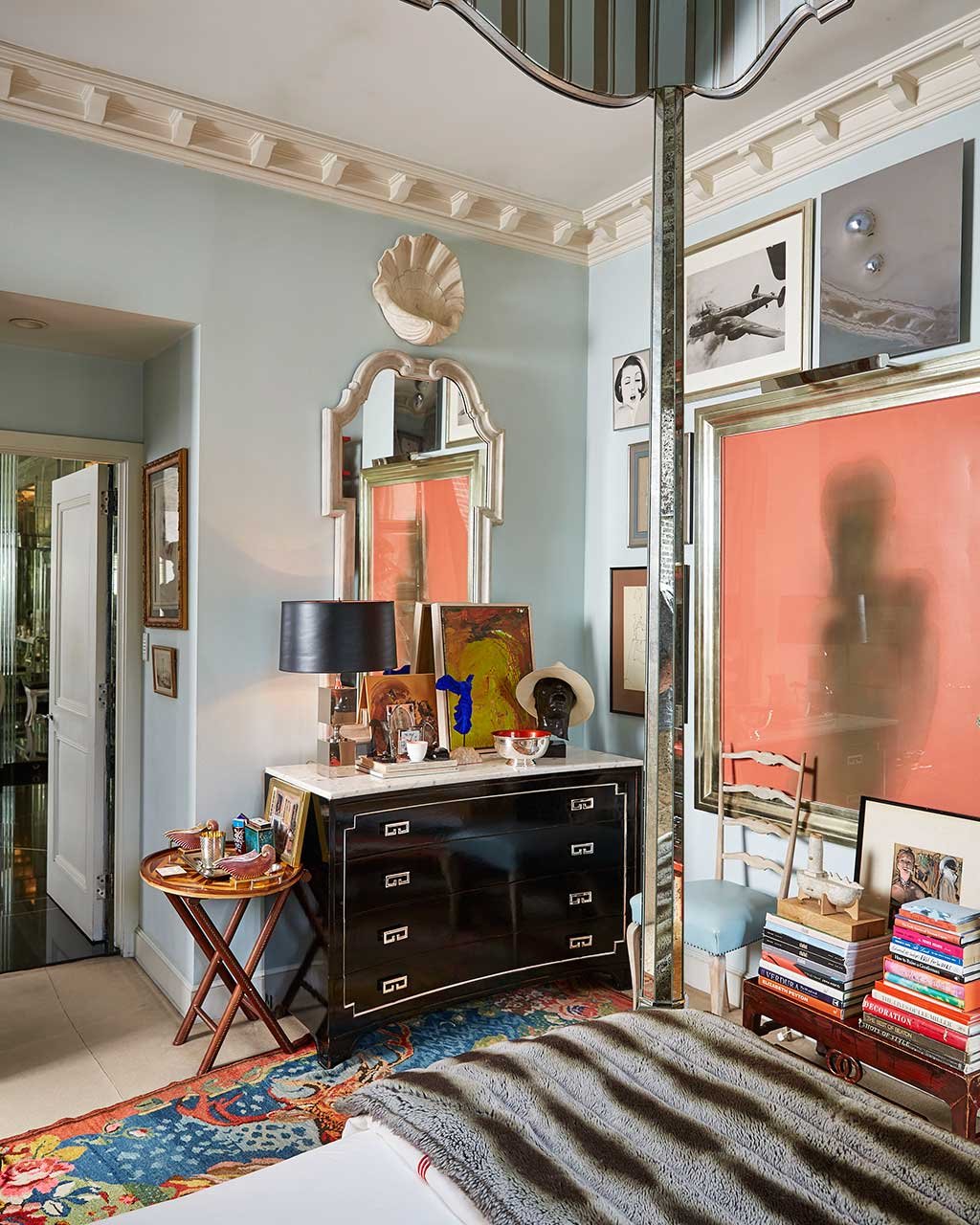 BD: Almost every room in your home has a different paint color or wall treatment. How do you transition from one wall color to the next so harmoniously?
MR: I planned it very carefully, that's what a good decorator does. He thinks about the whole puzzle and makes it flow.
BD: Ok, final question. From where we sit, every single room is perfect, but we know you're constantly tweaking. What's next on your project list?
MR: I think about the hallways mostly, and the inside of closets.


Thanks for letting us share your gorgeous home!
Shop Miles' debut collection for Ballard Designs, listen to his episode of the podcast, and be sure to follow him on social media!