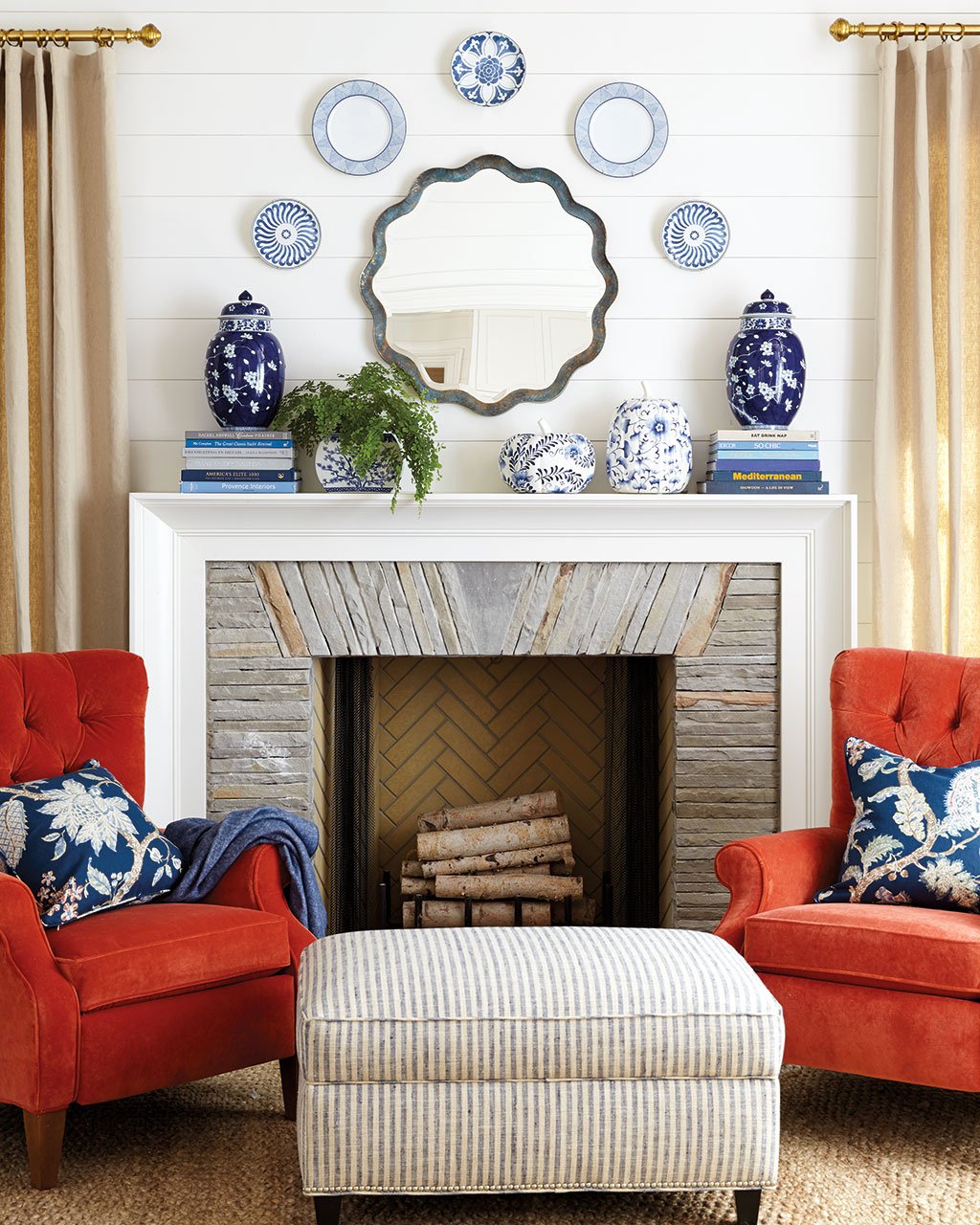 While Fall isn't quite here, we're planners here at Ballard Designs, and we like to start thinking about our seasonal decor a little early. The fireplace mantel is a traditional space decorated for the seasons, so we thought we'd try our hand styling this space for Fall.
1. All Over Blue and White
We love the idea of taking something you really love and playing it up en masse, like blue and white. We centered our Rayne Mirror which has a blue finish with a copper patina over the mantel. Typically, a mirror this size would have been too small over this large mantelpiece, but surrounding it in plates from Bunny Williams' Campbell House collection gives it more presence and weight.
Symmetry is an important tool in decorating, and in many cases, it's a great way to create a strong focal point in your room (after all, every room needs one). But, you want to break that symmetry just a little so your space isn't too rigid. We did this by grouping two blue and white Chinoiserie pumpkins to one side of the mantel, and placing a fern in a blue and white floral frog on the other.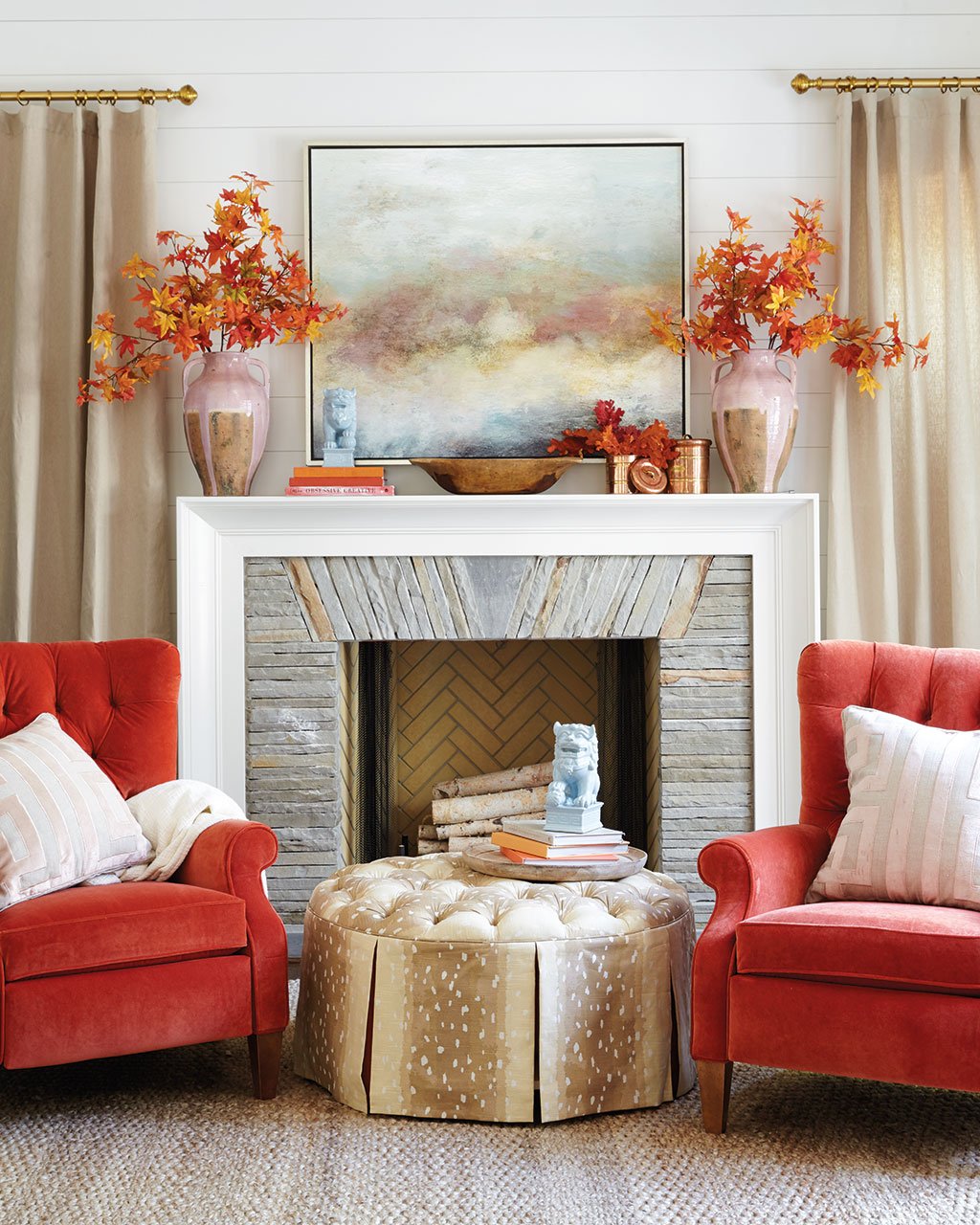 2. Sunset Inspired Color Palette
One of our favorite ways to decorate a space is to choose a piece of art and to use it as a jumping off point for a whole room. We loved the color palette of our In the Air Art — sky blue, blush pink, gold, and little touches of ochre. With this piece as our anchor, we used two of our large vases from the Mayme Collection filled with Fall leaves, antique copper cookware, and a blue Foo Dog.
Are you noticing a pattern? There's an easy formula for styling out your mantel. Start with a large art piece. We recommend a piece of art that's about the same size as your firebox. It's okay to go bigger, like we've done here, but anything smaller will feel out of proportion.
Once you've anchored your mantel with a piece of art, use two tall accessories on either side of the art. In our blue and white mantel, we used chinoiserie urns. Here, we used two Mayme Vases filled with fall leaves, but candle sticks or sconces can work too. Next, try an asymmetrical arrangement of smaller accessories in between your larger ones.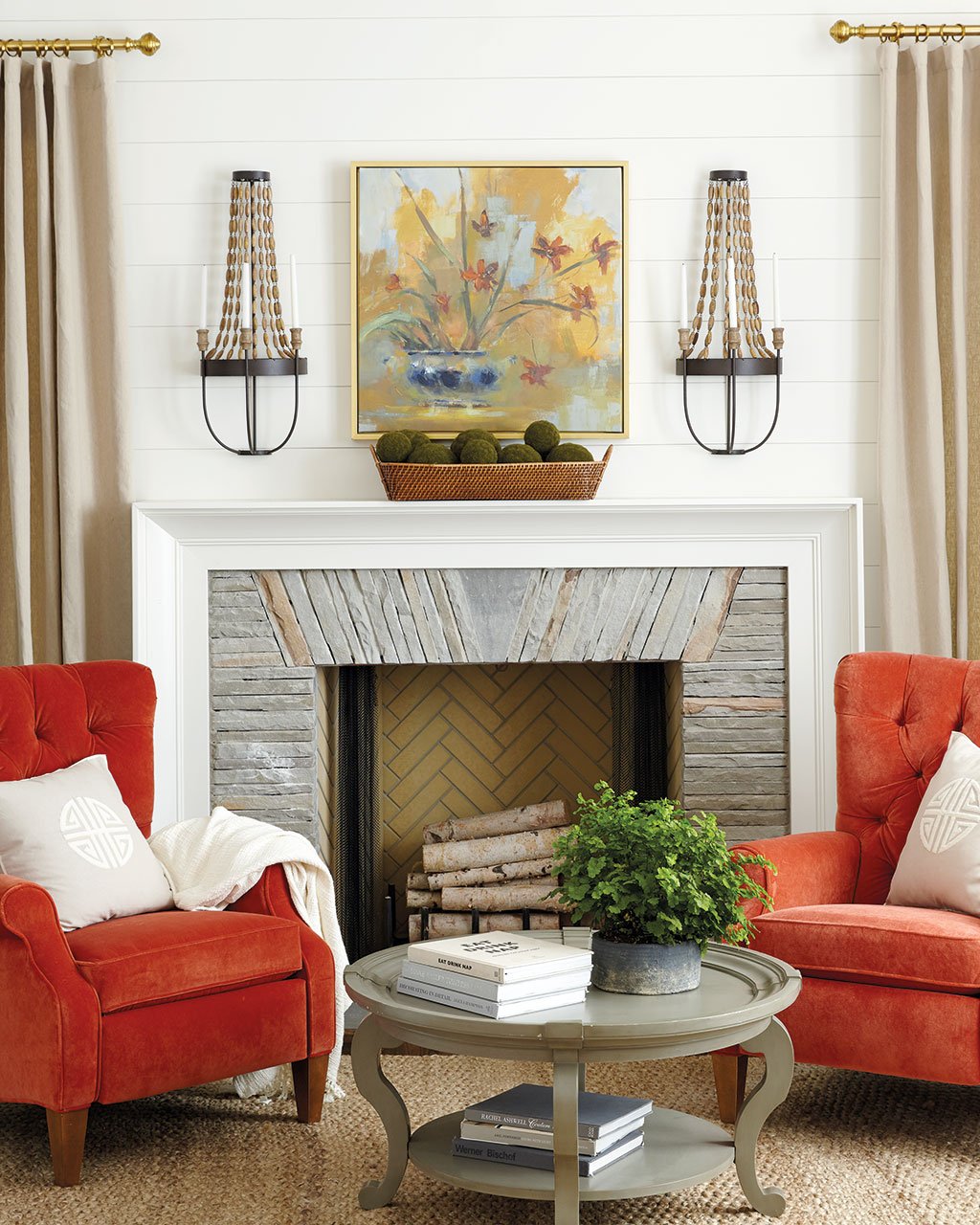 3. Natural Textures and Colors
One growing trend we're seeing in home decor is more greenery, quieter spaces, and accents inspired by nature. We pulled all of these elements into this Fall fireplace. Our Vermillion in Blue art set the tone and the color palette. Because this painting is a little small for our mantel, we flanked it with two large candle sconces. The three pieces together create enough width to balance the grand scale of the fireplace.
All of the textures of these pieces play together well — the beads have a beautifully worn patina, the painting has a simple metallic frame, and the Piper Woven Tray has a classic weave in a dark finish. They're all different which makes the combination of accents interesting.
How do you plan to spice up your fireplace mantel for Fall?
Browse all of our new accessories and wall decor, find more fireplace mantel ideas, or check out our complete styling guide.
To stay up to date with all things How to Decorate, sign up for our monthly newsletter.