During the cooler months, we love to draw everyone around the fireplace, arguably the coziest spot in the house. And what better way to make your mantel a focal point that to add festive accents? Of course, you don't want to be redecorating the mantel every few weeks, so we chose accents with staying power. See our three favorite looks below:


Pretty and Pastel
This fall, we're loving pastel accents, and we're seeing them in all of the design magazines. Whether you like soft, feminine fabrics, a pastel color palette, or simple accessories, we love working them into our rooms for a fresh update.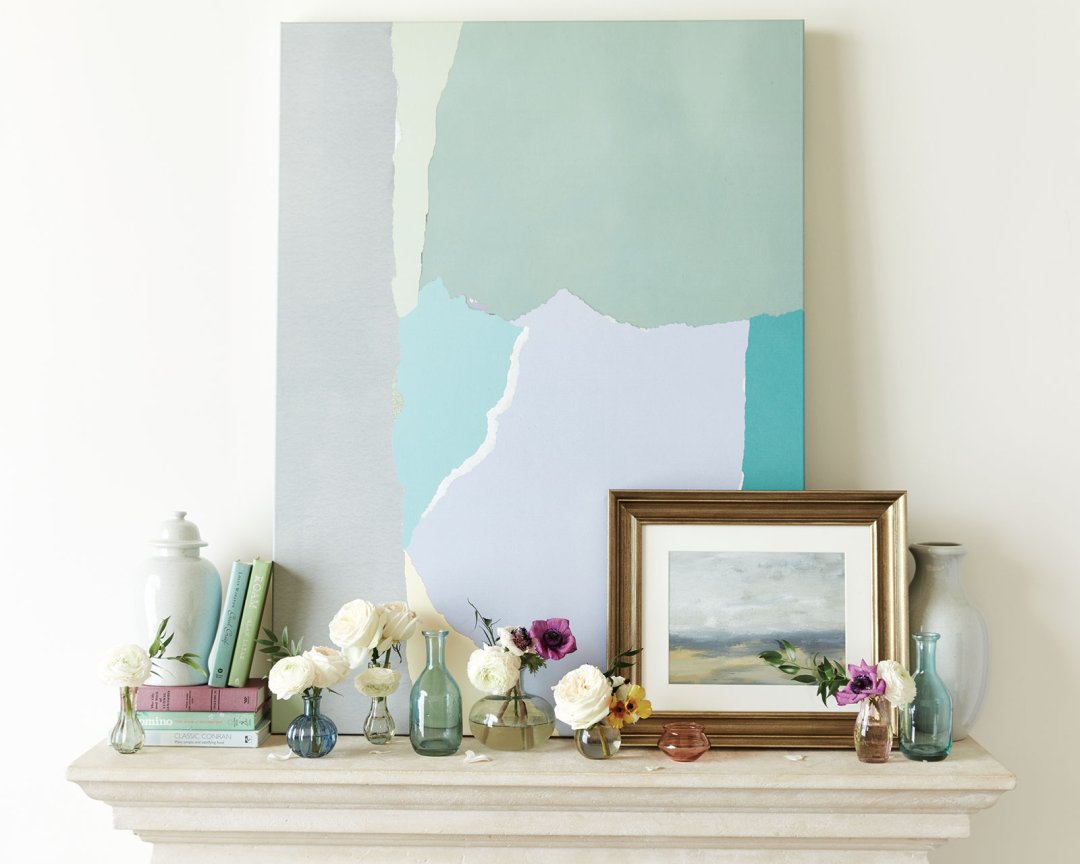 Miles Redd's Pastel Collage Art inspired this space, and to complement the print's color palette we used duck egg blue and lavender accessories.
The important thing to remember when decorating your mantel is to vary the level of your accessories and to incorporate lots of different shapes. To boost the height of Suzanne Kasler's Sanremo Pottery, we added a stack of books on the left.


To balance the stack of books and pottery, we added a small framed print to the other side. Layering art over one another creates a collected look that we love.

Ladylike Library
Wood paneled libraries get a bad rep for being dark, outdated, and overly masculine, but we love femme-ing them up with white accents and embroidered fabrics. The balance of light and dark creates a striking room where we guarantee you'll want to curl up with a glass of wine.
For the mantel, we used tons of white accessories to pop against the dark walls. Cotton stems fill white glazed vases, and matte white candlesticks create height. When decorating your mantel, incorporate organic forms with very structured ones like we've done here. The contrast makes things interesting!


When adding accents to your mantel, think in threes. Here, we grouped two vases and a candlestick together to create an asymmetrical arrangement. The heights are different, but each of them draws the eye up, and their different shapes help your eye bounce around.


To mix things up, we added cotton garland along the left side of the mantel. The weight of it balances the stacks of books on the other side, and the colors perfectly blend our dark, wood room with our bright, white accessories.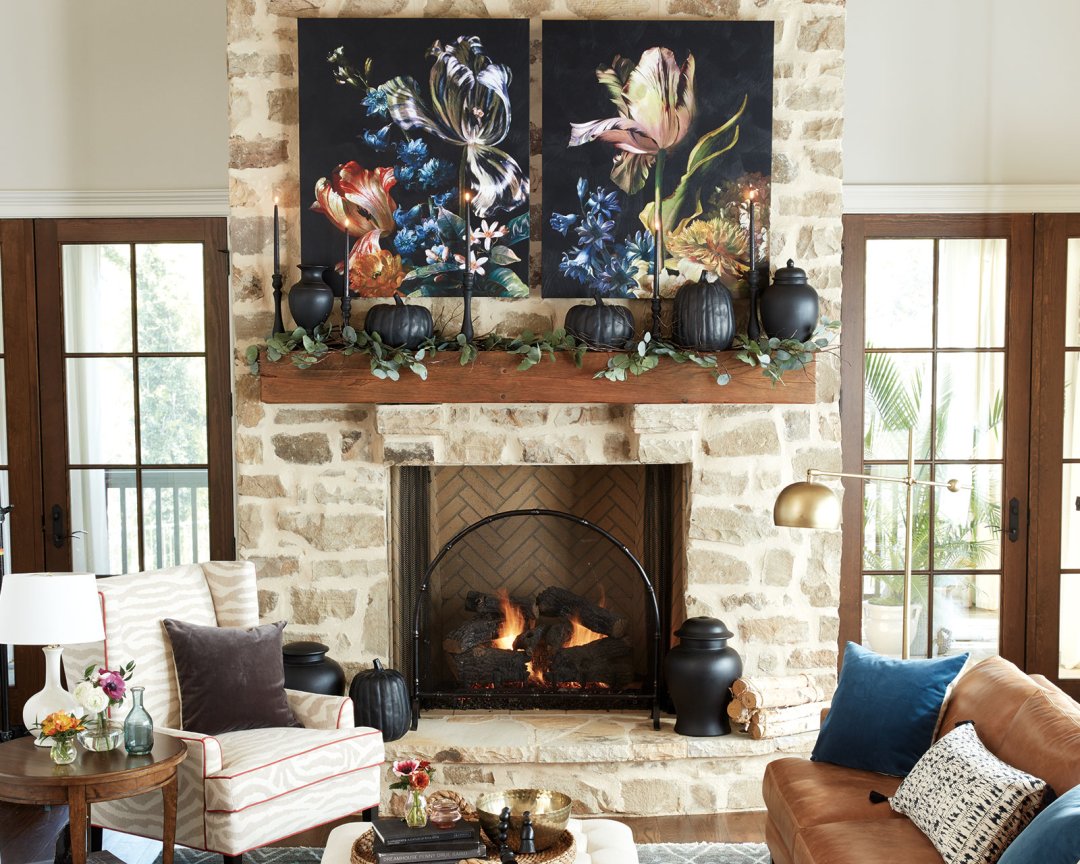 Elegant, Black Accents
We've been loving matte, black accessories. They're unexpected, make a bold statement in any room, and can last from August through Thanksgiving. For this fireplace, we used large, sculptural shapes to contrast the organic nature of the floral painting over the mantel. Faux eucalyptus leaves and metallic branches soften the edges of the wood mantel.


Because the gourds, lamp slips, and candlesticks are all in the same matte, black finish, your eye focuses on their shapes and heights. Your eye moves bounces around the mantel, but the uniform color palette keeps the mantel from looking too busy.
Which mantel is your favorite? Do you style your mantel for the seasons or have a permanent arrangement you keep year 'round?
Browse all of our new accessories and wall decor, find more fireplace mantel ideas, or check out our complete styling guide.
To stay up to date with all things How to Decorate, sign up for our monthly newsletter.