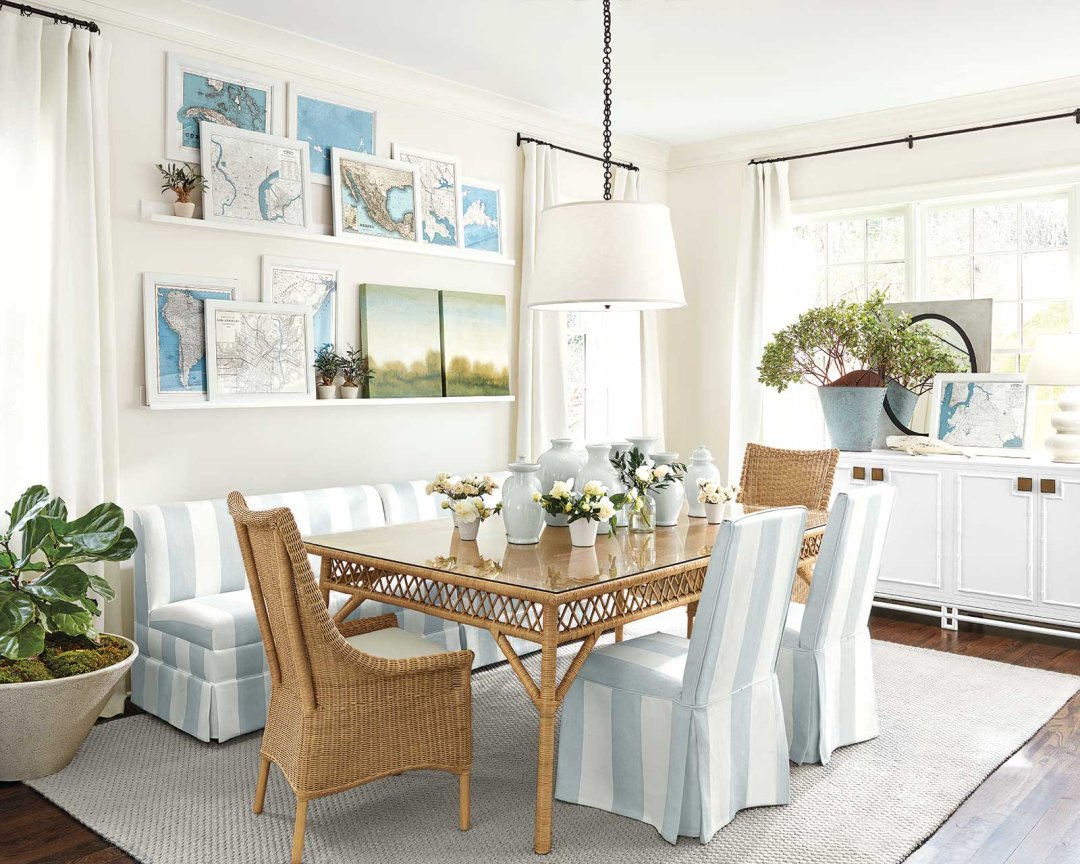 Each season we look forward to talking to our designers about their new collections, and this year, we were chomping at the bit to hear about Suzanne Kasler's new wicker collection. She shares how to work her pieces into your room, why wicker isn't just for coastal spaces, and much more.
Ballard Designs: Each year, we introduce a new collection to your line, but this year, the pieces are extra special. You're introducing a whole collection of furniture – a dining collection and a coordinating bedroom collection. This is big! Tell us about the Southport Collection and where your inspiration came from.
Suzanne Kasler: I've been seeing wicker pop up more and more and kept using small pieces in my design projects. When I found a beautiful wicker daybed at the Paris Flea Market, I knew it was the perfect jumping off point for a whole wicker collection.


BD: What is it about wicker that you love working it into your projects?
SK: It's so important to mix textures and materials in your spaces, and I love to use really luxurious fabrics in my rooms, especially velvets. Wicker is the perfect way to contrast those fabrics, so we've been using it in our client projects for years.
BD: Of course in the rooms we've shot, we want to show all of the pieces in the collection, but you mention mixing it with contrasting items. How do you mix wicker into the rooms you design and how do you imagine the pieces of your Southport Collection mixing with other items you've designed for Ballard?
SK: Of course you could buy the whole collection because everything is meant to work together flawlessly, but I would love to mix it with my white, lacquered Parsons collection because those finishes are just so different. It would work beautifully with my Lydie Collection which is metal and glass. Both of those collections have super slick, modern surfaces, which makes wicker the perfect foil for them. I can definitely imagine using an upholstered headboard in a bedroom with my wicker slipper chair.
When designing my collections, I prefer to design a collection that could be used in total or just one piece mixed in to update a whole room. That versatility is what gets me excited about a new launch!
BD: We love the coastal feel of these pieces and the way they mix with all of your fabrics. Why do you think these rattan pieces work well in a home? Are they just for coastal spaces?
SK: I particularly love using wicker dining chairs because they work so beautifully with lots of different tables – wood, iron, and glass. They're so easy to maintain and work great for family houses because you don't have to worry about upholstery. They also bring that natural color to a room which I love. So I absolutely see these pieces being used in city spaces, country spaces, and coastal spaces. I would use the dining table as a great big desk!
Aside from all of the coastal blues and whites, we're seeing lots of black and white. I love bringing in black accents, so the lamp slips in a matte black were a natural fit. It's a great neutral and makes a strong statement no matter where you display it.
BD: In the dining room, you styled a wall of art prints – they're leaned on wall hung ledges and also hung on the wall. Talk to us about this wall and any guidelines you like to follow when putting together a focal point like this one.
SK: One thing I think my clients know me for is my love of collections. I'm a big collector, so I'm always looking for a way to display my finds in my own home! Of course, I love collections of art, and for some reason, I've always loved maps. We found a group of maps that worked really well together, and I love the notes of blue and grey.
In this space, I used these white shelves to display all of my maps in varying sizes, but it's important to mix in different things to keep the wall interesting. I used some canvas landscapes, small potted plants, and even some plates from Bunny Williams Campbell House collection. Find objects around your home that don't match the collection your displaying and work them in. It's that same idea of contrast and tension we talked about!


BD: Your Sanremo Collection reminds us of your lamp slips but in a new palette and a more petite size. Where did these come from?
SK: This new collection of vases which are inspired by oriental vases that I found at Scott's Antique Market here in Atlanta. Of course I love my lamp slip collection, and these could easily work in with my lamp slips. They have a pretty tone that's not blue and not grey, but that perfect in between. You can use them on their own or with flowers in them. I like to use a mass of them together on a table or console.
BD: The bedroom you designed for this season is so sweet, and it actually shows off your new collection of cotton duck fabrics. Why should someone incorporate a canopy above their bed, and when do you use one in the spaces you design for clients?
SK: I love focusing on inspiration for the rooms we design for the Ballard Designs catalog, and a canopy is a simple detail that works great in a bedroom, especially one with twin beds. We took the fabric, banded it in white, and it's attached to the ceiling with drapery hardware. It's a simple detail that makes a dramatic statement. Top it off with a couple of mirrors hung over the fabric.
BD: When should we use a canopy over the bed?
SK: I love them with twin beds because of the symmetry it creates, but they also bring softness into a room which works well if you aren't using an upholstered headboard.
BD: Talk to us about duck fabrics. Why did you want to introduce them into your fabric collection and when should we use them?
SK: I love white linen for its timelessness, but it doesn't work for every application. Duck fabrics have a bit more polish to them, while still being casual. It's a bit crisper than linen and has more body. I'm so excited to introduce all of the gorgeous colors from my linen collection and bring them out in a duck fabric.


BD: You new Elba Bedding Collection is so fun and playful. Where did the inspiration for this collection come from?
SK: I had found a beautiful vintage fabric at a small antique shop outside of London. I brought it home to inspire my next bedding collection. I love that little bohemian touch in a very tailored room. It's a good mix of simple and busy, especially when mixed with my Greek Key Bedding.
BD: One of the more unique pieces in the Southport Collection is the bench. It has a narrow footprint but brings a lot of personality to a space. How would you use it in one of your client projects?
SK: Benches are so versatile, and I use them in every single one of my design projects. This one could live in a hall, at the end of a bed, or pretty much anywhere. It adds great extra seating without blocking site lines, or it's the perfect place to put a suitcase in a guest bedroom.
BD: The little armless chair in this collection is so unique and could work in so many different rooms because of it's small footprint. Tell us about this chair and why you incorporated a silhouette like this into the Southport Collection.
SK: One of the things that I love and am always hunting for is the perfect little chairs. Often people worry that a small chair won't be comfortable, but it's actually the opposite. You'll find a petite chair like this to be exceedingly comfortable to sit in. We worked hard on the proportions so that it would sit perfectly. Just like the bench, these could be used in any room.
BD: We can't forget to talk about your new lacquer bath accessories. Why did you decide to add these to your collection? Were they something you were looking for to incorporate into your clients' spaces?
SK: Often when we're working with our design clients, we'll furnish an entire home right down to the towels in the bathroom and the plates in the kitchen. I'm often looking for bathroom accessories, and struggle to find something simple, elegant and easy to maintain. They're not meant to make a statement in a room, rather their meant to blend with the other design elements we've incorporated.
BD: Do you have a favorite piece in your new summer collection? What is it and why?
SK: The bed is definitely my favorite piece. I've worked with wicker beds before, and they can often be too flimsy and delicate. I love how sturdy the Southport Bed is. The detailing is beautiful, and they're just so well made.
Learn more about Suzanne Kasler, or find Suzanne Kasler's collection for Ballard Designs here.
Did you like this post and find it helpful? Rate it below and share your thoughts in the comments!