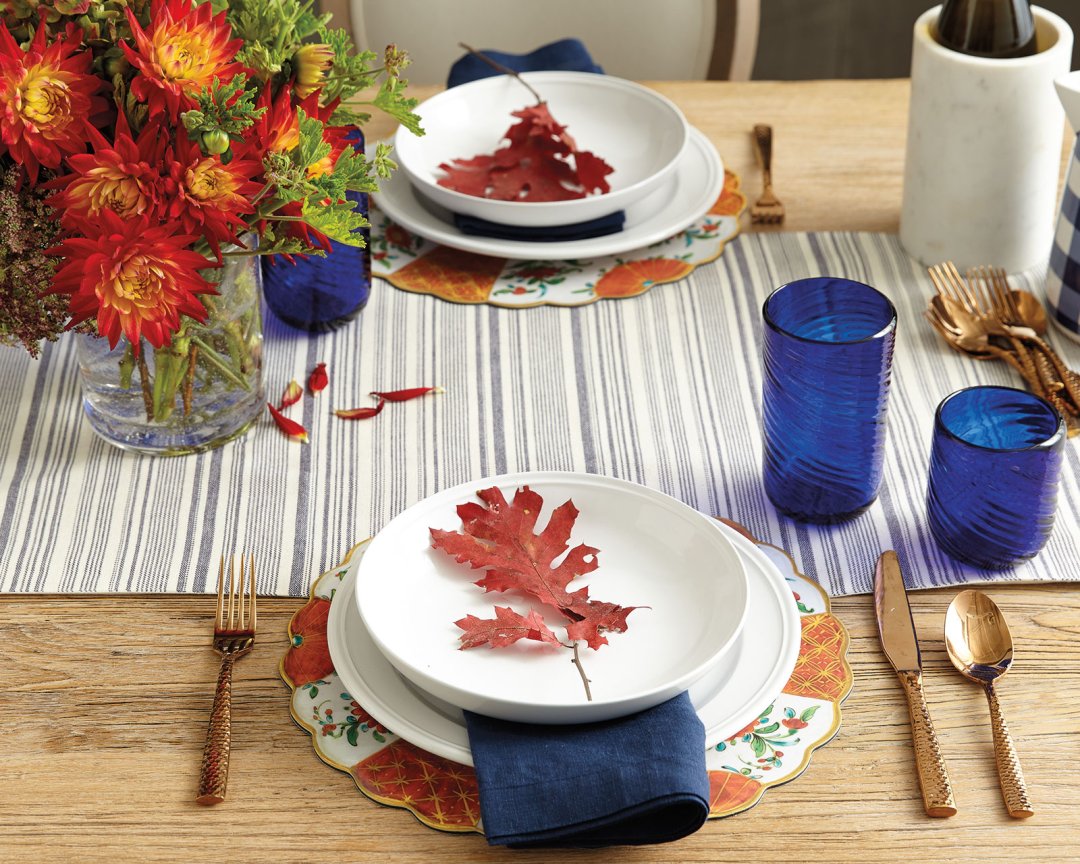 Fall is the season of entertaining, and we don't just mean during the holidays. With summer vacation over and school back in session, it's the perfect time to reconnect with friends and family. We styled 5 table setting ideas to inspire your next get together.
1. Spaghetti Dinner with Friends
Entertaining doesn't need to be fancy or complicated, it's just about spending time with people you love. Put together a simple menu, one that you can prep well in advance, and have your new neighbors or childhood friends over for a comforting meal.
We chose all the best accoutrements for a spaghetti dinner: our Brigitte Pasta Bowls are low and wide, perfect for twirling noodles around on your fork, wipeable placemats for when flecks of sauce go flying about, and dark navy linen napkins that won't stain with either red sauce or red wine.
We used a combination of vibrant red dahlias, preserved fall leaves, and greenery to echo the color palette in our Chinoiserie Placemats.
What to Cook?
Marcella Hazan is to Italian cooking what Julia Child is to French, so it's no surprise we turned to her cookbook The Essentials of Classic Italian Cooking for a classic bolognese sauce. Get started on your sauce early in the day, then let it simmer away on the stovetop while you set your table. Once your friends come over, the house will smell divine, and you can relax and enjoy their company without having dinner prep looming over your head.
Serve 'the gold standard' in bolognese sauce with a simple green salad, a big loaf of crusty bread, and a simple dessert. Make it easy on yourself and pair store-bought biscotti with vanilla bean ice cream and a big pot of coffee.
---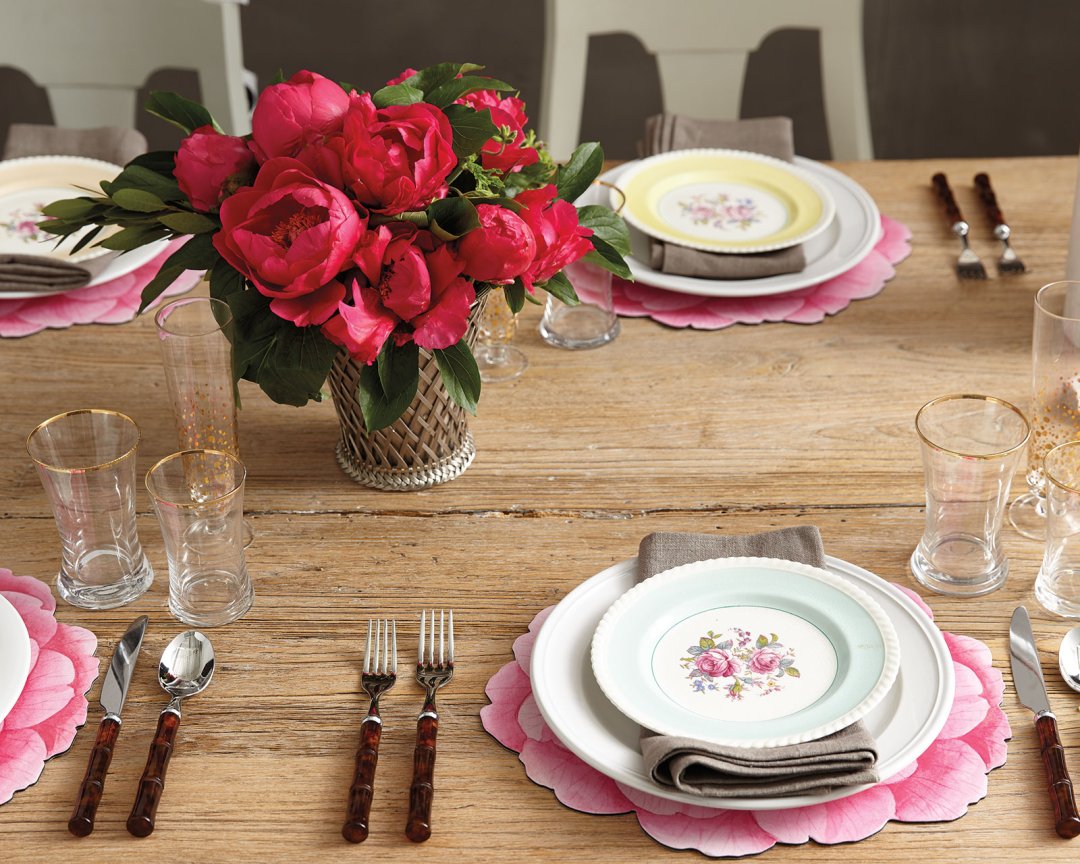 2. Girls Dinner
Pamper your best girlfriends by having them all over for a decadent meal that's unabashedly girly. Or better yet, invite friends who you've never had a chance to introduce but who you think would get along! A shared meal in a beautiful home is the perfect way to nurture your friendships and to make new ones.
Vintage dessert plates inspired this table, so we took their floral motif and ran with it, incorporating hot pink placemats and a bouquet of Paula Faye Peonies.
What to Cook?
Ina Garten is the hostess we all either wish we were or wish we knew! Her 'Favorite Dinner' menu sounds like a home run — start with Fresh Whiskey Sours, serve Rack of Lamb with Orzo and Roasted Vegetables, and end the meal with a French Apple Tart with vanilla ice cream. Now we know rack of lamb sounds intimidating, but once you've made the marinade in your food processor, the hard part is over. Simply marinate the lamb, roast for 20 minutes, and let rest under aluminum foil. You'll seriously impress your friends, and no one will realize how easy it is to make!
---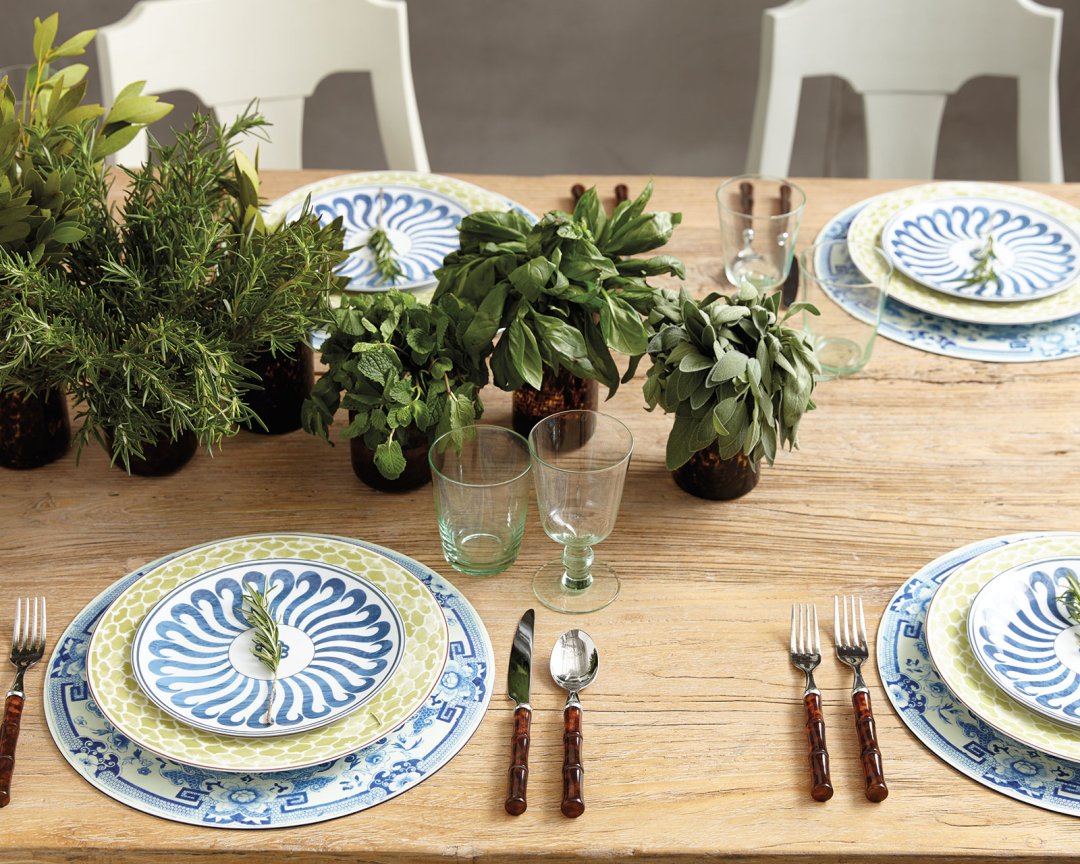 3. Dinner with the In-Laws
We can't all be Martha Stewart, but we can all impress our family members with a great meal at home. Just focus on these two things: set a beautiful table and make a simple, comforting meal.
Of course a beautiful table starts with a great centerpiece, but you don't need to be a florist to pull one off. Instead, grab bunches of herbs at your grocery store and group them together in small cups. We chose rosemary, mint, basil, sage, and bay leaves. Tie them together with a rubber band and pop them into a small glass! Of course, if we're focusing on easy tables, you don't want tons of washing and ironing after your meal, so we chose wipeable placemats instead of cloth, and left the table sans tablecloth.
What to Cook?
Since we're focused on hosting without the stress, a big pot of soup is a no brainer. Make it early in the day so all the work is done, then warm it up right before serving! Ina Garten suggests serving a tomato basil soup with Parmesan Chicken and a Baked Chocolate Pudding for dessert.
---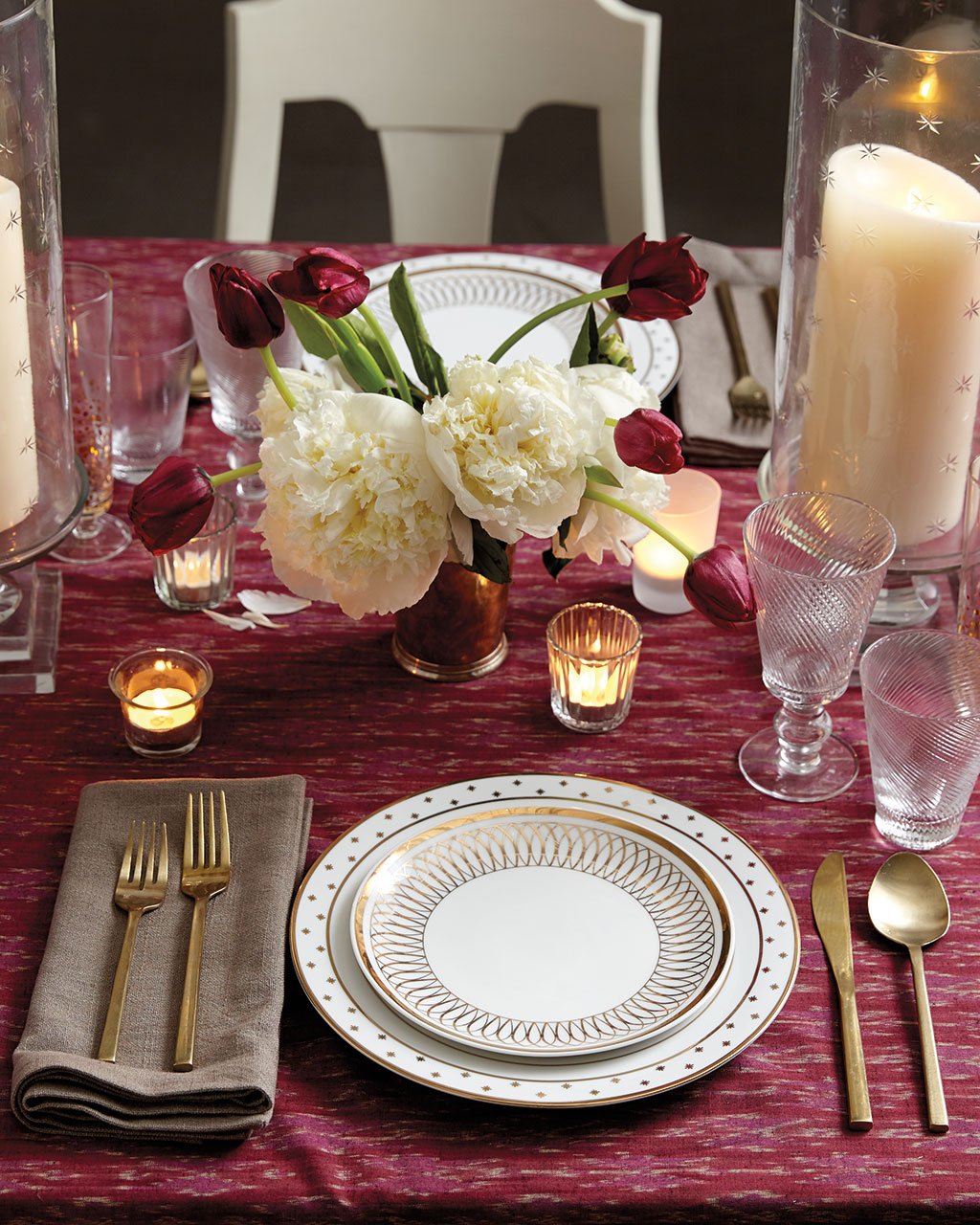 4. Romantic Date Night for Two
Every couple could use a romantic date night, especially during a busy schoolyear. Skip the babysitter, and make an indulgent meal at home. Once the kids go to bed, dim the lights, turn on some music, and make a steak dinner with your significant other. A gorgeous table with candlelight is all it takes to turn your dining room into the best restaurant in town.
Bunny Williams' Ikat Tablecloth inspired our whole evening. We echoed the rich, wine color with coordinating tulips, then added tons of gold accents like our Ibiza Flatware and Gold Star Dinnerware. Of course you can't forget the candlelight. Two big hurricanes and a smattering of tea lights on the table bring instant romance and reflect off our other golden pieces.
What to Cook?
For Friday night date night, a steak dinner fits the bill. Ina Garten's Filet Mignon with Mushrooms doesn't disappoint, and you don't even have to heat up your grill. This indulgent steak dinner prepared in a cast iron skillet and finished in your oven. With creamy mushrooms and wine sauce, you'll need to get your veggies too. Add something crunchy and bright like Ina's Green Bean Gremolata, or go all out decadence with Tagliarelle with Truffle Butter.
For dessert, we're following one of Ina's cardinal rules of entertaining — choose one thing from your menu to buy pre-prepared. In this case, we're stopping by the gourmet food store on our way home for flourless chocolate cake or some other sinfully sweet chocolate dish.
---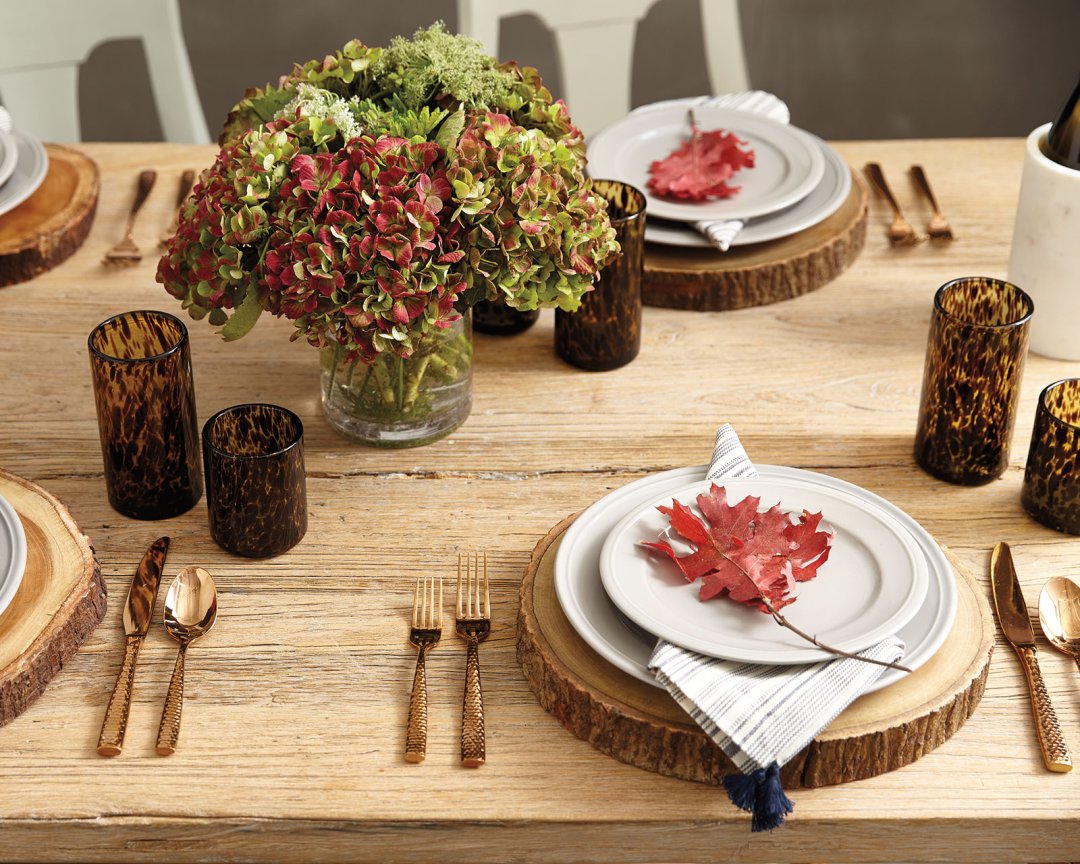 5. Saturday Supper by the Fire
During the cooler months, it's always nice to hunker down in the evening, start a fire, and catch up with friends. What's cozier than that? It's the perfect occasion to use our Wood Bark Chargers with brown and copper accents.
What to Cook?
When we're out of ideas, we turn to one of Ina Garten's menus, in this case her Fireside Dinner — Chicken with Forty Cloves of Garlic, Couscous with Toasted Pine Nuts, and Parmesan Roasted Zucchini. With rich flavors and texture, your guests will go home full and happy, just like every hostess hopes.
Find more entertaining ideas and to stay up to date with all things How to Decorate, sign up for our monthly newsletter.