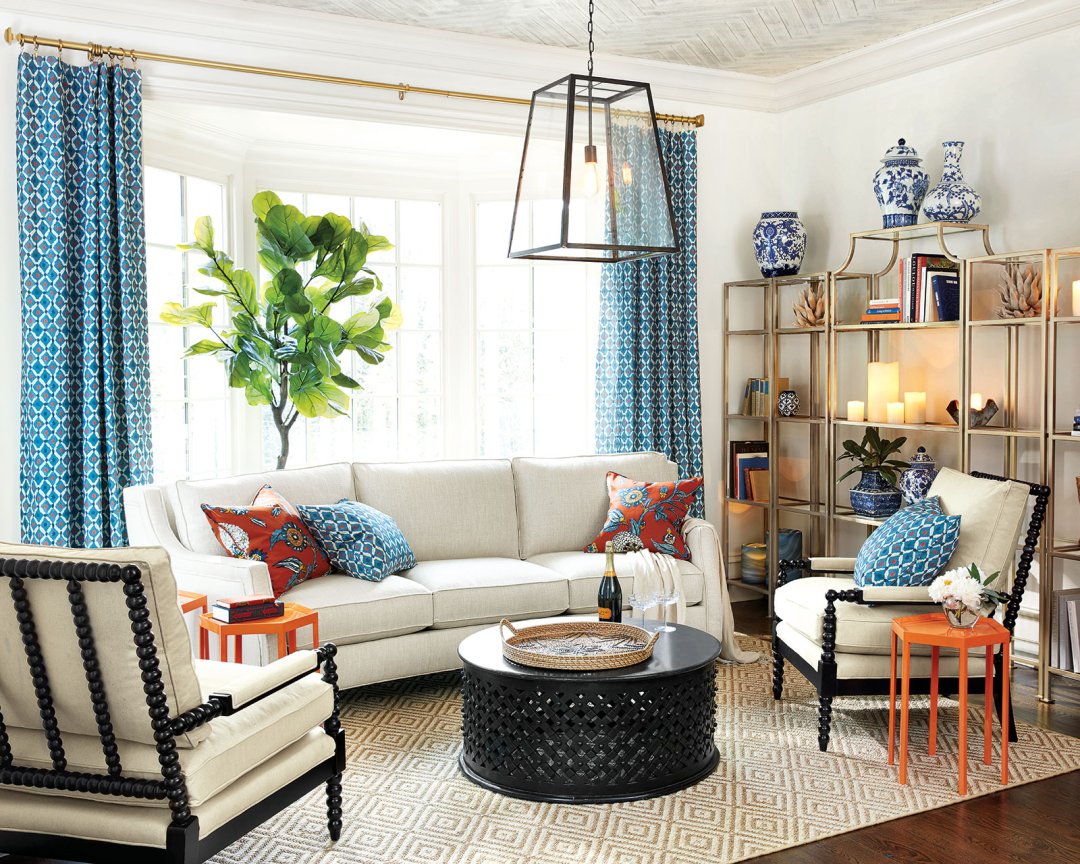 Neutrals are a great tool in your decorating arsenal. Even if you love color, you still need neutral pieces in your room to let those colorful pieces and patterns really shine. Of course khaki, white, gray, and black are some of our favorites, but like your go-to pair of jeans, navy is versatile classic that can mix with almost anything. Like a chameleon, navy can add a classic feel to a space, it grounds vibrant colors, complements so many different hues, and can also blend with your other favorite neutrals.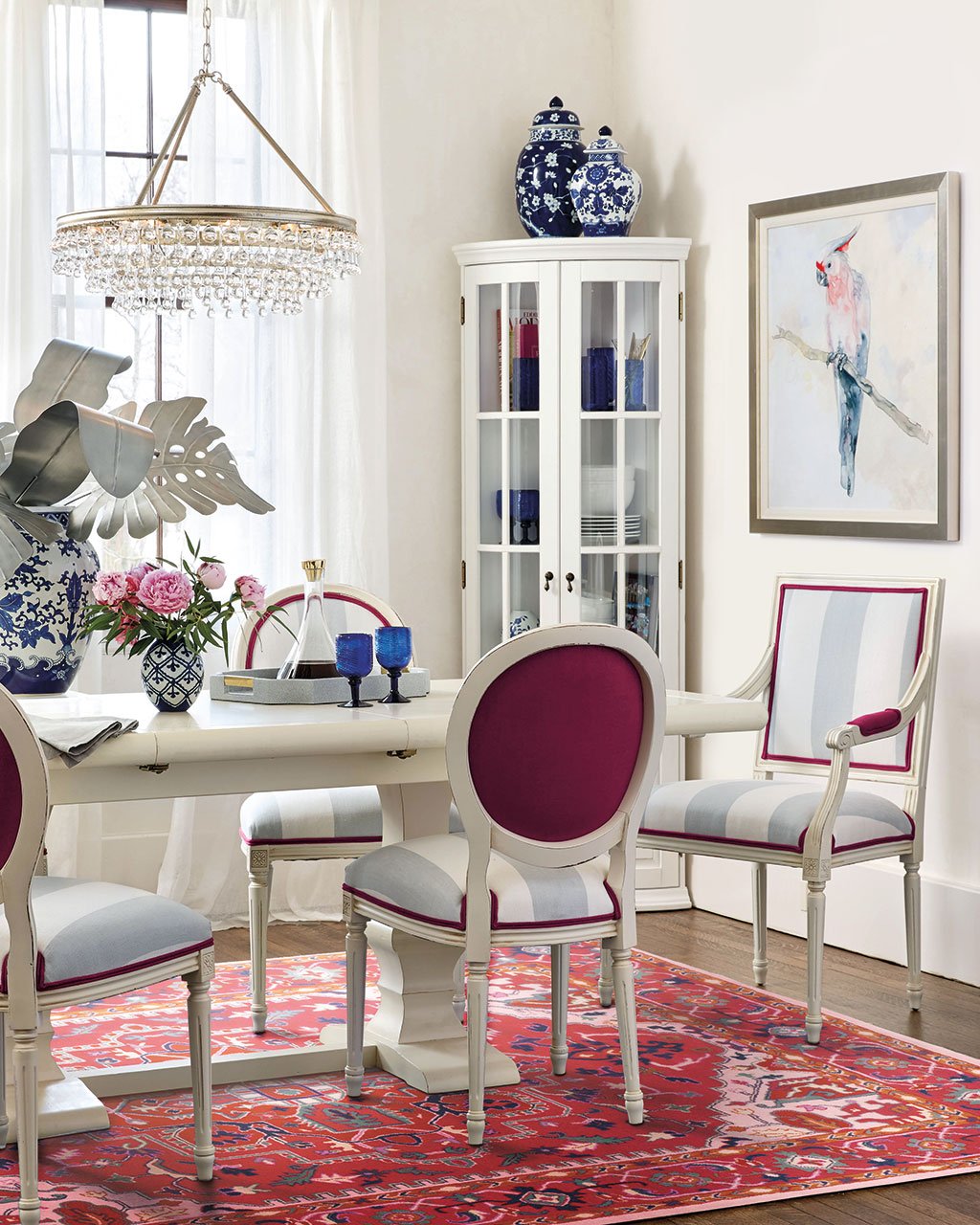 The Perfect Pairing
Landing on a color palette is one of the trickiest decisions you'll make when decorating your room. We often suggest choosing a piece of artwork or a rug to start working from, then use the colors in that piece to build the rest of your space. But if that doesn't work for you, just know that navy goes with everything. From reds to greens to pinks to orange, there's really no color that navy doesn't pair with beautifully. Trust us, we've tried nearly every combination.
In the space above, we used navy to temper the bright pink rug and Louis chair backs. Black would have been too heavy, and light gray would have washed out the pink, so navy was the perfect neutral accent for the rest of these bold colors.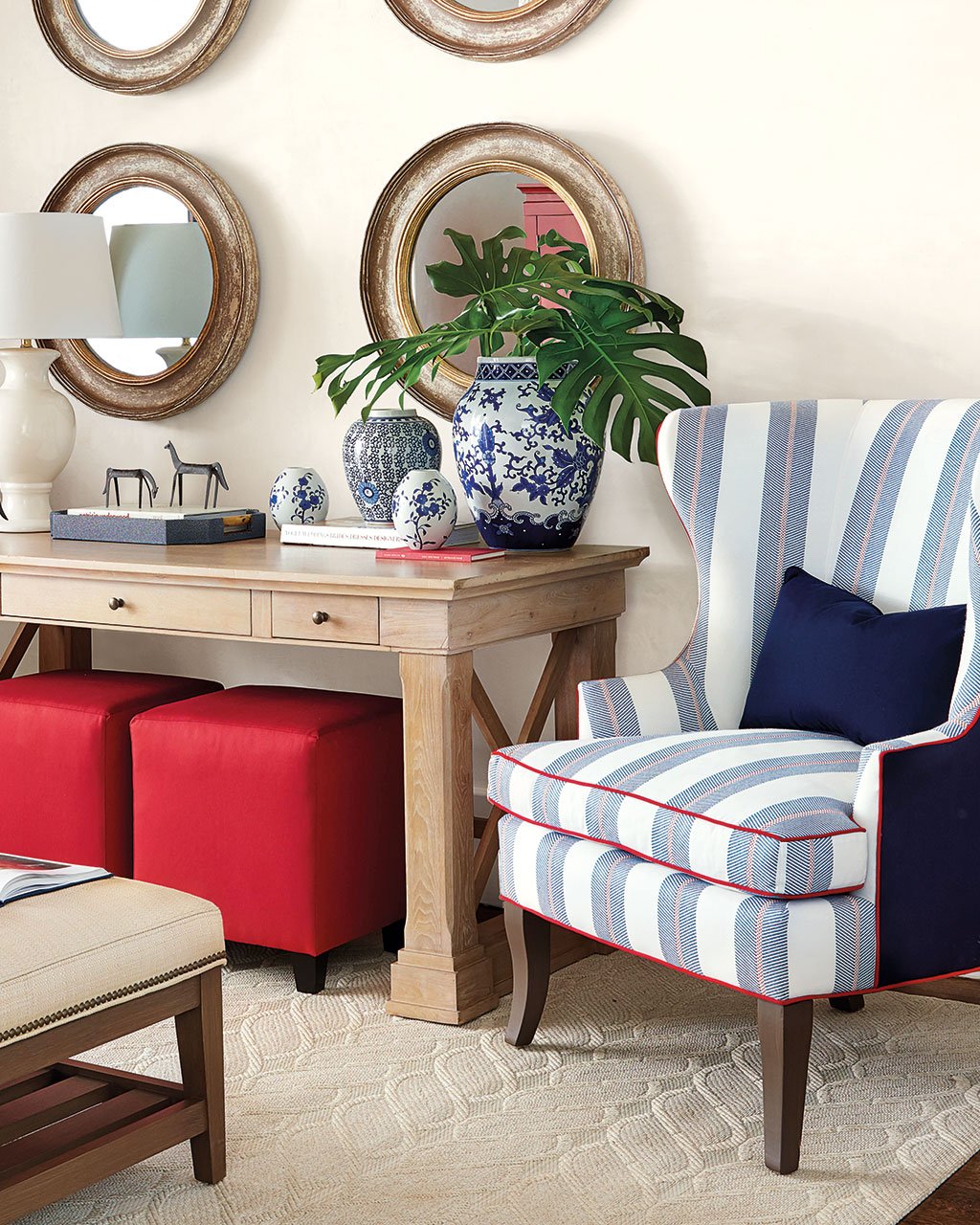 Of course, the combination of navy and red will never go out of style. Give it a preppy vibe with stripes and tailored classics, or add woven textures for a more beachy feel. In this sitting area, red is our statement color and navy takes a backseat.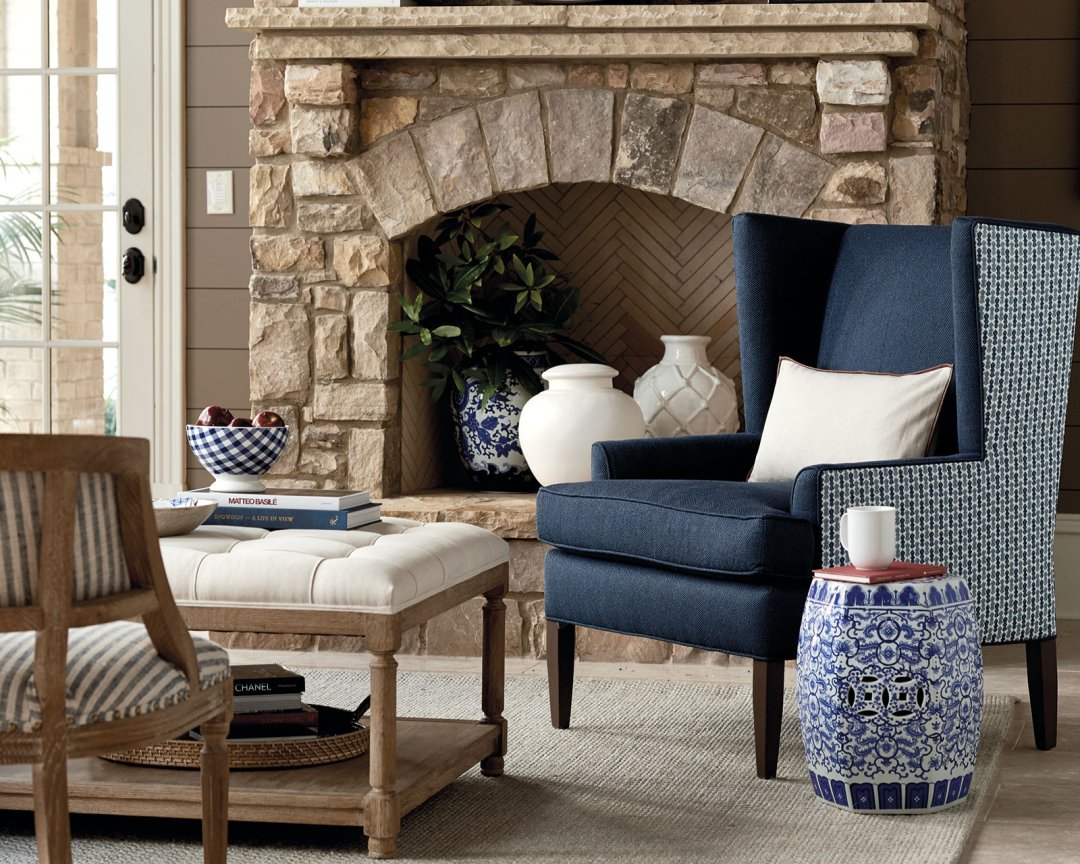 On Investment Pieces
We often talk about upholstering your large furniture pieces in neutrals because it makes them so much more versatile. Neutral doesn't necessarily mean beige. Consider navy for large furniture pieces. It's dark so it camouflages stains, and it has a lot more personality. Here, we used a textured herringbone fabric in a dark navy on the inside of a wingback chair.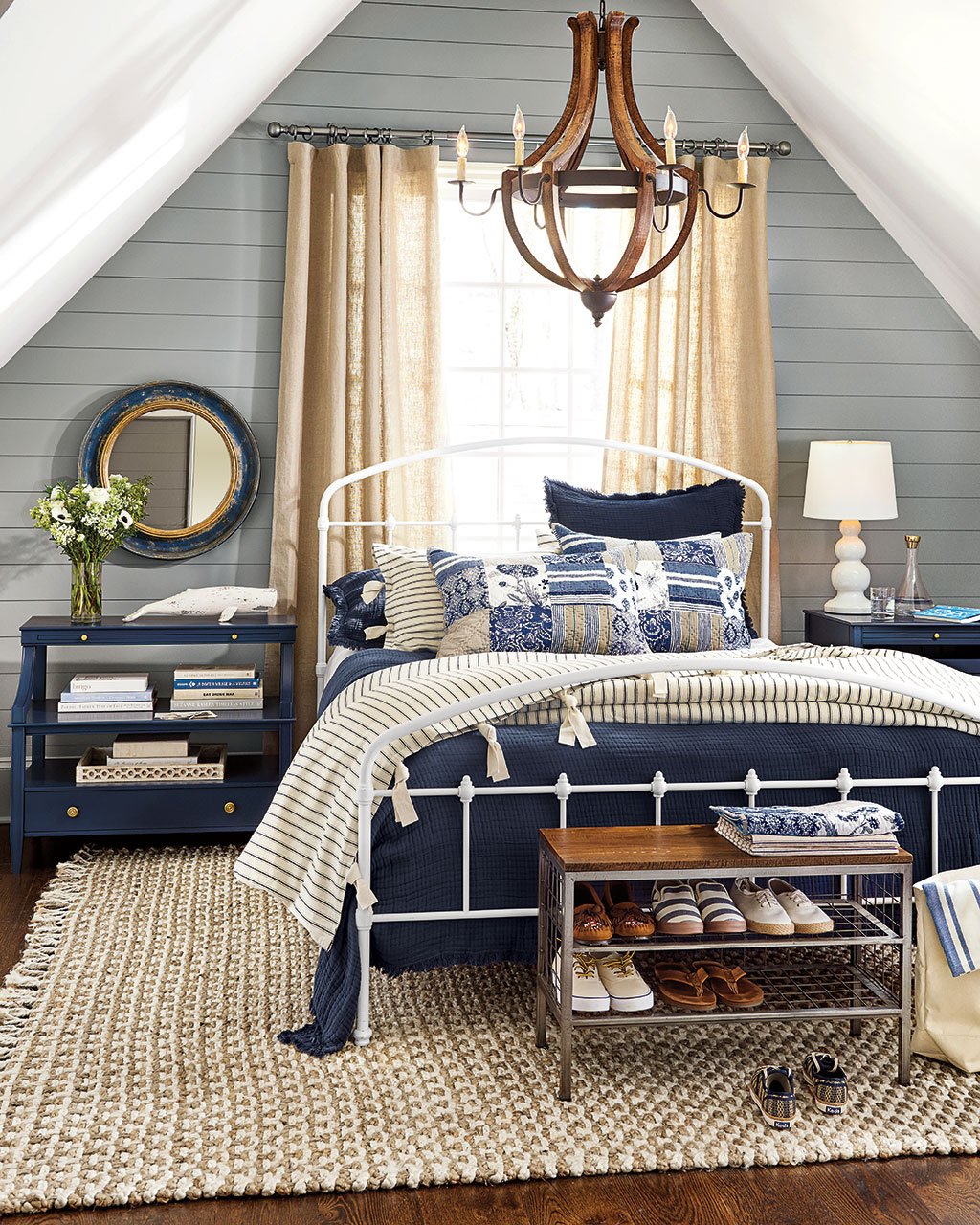 Team Player
Another reason to love navy? It works with all your other favorite neutrals. In the bedroom above, we've mixed it with wood tones, white, gray, and tan. All of these pieces work together seamlessly and could easily transition into other rooms should you move or feel like redecorating.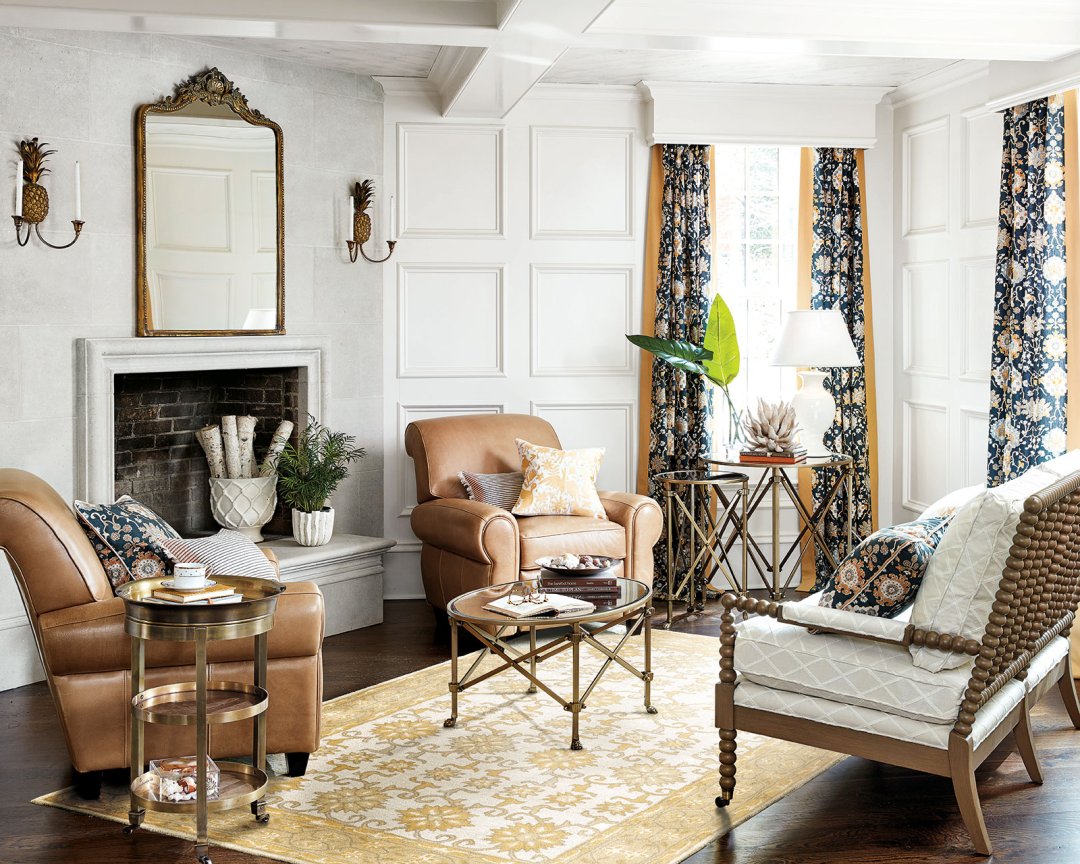 Like your favorite pair of jeans, navy can be dressed up for a more formal living room. Here, we chose metallic accents, a classic antique-inspired mirror, and a patterned rug to create a sunny sitting room, perfect for reading or entertaining friends. Our navy Chinoiserie Tapestry Panels have a classic pattern that frames the window, especially on a light gray wall.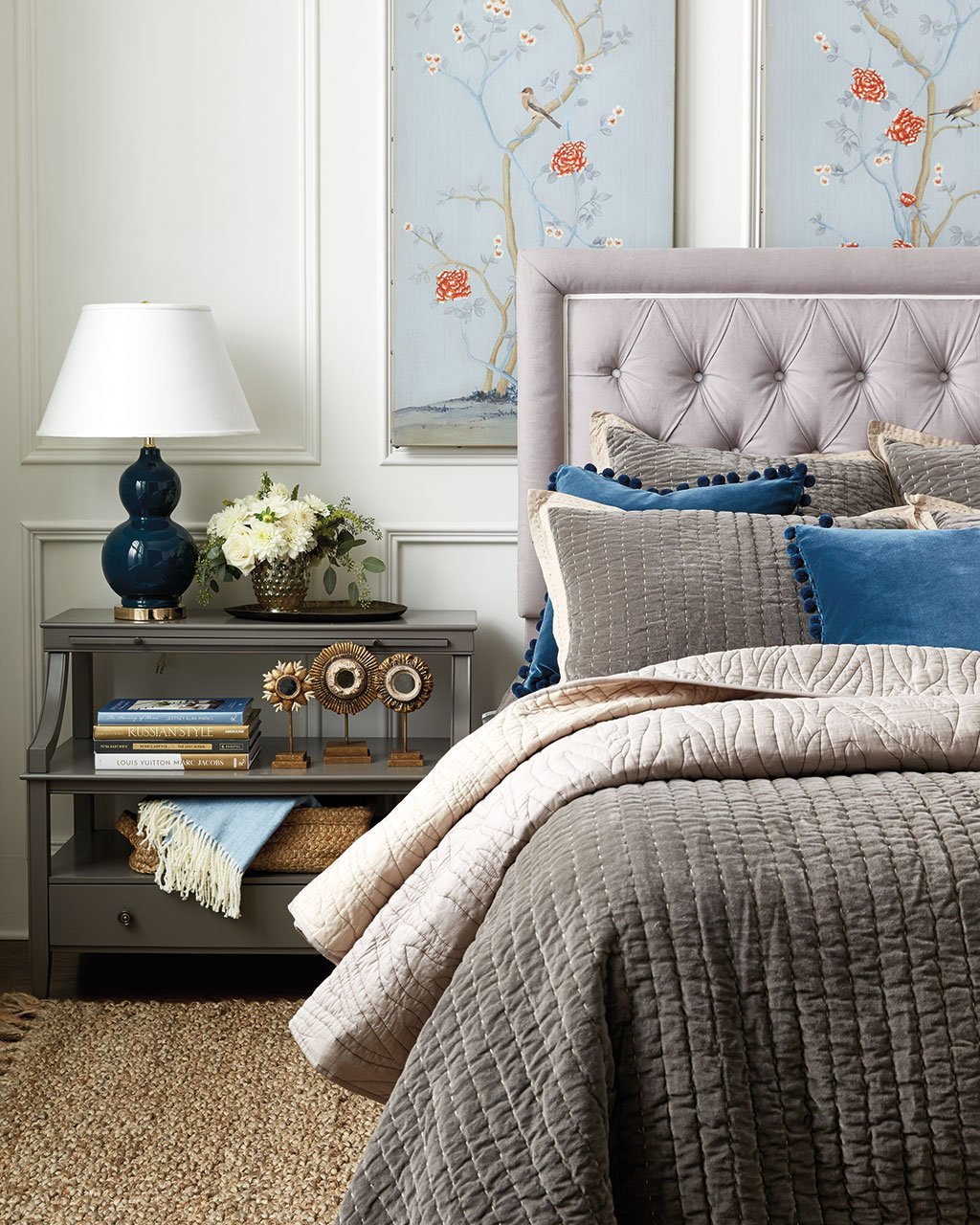 As An Accent
If you don't want to use lots of navy in your space, you can always add in small accents. In this bedroom, our Jardin en Bleu Art has little touches of dark blue, so we pulled that color from the piece and chose a lamp for the bedside table and throw pillows. Adding in small doses of another color can wake up the other pieces in the space without overwhelming everything.
For more design inspiration, visit our Pinterest Boards, or find more gorgeous rooms in our Photo Gallery.
Did you like this post and find it helpful? Rate it below and share your thoughts in the comments.