We get all sorts of questions on the podcast about which rooms to furnish first and where to invest in your money. When posing these same questions to our designer guests, their response is usually to invest your dollars in either your living room or bedroom first. Spend the most money on the rooms where you spend the most time. We like to take this suggestion to mean that you should really make your bedroom feel personal and your own idea of bliss. What better place to find inspiration than your last vacation?
We dreamt up these two bedrooms inspired by tropical locales with the idea that your bedroom should bring you relaxation and peace.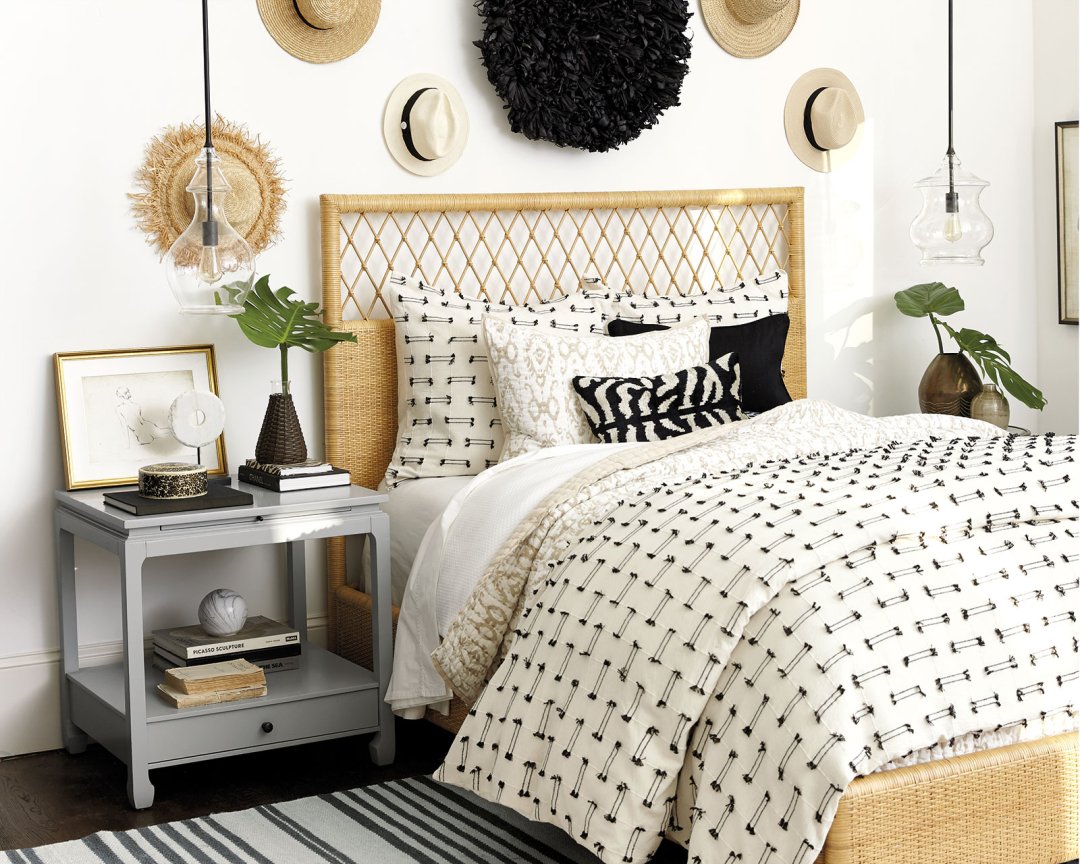 Black, White, and Woven
Inspired by Suzanne Kasler's new Southport Rattan bed, we designed a space that played up the tropical feel of this wicker piece. Black and white linens, a wall of sun hats, and even a few strategically placed palm leaves help evoke that vacation feel we were working towards.
We wanted to let as much natural light into this room so instead of heavy drapery panels, we choose white striped panels which let sunshine filter in through the windows.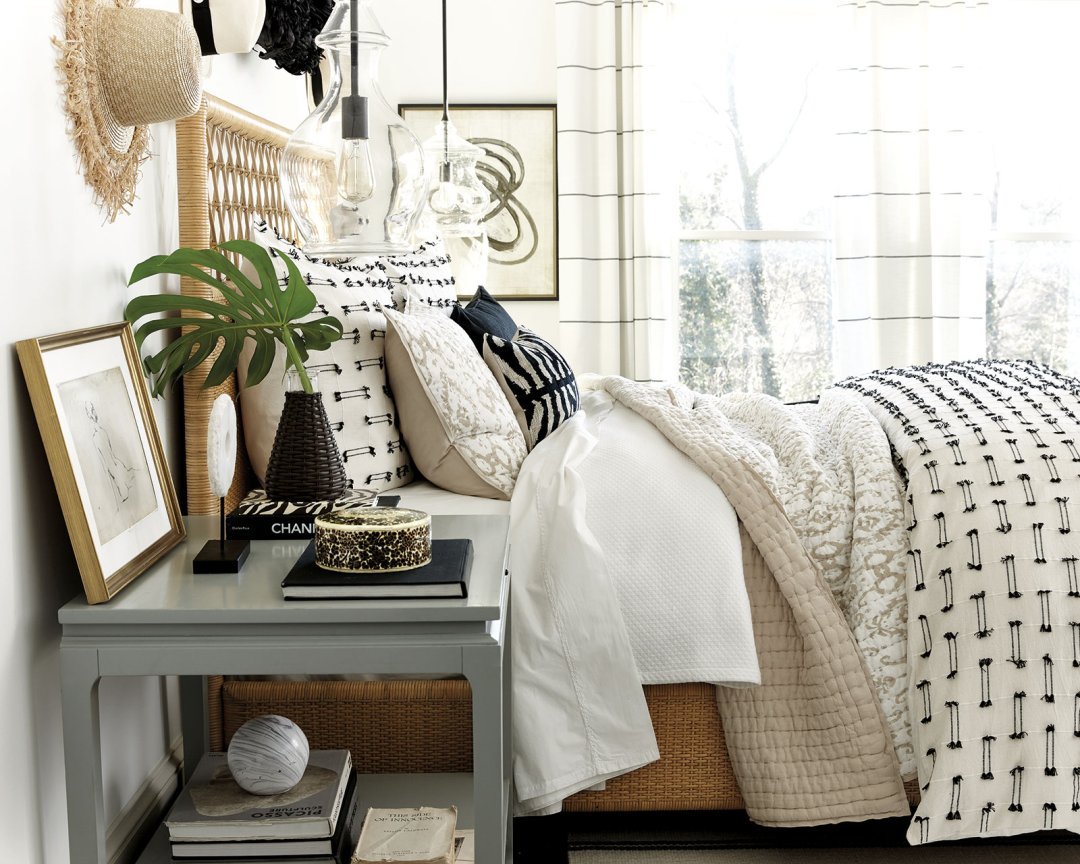 Another favorite feature? Hanging pendants on either side of the bed, like our Bettye Glass Pendants, instead of table lamps. Bedside tables tend to get cluttered up with magazines, your coffee cup, and other necessities, so give yourself as much room as possible by freeing up space. Wall-mounted sconces or pendants mounted just over your bedside table create a clean feel and leave plenty of room for your favorite trinkets.


To bring pattern and personality into this space, we chose to mix and match our bedding pieces. Start with a set of crisp white sheets, add in an ikat quilt, then top with a pick-stitch duvet. The different textures, patterns, and colors come together in a bohemian way that transports us straight to a lounge chair on the beach.
Because guests won't likely see your bedroom, we don't like to take anything too seriously. Rather than hiding a great hat collection in a closet, we displayed them over the bed like art. Our black Cameroon Juju Wall Decor anchored the space over the bed, then we filled in around it with our favorite straw hats. The color and woven texture echo the Southport Bed and definitely lend an island vibe to the space.
---
Gauzy and Girly
The irony of a mosquito net being utterly romantic isn't lost on us, but for some reason these very functional items often used in exotic locales feel fun and flirty. Why not play up the romance in your bedroom with a canopy bed and layers and layers of gauzy sheers? We draped them around our Lindy Bed to create a cocoon certain to remind you of your dream vacation spot.


Pink perks up our favorite sandy neutrals, so we used a mix of pink silk and embroidered bedding to bring life to this bedroom. Suzanne Kasler's new embroidered Elba Bedding was the perfect jumping off point for this mix of textures, as it echos the playful feel we were going for.
To finish the space, we brought in pink tufted lamps, gold side tables, and a pair of Coastal Bird prints.
So what do you think? Would you like to wake up in one of these dreamy spaces?
Find more inspiration for your bedroom, browse all of our bedding collections, or find more inspiring rooms on our Pinterest boards.
(Visited 20,961 times, 1 visits today)