Unleash Your Inner Decorator
Your home is an oasis, a place to make memories and to express who you really are.
And that's where Ballard Designs can help. We're much more than just a source for beautiful home furnishings and decor. Here, you'll find inspiration, excitement and all the ingredients you need to transform your decorating ideas into reality.
Our style is a unique curation of all periods and provenance with a distinctive European influence. We reinterpret classic designs in a contemporary way, so pieces feel at once fresh and timeless. Our designers constantly travel the world in search of new trends in fashion, color and style that we translate into exclusive products you can't find anywhere else. Today, we offer more than 300 pieces you can customize from finish to fabric. With Ballard, you can make any project your own.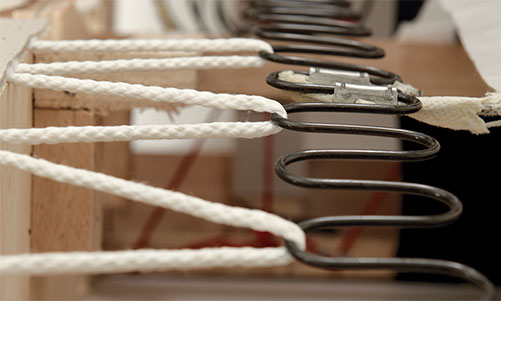 Beneath our products' stylish exteriors, you'll find exceptional value. From authentic, hand-applied finishes and expert upholstery to dovetailed drawers and bench-made frames, no detail is too small to consider in our relentless pursuit of enduring quality. We're so sure you'll love your Ballard Designs purchase, every product is backed by our industry-best guarantee.
Ballard Designs is also a go-to source for anyone with a passion for design. On our blog, HowToDecorate.com, you'll find up-to-the-moment decorating ideas, expert advice, plus guest appearances from top style makers and home fashion editors. And through our online and in-store Design Solutions service, you can get free design consultations and expert help with your toughest decorating dilemmas.
Ballard Designs is the place to unleash your creativity -- so kick back, relax, and make yourself beautifully at home.
1983
The first edition of Ballard Designs is mailed - a two-page black-and-white brochure featuring a replica of antique dolphin table that sold out in the first two weeks.
1990
We take our first orders by a revolutionary new device - the fax machine.
1994
The Vintage Vogue Sofa makes its debut and continues to be one of Ballard's most beloved products today.
1996
Customers can now place orders 24/7 using an 800 number. Wow.
1997
Ballard joins forces with Cornerstone Brands, a family of leading home and apparel brands, including Frontgate, Garnet Hill, Grandin Road and Travel-Smith.
1999
We launch our website and 24/7 Ballard shopping is born. Hallelujah!
2007
Under the Cornerstone Brands, Ballard Designs becomes part of powerhouse Home Shopping Network, Inc. The same year, we opened our first retail store in Tampa's International Plaza. Ballard catalog circulation hits 50 million.
2010
We partner with award-winning designer Suzanne Kasler, to create our first-ever designer collection.
2011
Casa Florentina, our luxe line of furniture and accessories hand finished in Italy, launches to rave customer reviews.
2015
Celebrated designer and entertaining guru, Bunny Williams, joins with us to create her signature collection exclusively for Ballard Designs. Our third retail location opens in Philadelphia's prominent King of Prussia Mall.
2016
Ballard Designs annual catalog circulation tops 65 million. Retail expansion continues with new locations opening in Tysons Corner, Virgina and Atlanta. Our Amalfi Outdoor Collection celebrates its 10th anniversary with more than 50,000 pieces sold to date. We can't wait to see what comes next.
2017
Iconic decorator and permanent fixture on Architectural Digest's "AD 100" list of top designers, Miles Redd brings his incomparable style exclusively to Ballard Designs with his collection of furniture, lighting, and upholstery.
2018
It's our 35th anniversary, and we're celebrating by opening a 20,000 sq. ft. flagship store in Atlanta, our hometown.